Small Changes Make the Difference: My Haircare Journey
Like many teenage girls, I have struggled to achieve the perfect hair length, scent, and strength  
I am usually intimidated by making any big changes, especially when it comes to something as important  as my hair.  However,  when I can manage   a certain change in my life, it can be fun and  intriguing to see the positive results. .  When I want a small change, I change my hair: it feels like the one thing that I can control in a life that can feel so unpredictable. 
This can vary from the products, hair dryers, straighteners and even the color of my hair. Starting freshman year, my mom would often take me to Target, and I would throw in a bunch of random hair products that I didn't know how to use or what was in them. 
The products that I bought at the time didn't help my hair, but rather made it a disaster — I couldn't stand it. 
One  product I used especially during the summer was a spray that claimed to lighten my hair without harsh chemicals. little did I know that every time I used it the chemicals within the spray (like the bleaching agent used to make my hair blonder) would almost instantly kill the living hair. and make it dead hair that you have to cut off otherwise your hair looked over dried, stringy. 
I  realized what was happening to my hair when I consulted my stylist. "What did you use on your hair? It's killing it, and if you stop using it your hair starts to turn a bronzy orange after a while," she said. After she told me this, I started to dye my hair professionally. 
I varied in colors from super blonde, to brown, ashy brown, then back to blonde. After I came out of the salon my stylist recommended numerous products to either use or avoid.  This is when my obsession with hair care began: I wanted my hair to be perfect, just the way I wanted. 
These are the products I have been using since my sophomore year, following  my year of disastrous hair. These products reduce bronzy and silvery tones after you have dyed your hair, strengthen and keep your hair at max volume, and help naturally lengthen your hair without extensions. 
Hair Biology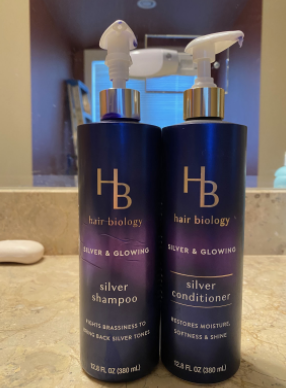 This shampoo and conditioner and other products from Hair Biology treat a variety of hair concerns, such as  keeping your hair full and luscious, avoiding brassiness, or preserving the original color of your hair. I use the Silver and Glowing Shampoo and Conditioner, since I change my hair color every couple of months. Ethos helps tone down the aftermath of brassiness in my hair after a couple weeks. Hair Biology is now my top choice because I start seeing results fast: my hair was noticeably healthier and longer within about 2-4 weeks if used every morning and every other night. This brand has another product I use to help keep my hair at max volume. It's a thickening treatment for fuller looking hair. 
Function of Beauty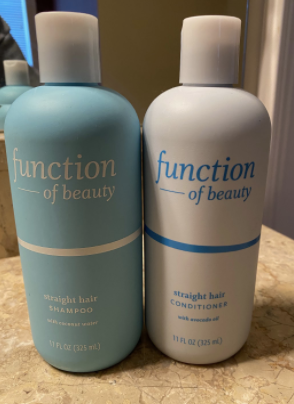 I recently started using the Function of Beauty Shampoo and Conditioner.  The products are specialized to your hair type, whether it's straight, curly, or mild wavy hair. I have super straight hair, so I use their bottle made for people with straight hair. You can use the standard bottle, but they also offer booster shots that help with specific hair goals. Let's say you want to naturally enhance your length. They have a shot that you pour directly into the bottle. Once you finish  the whole bottle you should start seeing results. I used it for about 2 weeks and my hair is longer than when I first started using the booster shots. They have ones to lengthen, deep condition and so many more.. You can find these at Target.  
Pantene Heat Primer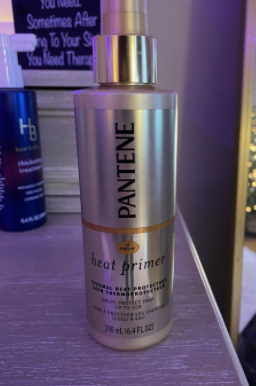 This specific product can be used by anyone with any type of hair. if you use heat on your hair, like straightening or curling,, you should put this spray primer on beforehand. After you get out of the shower with wet hair, spritz  a good amount all over your hair. Then disperse the product using a hairbrush or your fingers and  heat. The primer is supposed to protect your hair from dying and burning if too much heat is applied (especially if you have thin hair). I have been using this product for about 8 months and my hair has never been healthier looking. Not to mention, it also makes your hair smell good and feel super soft.
I hope you look into these products and embark on a new journey to happier, healthier hair. I think you will be happy with your results because I sure am. I continue to enjoy change with my hair now that I've found these effective, inexpensive, and accessible products. 
About the Writer
Sophie Burke, Staff Writer
Sophie Burke is a senior at LFHS. She enjoys writing about sports and plans to continue writing in journalism. She enjoys being active such as running,...