Closets with Carmel: Sophie Delhey
The most stylish LFHS students' closet essentials.
Welcome to Closets with Carmel! This week's feature is sophomore Sophie Delhey. Read below to see some questions I've asked her regarding the most prized pieces in her wardrobe, and to learn more about how she accomplishes her simple yet elevated style. You can find part 1 here.
What is the oldest item in your closet? The newest?
"One of the oldest items in my closet is this pink and white Self Portrait crochet dress. I love the classic style of this dress and feel like it will never go out of style. My newest item are my black Mother flare jeans! They are such a good staple, and I can't wait to wear them out."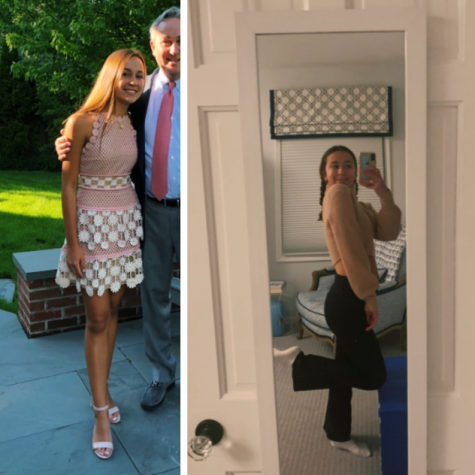 What is an item you splurged on? 
"I splurged on these Mother cropped plaid flare pants! In the winter these are definitely my go-to pair of pants. I love wearing them because they are super comfortable and the boot cut is so flattering."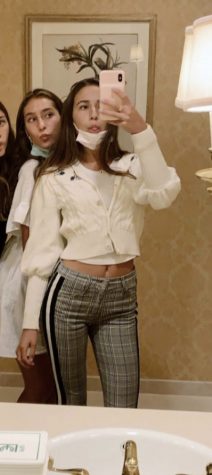 What is the most affordable item? 
"My cropped Brandy Melville knit hoodie is definitely my favorite lower priced item that I get the most use out of. It is super versatile, so I am able to pair it with so many different things."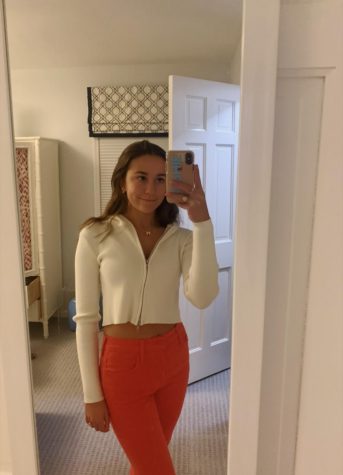 What are your top 3 items right now?
"My top three items right now are my light brown corduroy pants from DL1961, my navy blue Converse, and this pearl choker! I love wearing my corduroy pants when I need a break from jeans, and my Converse go with everything. I love adding my pearl choker to simple outfits to elevate them."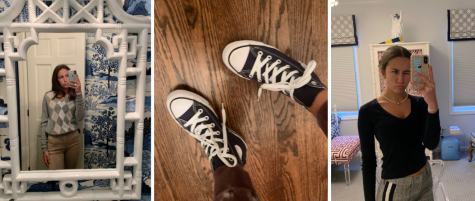 What is your favorite piece that you've gotten as a gift?
"My favorite piece that I've gotten as a gift is this little For Love and Lemons top. It has the prettiest orange print with flowers, and I love wearing it with white jeans for a perfect summer outfit."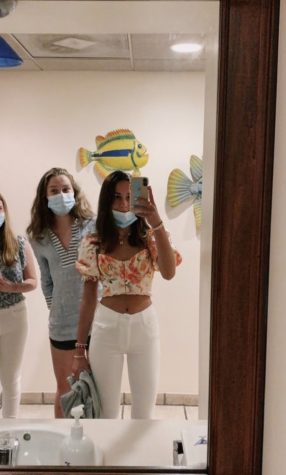 What is your most comfortable item?
"One of my favorite comfortable items that I am obsessed with right now is my Grateful Dead tie dye sweatshirt from Urban Outfitters. Recently I've been loving the oversized trend, especially when it comes to sweats, and this is the best oversized hoodie."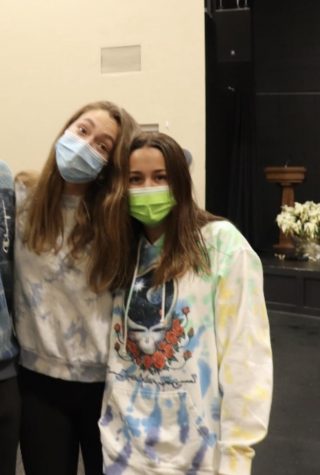 What is the most unique item in your closet?
"My leather thigh high black boots are definitely the most unique item I own. They are perfect for the winter time, and I like to wear them when I'm looking for a more sophisticated look."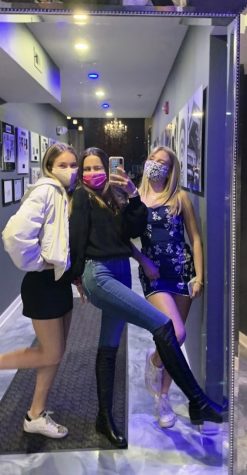 Something that you're excited to wear soon?
"I am super excited to wear my Babaton emerald green dress from Aritzia. It has a fuzzy fabric, that keeps me so comfortable while still looking dressed up."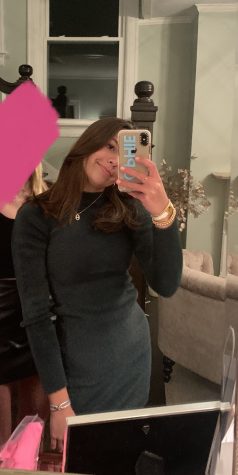 What are your favorite brands?
"My favorite brands are Mother, Aritzia, For Love and Lemons, and Urban Outfitters. I love Mother for denim, Aritzia for basics and dresses, For Love and Lemons for their unique patterns, and Urban Outfitters for when I'm looking for staple items." 
Who are you inspired by most?
"My style icons are Zendaya and Kendall Jenner. They both keep it simple when it comes to their wardrobes, which I feel makes their styles timeless. However, they also know how to make a fashion statement by experimenting with older and newer trends."
—- 
Thank you Sophie for giving us some insight on your favorite brands and trends, and stay tuned for next week where I'll be featuring another stylish Scout!