New Restaurant, "Bonk," Makes Splash in Lake Bluff
On Scranton Ave in the heart of Lake Bluff, BONK Soup & Sandwich shop has opened up for business. Open 7 days a week from 11:00am-8:00pm they have an amazing array of food and drink. From their delicious
sandwich bar, to a variety of soups, and an abundance of ice cream flavors to end your meal in the best way possible, you'll never go hungry at BONK.
In the same space as Lake Bluff Hub and Cycle, BONK is the place to be. With modern, bright, and welcoming decorations BONK is the perfect local spot to grab a bite to eat with any member of the family and friends.
Many local businesses have suffered through the pandemic, but not BONK. About five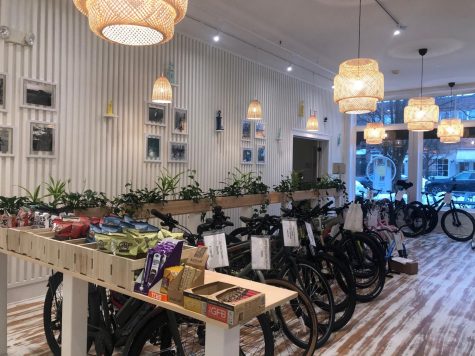 months ago, BONK had opened during the pandemic. This may seem like a challenge for some businesses, but not for this one. "Amongst the pandemic we have been able to provide carry out and delivery and luckily it has worked perfectly for us," said Tabitha, BONK Supervisor. "We are very grateful for all of the support the community has given us during this time."
At Bonk, the sandwich process is quick, easy, and delicious. What makes it unique are the items you can incorporate into your sandwich. They have fresh ingredients in their make-your-own sandwich bar that are all delicious.
Along with soups, sandwiches, and ice cream they have a unique selection of what you can incorporate on the side. There are a handful of chips, and drinks to pair with you soup or sandwich. These chips and drinks aren't your typical flavors. At BONK there are so many different flavors of unique chips and drinks that you can purchase.
The opportunities at BONK are endless, and the food that they provide is really tasty. The inviting environment, the friendliness, and along with all that they have to offer makes BONK a must-try for your next meal!