The Departure and Legacy of Superintendent Mike Simeck
After more than eight years of service, the District 67 & 115 Superintendent is leaving in March to become Superintendent of Deerfield School District 109.
Shortly after Mike Simeck was hired as Superintendent in 2012, he faced a daunting test of his leadership: the Lake Forest Education Association — the LFHS teachers' union — had gone on strike. 
An unenviable job for a newcomer, Simeck was tasked with appeasing two disgruntled stakeholders, a faculty petitioning for better compensation and a community wanting to keep the schools running.
Simeck, a veteran administrator with a measured disposition, was up to the challenge.
"Simeck came during the first strike in a Lake Forest school district and he kept a level-head the whole time," said Allen Albus, the former Deputy Superintendent of Business and Operations who worked closely with Simeck for many years. "His calm demeanor helped resolve the issue at hand and get us back to a state of normalcy." 
In subsequent years, Simeck navigated Districts 67 and 115 through countless challenges, changes, and successes. 
Now, almost a year into his toughest task yet, leading the districts through the COVID-19 pandemic, he's moving on. It's a move he says he never expected to make.
"I really, really wanted to remain here and for this to be the last chapter in my career," he said.
"It's time to look for different opportunities"
Simeck has served as Superintendent of District 67 and District 115 since the summer of 2012, after spending five years in the Berkley School District outside of Detroit. Simeck has two daughters and a son; all three graduated from LFHS. His resignation will be effective in March and he will begin his duties as the new Superintendent of Deerfield Public School District 109 on April 1.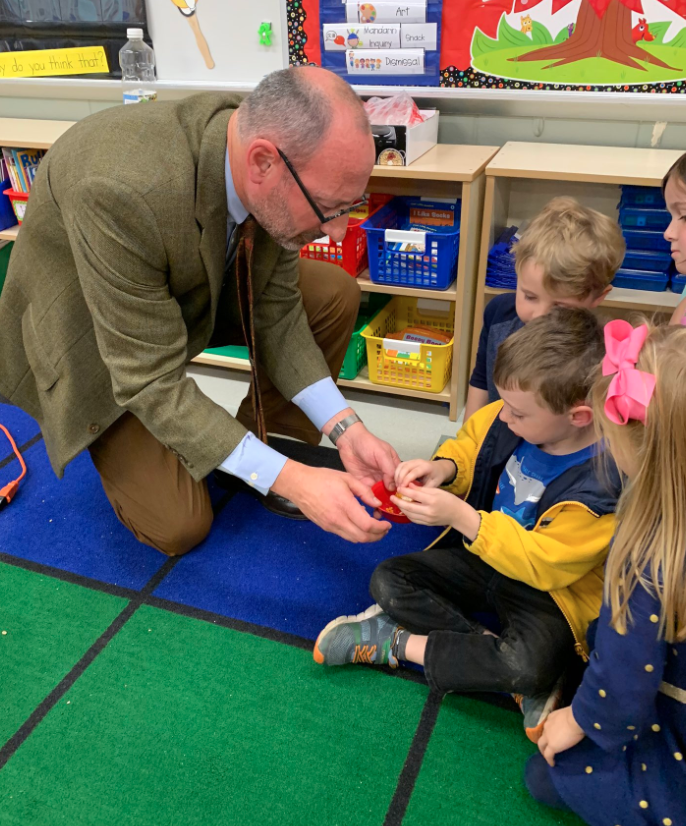 Simeck said the Deerfield opening was "a unique opportunity with a district that was looking for exactly my skill set." 
He continued, alluding to disagreements with the District 115 Board of Education in the past few months, "I had 36 board members in eight and a half years here and 10 board presidents. Anybody that works in a corporate setting will know what kind of challenge that brings with it. It's an extraordinary amount of change and evolution, and finally, when your recommendations aren't accepted anymore, it's time to look for different opportunities."
The District 67 and 115 Boards of Education released a joint statement announcing Simeck's resignation after eight years at the helm of both Lake Forest public school districts.
"We are grateful to Superintendent Simeck for his tireless work ethic, unwavering integrity, and deep commitment to our students, staff, and community," the email read. "We wish him the best in his new role."  
Simeck declined to comment on why he chose to leave in March as opposed to finishing out the 2020-2021 school year.
A joint committee of the District 67 and District 115 Boards of Education has already selected the firm Hazard, Young, Attea and Associates to lead the search for a new Superintendent and set forth an ambitious tentative calendar, hoping to identify a preferred finalist by March 31. 
However, District 67 Board of Education member Suzanne Sands cautioned at a January Special Board Meeting, "We are really, in a way, behind in terms of the timeline when this usually takes place in a school year."
"One of those people who I can say I truly care about."
Co-workers characterized Simeck as a steady hand in leadership. He steered the districts through high-profile controversy and historic achievements alike.
After resolving the labor dispute in his first year as superintendent, Simeck presided over the hiring of new principals at every District 67 and 115 school, including the replacement of all Deerpath Middle School principals and assistant principals over the last five years. The district-level administration and Board of Education faced criticism from the community over a lack of transparency in the reasons given for a few of the Deerpath departures, but took the opportunity to restructure DPM leadership and establish a new position called "Dean of Culture."
In addition to shakeups at the elementary and middle school levels, the resignation of Barry Rodgers in 2015 prompted the search for a new LFHS Principal, which became one of the most contentious local issues in recent memory. 
When Dr. Chala Holland emerged as a top candidate for the job after a leak, a group of community members took issue with some of her earlier work, including dissertations on the educational landscape posted on a blog. The objecting contingent's disapproval bubbled over in an unprecedented, standing-room-only board meeting at which other district residents and some who knew Holland from her previous school administrative experience spoke in support of her as well. 
Holland, the 2020 Lake Region High School Principal of the Year, was the candidate Simeck ultimately championed and is a hire he regards as one of his proudest. 
Holland said she hopes Simeck is remembered as someone who "took risks and did some things that weren't necessarily popular," but also as a leader who "stood on what he believed."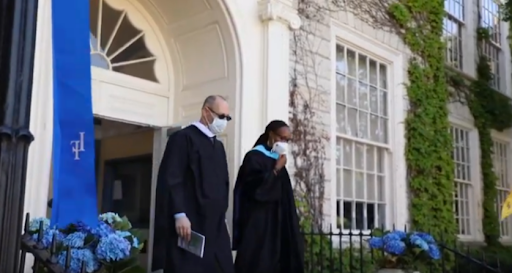 Speaking about her hire, Holland told The Forest Scout, "I think that was a scary time for [Simeck] because he was willing to move forward with my hire even with people telling different narratives, people who did not know me."
"I do appreciate him for trusting me with the responsibilities that I have…and when someone puts their own integrity and their job on the line for someone they believe in, I do have a sense of responsibility for wanting to make him proud, wanting to exceed anything he would have imagined, and also show exactly who I am, but I want that to reflect positively on him." she said.
Holland teared up talking about Simeck, who became a close friend over the years. "He's one of those people who I can say I truly care about."
In the summer of 2020, Simeck took stronger action than the previous administration to address credible claims of sexual assault against former Lake Forest High School staff member David Miller, with whom the district parted ways in 2009.

Simeck has said that the incident was promptly reported to law enforcement officials. Miller's name was removed from an LFHS theater and from the LFHS Wall of Fame. Simeck and the Board of Education facilitated the hiring of an independent counsel to probe any further district history of sexual assault, review its handling of such cases, and examine procedures for sexual assault prevention and reporting. 
"We addressed, in an unflinching way, when staff had inappropriate contact with kids," he said. "Everybody's got a right to a safe workplace and a safe learning place."
Pandemic brings unprecedented challenges
Eight years into his tenure, navigating the return to learning during the COVID-19 pandemic became perhaps Simeck's greatest challenge as superintendent. He was responsible for dealing with this unprecedented crisis in two districts, with two boards, and multiple staff organizations.
This past summer, the Lake Forest Education Association made strong pleas for an all-remote approach to the first semester of the 2020-2021 school year. At the same time, some of the loudest voices in the community—mostly parents—pushed for a return to in-person learning.
Simeck first took a recommendation to the District 115 Board of Education that placed an emphasis on remote learning and suggested a delayed return to in-building classes. The Board rejected this recommendation, and sent Simeck and the LFHS administrative staff back to the drawing board to draft a plan that followed the e-hybrid learning model, with students alternating between remote and in-person classes.
District 115 Board of Education Vice President Sally Davis noted, "What he hadn't heard from us, which I think was driving him away from hybrid, was that we were willing to spend as deeply as we have ended up doing. We had never let him do that before."
The first iteration of the hybrid model included large tents on the front lawn of the high school with dedicated Wi-Fi hotspots, TV carts, and more at a price tag of many hundreds of thousands of dollars.  After revisions, the version eventually approved by the Board uses existing LFHS facilities with modifications for safety and remote accessibility. 
Davis emphasized that Simeck was working within an ever-shifting set of guidelines about what was possible, affordable, and ideal.
 "I think that any Superintendent has one of the hardest jobs you can have in education because he has to get consensus from the students and their families, the teachers and the faculty, the taxpayers who are going to be affected by the costs of a hybrid model, and also, the piece that I don't think everybody could see, from Lake County which was constantly changing its advice." she said. "I don't think everybody was going to be happy."
Looking back at his legacy
Despite momentous challenges, Simeck oversaw quite the laundry list of accomplishments. When asked about his proudest achievements, he was in no short supply. 
He touted increased access to and participation in AP classes in the wake of the Great Recession which translated to, as he put it, "real money for those kids" in the form of scholarships and earned college credits.
"
"He has a deep appreciation for the students. You can't fake that.""
— Sally Davis, District 115 Vice President
He led a push for 90% participation in extracurricular activities and brought in LFHS Student Activities Director Ms. Ashleigh Malec to hit that benchmark.
Simeck put special emphasis on physical and social/emotional well-being, introducing the Text-a-Tip system with LEAD and the Confidential Reporting Tool with LFHS Director of Safety and Security Mr. Lane Linder, and working with the City of Lake Forest on initiatives which brought the student vaping incidence rate down.
He also made major changes to the learning models at Lake Forest Schools, introducing tiered interventions to keep students from needing special-ed supports, cosigning the move to the block schedule at LFHS, adding Personalized Learning Time (PLT), and transitioning to the reading/writing workshop model for English/Language Arts classes across both districts.
Simeck also oversaw the renovations of two state-of-the-art libraries at Deer Path Middle School and will leave behind the LFHS Facilities Master Plan which should resume shortly.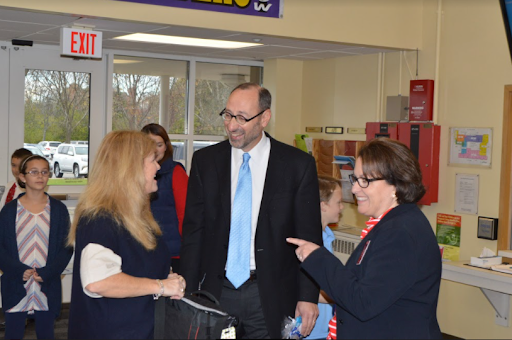 He seems to revel in the simple triumphs the most, however. He said he has always been invested in individual student success stories. His fondest memories with the Lake Forest School districts include his hands-on work in the founding of Yo-Yo Club (which became an unexpected fan favorite at the LFHS Talent Show) and a connection with a 1st grader who gave him his first tour of a Lake Forest facility. Simeck made a point of checking in with that student every time he visited the building in subsequent years. 
His care for students certainly did not go unnoticed by the adults with whom he worked. Mr. Steven Dunn, the Instructional Director of the LFHS Social Studies Department and longtime co-worker of Simeck's remarked, "I thought his real care for the students was pretty inspirational."
Sally Davis said, "He has a deep appreciation for the students. You can't fake that."
Davis, Dunn, and Holland all described Simeck as a "visionary" who ran Districts 67 and 115 with impressive expertise.
"For me, it's always been about the people," said Simeck, adjusting his signature circular spectacles. "Watching students grow up and find their people, that's what you want for every single kid. And for the adults, I've had a chance to work with incredibly caring, passionate, and skilled people.
"I'm incredibly proud of what we've been able to accomplish together."
Kailey Albus and Peter Elliott contributed reporting.
About the Writer
Will Elliott, Staff Writer





Will Elliott is a senior at Lake Forest High School. He serves as the Student Body President and as Vice President of the Debate Team. He is...