Teachers say this semester was about "making the best of our new normal"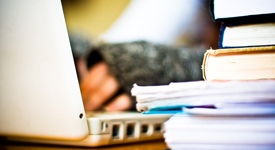 This story was updated Dec. 19 to include a more accurate quote.
Students faced a lot of uncertainty during the 2020 school year, but it was just the same for teachers, who had to reimagine the way they teach. 
The Forest Scout spoke to 10 teachers to get a sense of how the first semester, which shifted from fully remote to hybrid and back again, turned out. While some of them stayed remote and others came in for hybrid learning, each said the system was not ideal but teachers and students were doing their best.
Like many teachers interviewed, health teacher Mrs. Kristen Anderson said she is "making the best of our new normal."
"This type of learning is definitely not ideal; however, I have learned some new fun technology programs," she said. " But I miss them so much."
 Anderson said she now " looks forward to the ding noise of the Google Meets when the students join." She has a motto that she shares with her students.  "To do the best that we can with what we have and to always have a positive attitude".
Wellness teacher Mr. Matt Fiordirosa, otherwise known as Sunshine, said he misses the routine of teaching in person. He also said teaching on Google Meet affects his ability to connect with students.
"When I am behind the computer and microphones are off, and sometimes cameras, I feel like I lose my most valuable teaching tool," he said.
Like much of the rest of the country, many teachers had to make difficult choices about work, family and health. Some with health or child care issues requested to teach remotely. Teachers working remotely are supported by a doctor's note. Those with childcare needs are supported by the Families First Coronavirus Response Act.
"I think there is some misunderstanding. It wasn't a choice whether to come back or not, the decision is a legal one," History teacher Mrs. Laura Flangel US  said.
"
Many people made choices based on their family, which is most likely the best option for all at these times of much uncertainty"
— Ray Werner
Biology teacher Mrs. Jennifer Gatta said she stayed remote because her youngest son's school went remote. 
"It has been difficult because there is nothing better than interacting with students in person and teaching science with hands- on activities," Gatta said. "Even though it has been challenging to recreate a science curriculum in this digital format, I have gained a lot of valuable skills that I will eventually bring back to the classroom."
Mr.  Ray Werner also stayed remote because of family needs. 
"I have three kids of my own who are learning in a remote manner at this time. Many people made choices based on their family, which is most likely the best option for all at these times of much uncertainty, " he said. 
Science teacher Mrs. Kopecky started teaching in person during hybrid, but her situation changed when her children's school went remote. 
"When I was in person connections were great. It reminded me why I enjoy teaching so much, and I felt like I was 'home' being back in the building. Even though I am now teaching remotely, I feel that I am still able to give students a great experience in Biology and AP biology," she said.
The administration elected to go fully remote in March when the virus spiked. Over the summer, the focus was getting students and staff back in the building for the fall. However, many teachers were worried about the health risks. 
 Mrs.  Deborah Schneider said she is teaching remotely because she "didn't want to take chances with anyone's health and safety."
"I am teaching remotely for the simple reason that it's safer for me and my family (especially for my parents), my students and their families, and my co-workers and their families. This year I'm co-teaching in the Science department and I'm impressed with how much we are able to do remotely. It's a challenge, of course, but it's worth it to keep everyone safe," she said.
Students returned to hybrid learning for more than a month, but when cases and deaths spiked again in November, the administration elected to go remote again. 
So far more than 304,000 Americans have died. A vaccine approved last week gives some hope that the worst is behind us.
Special Education teacher Joe Harmsen said " whether you choose to be in-person or remote it's ultimately left up to the person and it should be without judgement." 
About the Writer
Sophie Burke, Staff Writer
Sophie Burke is a senior at LFHS. She enjoys writing about sports and plans to continue writing in journalism. She enjoys being active such as running,...