The Nation's Most Vulnerable Population in COVID-19
This year's COVID-19 outbreak impacted everyone; for some, in ways that are almost impossible to overcome. The pandemic led to schools, stores, and businesses shutting down, as well as overcrowding in under-resourced hospitals. All of this left many people unemployed, homeless, and unable to receive the proper aid they needed to persevere. Although everyone was affected by this crisis, the homeless were hit the hardest. 
Since a majority of the homeless have underlying medical conditions, they have presented themselves to be one of the world's most vulnerable groups. The lack of health providers and medical assistance available to them has created an even bigger problem in terms of getting tested or treated for COVID-19. 
On top of that, the homeless interact more with the public than anyone else, as their homes are often by public facilities and immersed in heavily populated communities. Even in more protected areas like homeless shelters, hundreds of people are still tightly packed together, and this type of protection isn't always guaranteed in the first place. The lack of funding and insufficient supply of resources has left shelters forced to violate CDC guidelines and sanitary precautions. As a result, service departments and housing authorities have closed thousands of shelters all across the US. The loss of these necessary resources have put people who are experiencing homelessness at an even higher risk of getting sick than before.
According to Modern Healthcare, "At the start of the pandemic, researchers warned that at least 1,700 of the country's estimated 568,000 homeless people could eventually die of COVID-19." The administration's homelessness Cazar then spoke to congress about how the deaths of the homeless have been "significantly lower than had been originally projected."
Despite the death toll being lower than expected, the CDC and government programs have failed in offering sufficient protection to the country's most vulnerable population. The CDC advises that people experiencing homelessness  try and avoid crowded areas and public transport, maintain a distance of 6-feet from other people, wash their hands with water and soap for at least 20 seconds, and try to wear a face covering. But for people who are struggling to find clean water and food to survive one day at a time, washing their hands, staying away from people, and wearing a mask is going to be the least of their problems.
On Mar 27, Congress passed the CARES Act, a two trillion dollar funding package that addresses the nation's homeless who have been impacted by Covid-19. According to the Nations Alliance to End Homelessness, $4 billion was put towards homeless assistance, $5 billion was put aside for Community Development Block Grants, and $150 billion was given to state and local governments for any expenses incurred due to this public health emergency. Additionally, HUD programs were able to receive sufficient funding from the CARES Act in order to keep programs and housing opportunities open.
Despite the funding and drastic changes taken towards handing the nation's homeless, the fight still doesn't seem to be over. Shelters and other housing organizations continue to face issues trying to meet the CDC's standards. 
"All states have been at a disadvantage in their response to C-19 because the federal government has failed to adopt a unified, nationwide strategy. In fact, the national strategy seems to be 'let states handle it,'" Barbara DiPietro, senior policy director for the National Health Care for the Homeless Council, said in an email responding to Modern Healthcare article.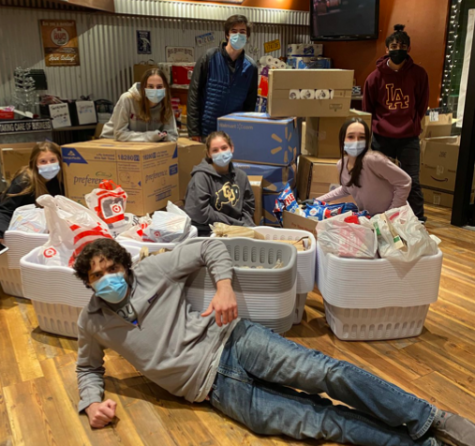 In these troubling times, consider what you could do for the people around you. It's hard to think about how much of the world is suffering due to something as basic as lacking accessible resources. Despite living in a good community, this doesn't eliminate the fact that there are still people all around us who don't have food, heating, water, and the appropriate support for their families. The creation of local organizations has helped eliminate some of these struggling families in the area, one of them being the non-profit organization SaLT. Based in Highland Park, IL, SaLT offers countless opportunities to give back to your community as well as helping others through their Shop N' Drop, Love2learn, and DreamBig programs.