The Challenges of Teaching Remotely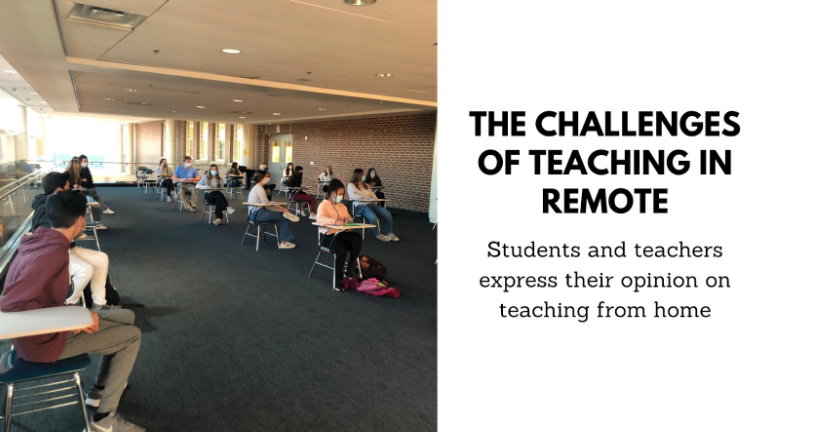 The original article has been updated to include more specifics regarding teachers working remotely.
This year, one of the biggest questions students have faced is the decision to stay remote or attend classes in person when possible. However, this has been a difficult choice for some teachers as well. At LFHS, many teachers are remote because of health or child care needs.
 Teachers working fully remote have described the difficulties of trying to connect with students through a screen. Simply put, it will never be the same as in person. With this new excessive amount of screen time, teachers have found it difficult to find ways to keep students engaged. 
"Differentiating the delivery of the material so that students are not just sitting passively staring at their screens for 6 hours a day every day in each class. With mathematics, that is especially a challenge given that it is a skills-based discipline requiring the students to do problems with pencil and paper," said Mr. Paul Goldstein. 
All teachers who are working remotely are doing so for health reasons as supported by a doctor's note or due to childcare needs supported by the Families First Coronavirus Response Act, which was passed in March.
"Teachers were not given the option to be remote or in-person in the way that students and families were. While a majority of teachers felt it was safest to be at home, there was not a choice provided on a form for teachers to fill out,¨ said Mrs. Becca Schwartz, LFEA president. 
One particular challenge is creating strong relationships with students. "It's a clumsy situation," said Mr. Phil Woodruff. "It's certainly not perfect, but we are trying to find ways to support each other and make it work."
Some students are less likely to unmute and have a conversation.
"I have noticed a lot more kids are more uncomfortable talking on screen. I want my students to know I want them to do well, but it's not the same as face to face," said Woodruff. 
Besides the difficulties, teachers have also said they wish they could change some aspects of remote. Some teachers said they wished students had better technology. 
"Give everyone a MacBook to use at home–at least the video and sound would be vastly superior to the Dells and Chromebooks, as well as the streaming capabilities. Nothing is more frustrating than not being able to see or hear the lesson, or having your feed freeze," said Goldstein. 
While the challenges are endless, teachers have said there have been some benefits. For some, creating lesson plans has been easier. "As a teacher, you really need to give more thought and consideration to the materials you provide to students in terms of having them be clear and concise with the lessons and example problems you want them to tackle. When this is over, my lesson plans and handouts will be better as a result of this delivery method. I miss my rug and my ceiling tiles and plants, to be honest. But having the cats participate in the lessons has been my favorite part of being remote," said Goldstein. 
Students with fully remote teachers have had a hard time adjusting to a proctor in the classroom. With the class still on screen even in person, it's much harder to connect than in a normal school day. 
"It felt pretty isolated in the classroom; almost as if I wasn't really being taught. It was like having a sub, and everyone knows nothing gets done with a sub," said junior Will Glyman. 
Alone in the class, students have expressed how they have felt strange in the absence of their teachers. "It was nice to be back in the classroom, but it felt really awkward to be in the class without my teachers. I understand why they need to be fully remote – it's just hard to adjust," said senior Mary Considine. 
While the situation has been tough for everyone, most students interviewed said they understand why some teachers are working remotely.
"It's understandable for teachers with kids at home online or those at risk, however, those that are able to come back should as students are eager for a sense of normalcy," said senior Charlie Weisberg. 
Some students wish there was a better way.  "I obviously want to see my teachers in person, and I wish there was a way for them to feel safe and come back. Remote just feels like they're not teaching us to their fullest extent," said Considine. 
Senior Zach Porter takes his criticism further, blaming teachers for being "tone-deaf."
"Students struggle with learning in a virtual environment, not to mention the mental health issues many face in isolation staring at a screen all day. That is why the administrators poured so much money into making it safe to return, and for now, teachers are completely undermining that," said  Porter. "They sound tone-deaf, and students no longer trust that they have their best interests at heart, and for good reason too." 
However, in such an ever-changing year, many recognize everyone is trying their best.
"I know that they are doing everything they can. I appreciate that and hope things will get better for everyone," said Lauren Milanak.
About the Writer
Caroline Walsh, Editor
Caroline Walsh is a senior at LFHS.