Dear COVID, Give Us Our Senior Year Back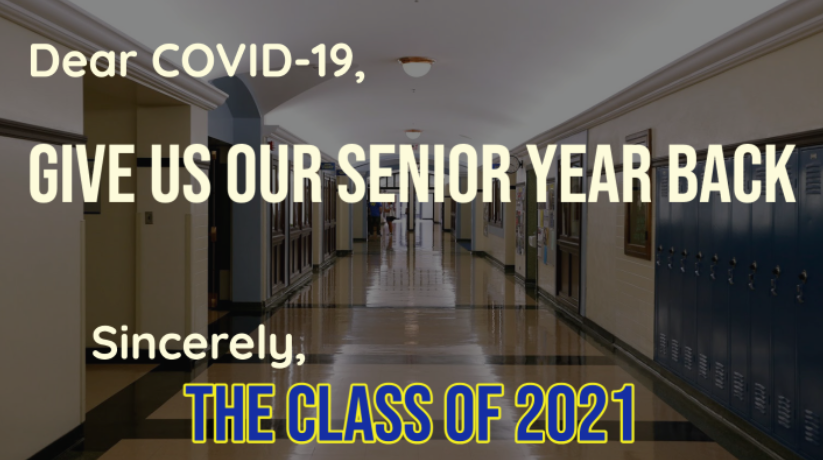 Every single LFHS student looks forward to their senior year of high school;  it's their last year as a Scout. It's the year of high school where everybody in the graduating class comes together as one big family. It's the year where you get to walk down the Senior Hallway and truly appreciate everything that the school has to offer.  Not to mention, it's the year of senior privileges.
COVID-19 has changed life, not just how we do things but how society is run. It has caused us to step back and take every precaution to ensure that everybody is safe.  With the pandemic, there is a ton of worry in today's society generating new rules that are being heavily enforced by our authority.  
The Class of 2021 has had a senior year like no other.  COVID-19 has made the experience of being a senior feel worse instead of better than any other year of high school.  My friends and I, along with the rest of the senior class have been stripped away from our last year in school, and instead we've had to spend it sitting at a desk for eight hours or more a day in our own home. 
I am fully aware that the school is taking every necessary precaution in order to keep the students, staff, and faculty safe. Most importantly, they want to help slow the spread in hopes that we will have a second semester in school, and I fully respect that.  There's still some things that I was disappointed with.
COVID-19 forced our school and schools across the country to go into hybrid learning.  With that being said, this means that students across the country are very limited to in person learning: the best way to learn.  Not only is COVID-19 is taking away quality learning time for all grade levels, it's also taking away the seniors' last memories that are made inside the doors of LFHS.  
The seniors were the last grade level to return back into the building after numerous delays.  For the seniors and I who chose to do hybrid, we had to sit at home and see underclassmen in the school, while we were itching to get back.  
When early November came and we finally got back into the building, everybody was very excited.  It felt like there was a little bit of normalcy in our lives for the first time in a year.  To our luck, we were in the building for a week (2 days in school) before we were forced to return to remote. It's our last year at LFHS, and we are already limited to the amount of days we can go to school. 
Why were we the last grade level to return if we already have very minimal time left?  
Shouldn't the school be backing us up?
While we were in the hybrid model, we did not get access to our senior privileges. I was happy to be back in school because it felt like my normal life again, but we did not get to leave campus during study hall or lunch like the previous years did. The act of being able to leave campus to grab a quick bite to eat with your friends or grab something you left at home makes everybody want to be a senior. It's an exciting year for everybody before they transition onto bigger and better things.  
We have patiently waited for our senior year thinking it was going to be the best year of high school, but it hasn't been.  COVID-19 has made this year very stressful for all, especially seniors in their college search.  This is the year where we have to make one of the biggest and most life changing decisions of our lives.  A decision that will set us on a path for our future.  We are already stressed out, and we can't even enjoy our last year as a Scout.  
I may be biased because I am a current senior, but I feel like many seniors would agree with me.  We don't even get the experience of being a senior, and instead it's just like any other year of high school.  I truly miss the regular school day routine, and the vast opportunities we have at LFHS. I truly miss the memories that are made with friends in the classroom or on a Friday night at sporting events. I hope that we can find a solution to this pandemic so me and the Class of 2021 can end off this hard year on the high note that we deserve.  
About the Writer
Kernan Lynch, Staff Writer
Kernan Lynch is a senior at Lake Forest High School and it is his first year being a contributor to The Forest Scout.  He is an avid lover of sports and...