Curtain Call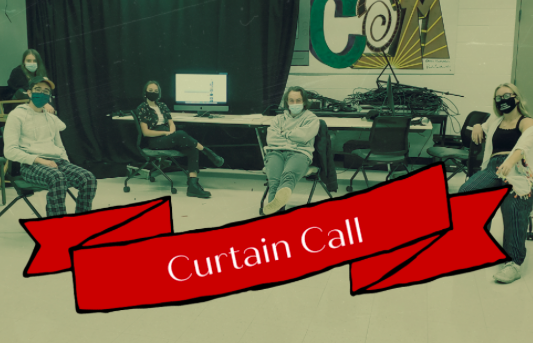 At 9:30 a.m. on a Saturday, you can usually find most students still at home and in bed. But at the high school auditorium, there is a hive of activity.
The Tech Crew works tirelessly to produce the complex sets and lighting for theatre productions. They may not bow after every performance, but these students keep the stage lit and sound running smoothly at all times — they are the backbone of LFHS theatre.
The crew, who meet many days after school and during the weekends, is made up of students across all different grade levels and varying levels of experience. Many of the current members are veterans who have been involved in the group since their freshman and sophomore years. Some of them, like sophomore Henry Thomas, got involved through classes and the efforts of teachers.
"I took a stagecraft class and then Mr. Homer was like, 'You're doing it — the frosh-soph — you're doing it!'" Thomas chuckled.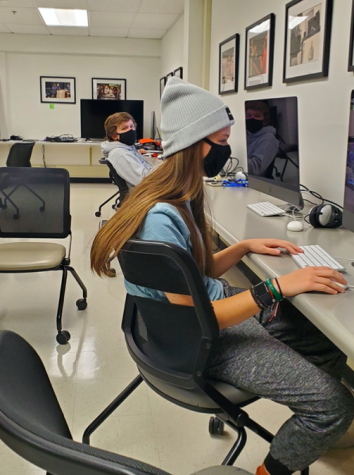 Kelly Sheridan, a senior who has been involved with the tech crew since her sophomore year, was introduced to the group upon the recommendation of a classmate.
"I got involved in tech in the spring of my sophomore year because my friend [alum Isabel Wiesner] told me how much she loved it and I've done it ever since," said Sheridan.
For others, like Junior Hailey Kowalski, an interest in involvement stemmed not necessarily from a teacher's suggestion, but joining simply "on a whim."
"I did a few techy things in middle school with sound and stuff, but after I decided to quit field hockey, I just kinda picked on a whim to do tech," said Kowalski. "I've been here ever since.  I thought tech would be cool because I don't have the best confidence, but I love theatre.  I saw it as a way to do something I love without the anxiety of being on stage in front of tons of people."
During any given show, tech crew members can spend much of their weekends and time after school working throughout the different theatre spaces at the high school. Whether they are assembling the scenery or programming a soundboard, each show has varying levels of complexity that the crew has to take into account.
When asked what her favorite thing she's done for tech, junior Elizabeth Miczuga was quick to answer, "Paint the floor. No contest. Paint the floor."
Others, like Henry Thomas, find the special effects like confetti cannons and fog machines to be the most interesting. 
Some of the more intricate shows the tech crew has worked on was the 2019 freshman/sophomore show, She Kills Monsters, the annual Talent Show, and the 2019 Fall Show, Rumors.
"The most memorable show I worked on was definitely She Kills Monsters," said Sheridan. "There were so many parts of the set that required work that we don't typically do in tech crew. We got to do paper mache, pour blood on bones, paint fake rocks, use dry ice and so much more. I remember staying until 11:30 at night working on the turntable set piece. And then during the show, I got to do things like shake the gelatinous cube and throw body parts on the stage."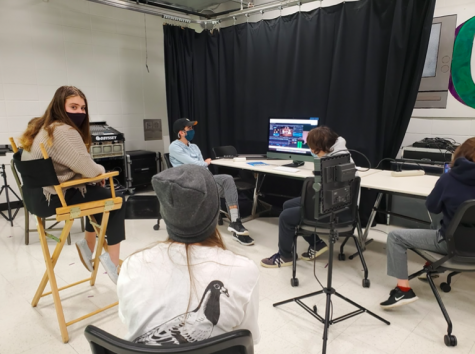 Despite the pandemic, the tech crew is still focused on creating good quality shows and helping with the different productions and concerts throughout the year.
"Tech is a lot different this year for obvious reasons," said Sheridan. "With safety as our number one priority, we've had to figure out how to create quality shows that are done virtually."
This year, much of the behind-the-scenes work is done in the New Media room through creating storyboards, recording the shows, and painstakingly editing each actor's footage and audio.
"This year, it's much more computer-based than previous shows have been because the shows are all online now," said Miczuga. "We don't have to build a full set, so we can expand our skills into different areas."
The tech crew recently finished preparing for the freshman/sophomore show, Twisted Tales of Poe, based upon the original stories of the famous poet Edgar Allen Poe.
"What makes this show unique is that we get to do foley sound effects which is something we haven't really done before," said Sheridan.
Foley sound effects are custom made sound effects recorded to suit different actions that take place in a show and is most commonly used for films. For Twisted Tales of Poe, the sound effects have been a backbone to much of the work that has been done outside of the editing process. Throughout the course of the show, they have recorded sound effects ranging from cooking onions to mimic rain, to smashing pumpkins.
"We're all kind of getting the hang of how to do shows virtually," said Sheridan. "Everyone has really been working together to make this show come alive."
About the Writer
Sarah Mack, Staff Writer
Sarah Mack is a junior at Lake Forest High School and enjoys writing about Student Life and Culture. Outside of school, you can probably find her practicing...