"Friends" Outfits: The One for the Forest Scout
The ranking of Rachel Greene's top five outfits in the iconic sitcom.
Hello, fellow fashionistas. Considering you clicked on this article, I just know we'd get along. I come here today on behalf of icons everywhere to speak on a very important matter:
Who in God's name was Jennifer Aniston's stylist on the set of Friends?
I just want to chat because this person has done wonderful things. Rachel pulls off some of the most show stopping looks of the 90's. In honor of an absolute legend, I will be taking us through some of the best looks portrayed by Rachel Greene throughout the 90's.
5) "And It Was All Yellow"
Rachel really stole the show with this look. For a nice little date night, she wears a strapless yellow dress with flower detailing. Personally, I like the more casual looks which is why I ranked this 5th. But, this was by far my favorite dressed- up look that Rachel wore. Again, this is a style that you could see anyone wearing today. The dress has a slit on the right leg which really loosens up the vibe of the dress and gives it a fun vibe. All I'm saying is that if you wear this on the first date, that man is automatically bagged.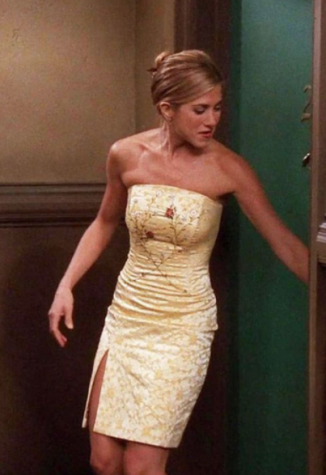 4) Absolute Queen Moves Here.
This is such an effortless look yet it's definitely something we could see worn today. She wears a white crop top with these high waisted brown pants. Oh, but you aren't about to catch Rachel Greene wearing any regular crop top. The crown detail really screams, "I rule the room and I know it." What a way to make a "lazy day at home" look good. And lastly, I don't even want to get into how good her short hair looks with this fit.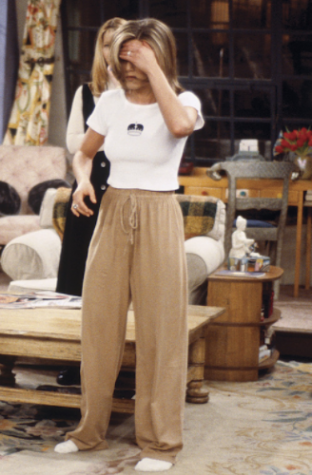 3) The Corduroy Bear is Not the Only One Who Can Rock It.
I'm sorry but this outfit will not be slept on if I can help it. And is that some more trendy layering I see? Rachel steals the show yet again with this red corduroy overall dress. Underneath, she has a black long sleeve with white detailing on the sleeve cuffs and collar. Absolutely perfect for this nice all weather we're having. Sparks lots of inspiration if I do say so myself. I'm thinking apple picking would go hard in this fit.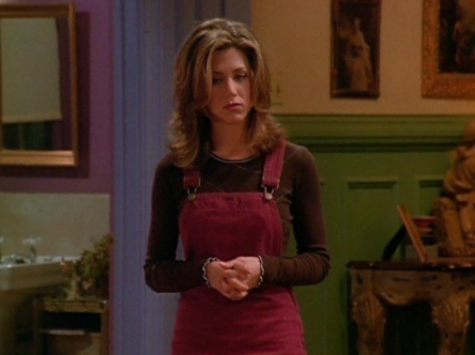 2) Ooh Ahh Plaid…
Along with coffee, Rachel is serving up a look. While waitressing, Rachel wears this white V-neck top, layered with a black button up vest. She wears a black skirt with a red plaid apron. I bet some of you are questioning why I put this little number up so high. Well, I feel like layering is definitely a trend that's coming back strong. This outfit almost makes me want to move to New York and become a waitress. Or at least just learn how to bake so I can wear this.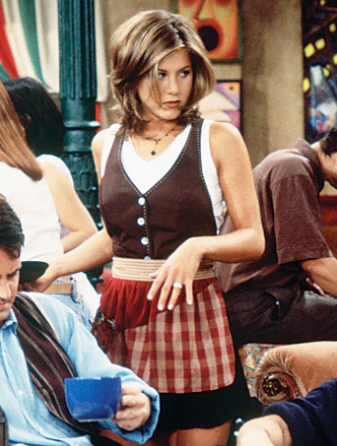 1) Simple But a Showstopper
 Now obviously at number one we have this iconic fit. Rachel is just babysitting in this episode, yet steals the spotlight with this casual serve. She wears a plaid pleated skirt, and a textured white turtleneck sweater. She pairs this with white knee socks which is what really sets it overboard for me. The pony tail also ties it all together. I don't know about you, but I'm getting some Christmas vibes here. Close your eyes and imagine a Christmas party while you stroll in wearing this. Tis' the season of the fashion killa am I right?