A Review of Miss Americana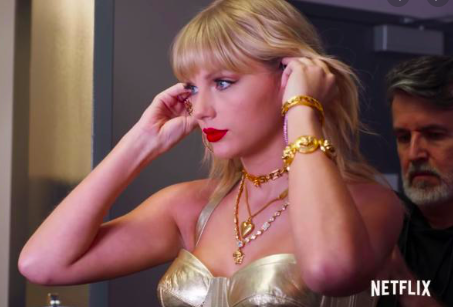 Taylor Swift grew up in the music industry. Through a career full of reinventing her image, she could be called a "jack of all trades" regarding the style of music she produces.
After writing her first song at age 12, signing with a label at only 16, and becoming the only artist -besides the Beatles- to have five albums spend six weeks at the No.1 spot on the Billboard Music Charts, the reputability of her career can no longer be questioned.
However, the documentary, Miss Americana, directed by Lana Wilson, reveals a behind the scenes look into Swift's life – one that proves to the world that the artist is more than a facade. It provides insight into what it takes to be in and out of the limelight of the music industry and the media throughout the past decade.
Miss Americana, which first premiered at the 2020 Sundance Film Festival, provides a deep look into her internal struggles. The documentary reinforces Swift's diligence, hard work, and the extremely high standards she holds herself to.
Throughout the film, not only does she prove her success and talent in the music industry, but her character outside of the industry as she fights to tear down the patriarchy and the misogynistic preconceived notions about her. She works to empower women in entertainment and women everywhere.
"There is no such thing as a slut, there is no such thing as a bitch, there is no such thing as being bossy. There is just a boss."
One of the biggest takeaways of this heartfelt film is that Swift no longer lives for the approval of others, but rather for the approval of herself, or as she calls it, finding "happiness without anyone else's input."
"I'm trying to become educated as I can on how to respect people and de-program the misogyny in my own brain; toss it out, reject it, and resist it."
Her journey to harness her voice for good is captured compellingly in Miss Americana. In this documentary, Swift is not afraid to expose her vulnerability and raw emotions.
"We're people who got into this line of work because we wanted people to like us because we were intrinsically insecure because we liked the sound of people clapping because it made us forget how much we feel like we're not good enough. I've been doing this for 15 years and it's just — I'm tired."
Through an emotionally revealing compilation of studio footage, interviews, and intimate, candid moments, it feels as though you are with Swift through her battles with her mother's cancer diagnosis, body dysmorphia, and an eating disorder, being a victim of sexual assault, and toxic media culture.
The film powerfully shows Swift's growth from a timid "good-girl" as she says, to becoming an unapologetic feminist, a loud ally for the LGBTQ+ community, and an outspoken political activist.
"I want to love glitter and also stand up for the double standards that exist in our society," Swift says. "I want to wear pink and tell you how I feel about politics. I don't think those things have to cancel each other out."
Miss Americana is inspiring to women, young people, and anyone who appreciates the fight for positive and progressive change. Though the world may know her as a sweet-talking Southern girl turned American music sensation, Wilson, Swift, and their entire team worked to dissolve that "pop princess" image she has managed to maintain for years. Not only does her art aim to reflect her truth, but her voice speaks loud enough to represent exactly who needs to be heard.
"I feel really good about not feeling muzzled anymore," Swift says. "And it was all my own doing."