McKamey Manor: Haunted House or Torture Chamber?
The eight-hour-long McKamey Manor has a giant reward of $20,000. The haunted house requires participants to be 21 (18-20 years old with parental consent), have a complete physical and doctor's letter stating that you are physically and mentally cleared, have a background check provided by McKamey Manor, complete a screening via FaceBook, FaceTime, or phone call, proof of medical insurance, take a drug test, and fill out a detailed 40-page waiver stating that death is possible.
No one has been reported to make it all the way through yet. 
McKamey Manor, known as the world's scariest haunted house and founded by Russ McKamey, started in his backyard in San Diego in 2001. In 2018, the San Diego location was permanently shut down and moved to Nashville, Tennessee. There is no entry fee other than a donation of a bag of dog food for Mckamey's four greyhounds.
Advertised as an extreme haunt, critics claim it's a way to torture people and there is currently a petition with 166,000+ signatures to shut it down. 
McKamey describes it as a "survival, horror, boot-camp experience". Allegedly, Russ McKamey uses the multitude of screenings to find the weakest and most easily manipulated participants to enter his haunted experience. The waitlist is currently 24,000 people long. 
Before participation, Russ McKamey personally contacts you asking what your greatest fears are so that he can adjust the haunted house accordingly. Participants are left with bruises, cuts, bug bites, broken bones, as well as emotional and psychological trauma that only years of therapy can fix. 
McKamey Manor seems like an extremely thrilling haunted house experience, however, some argue that the experience is closer to torture.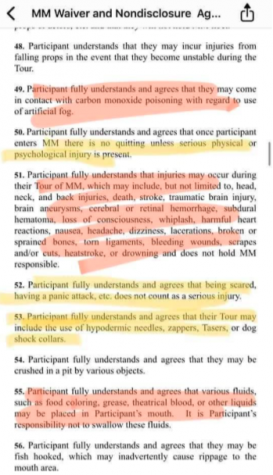 Part 51 of the Official McKamey Manor Waiver states, "Participant fully understands that injuries may occur during their Tour of MM, which may include, but not limited to, head, neck, and back injuries, death, stroke, traumatic brain injury, brain aneurysms, cerebral or retinal hemorrhage, subdural hematoma, loss of consciousness, whiplash, harmful heart reactions, nausea, headache, dizziness, lacerations, broken or sprained bones, torn ligaments, bleeding wounds, scrapes and/or cuts, heatstroke, or drowning, and does not hold MM responsible." 
The waiver that participants must sign before entering McKamey Manor states that Russ McKamey and his volunteer actors can do whatever they want to them. 
"Basically, you just sign yourself up to be tortured… it's not a haunted house, it's a torture chamber," Youtuber CJades said.  
There is a supposed safe word, but the contract states that the safe word means nothing and that McKamey and his actors will not stop. 
"They didn't let us stop, there is no safe word… they didn't care," McKamey Manor actor Ryan Lawrence said. 
Russ McKamey finds loopholes to make forms of his torture considered legal. Most participants don't know what they're in for when they sign the waiver. McKamey allegedly posts videos that make the Manor seem less torturous than it is. Participants essentially waive all rights to sue even if the experience ends their life. 
"It seemed like a typical, adrenaline junkie's extreme experience. Not something that would actually scar you for life," Youtube Natalia Taylor said. 
McKamey finds joy in "torturing" people. 
"7 years ago we had a heart attack, that was good stuff," Russ McKamey said. 
Even if it is considered legal, McKamey Manor is not for the faint of heart, so prepare to be scared (maybe a little too much).