Why the Chicago Bears Are Not 6-0…
Wilson Irvin gives his opinion on what he believes are the Bears biggest setbacks seven weeks into the season.
If you are a Bears fan like me, then you must have been disappointed this Monday. Watching the game against the Rams was like pouring salt into an open wound. That may seem harsh, but the whole time I felt as if the whole team was just kicking themselves in the foot.
I believe that the Bears should have won that game. 
There are many problems as to why they did not win, as I could go on and on about everything that the Bears are doing wrong right now, however, I'm sure that most of you can see some of the things that are going wrong, and I just want to highlight the main things that I believe is the reason why the Bears are not undefeated. 
The Run Game
In my opinion, a team will not be successful unless the offensive line is good and I'll tell you, the Bears offensive line is not good, Charles Leno Jr especially. I believe that he has caused at least half of the Bears sacks.
Not having a good offensive line leads to sacks, pressured throws, bad runs, and a scrambling Nick Foles, which I do not like. 
The fact that the Bears do not have Tarik Cohen right now also hurts. Cohen the type of running back that you want with Nick Foles during check downs to and running routes. 
David Montgomery on the other hand, oh boy. I do not like David Montgomery.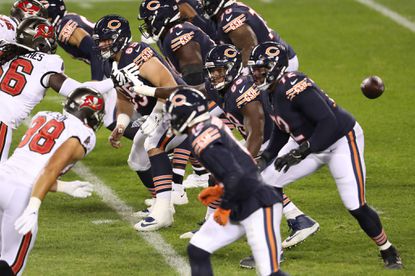 After watching him in the preseason last year I thought that we had something special, however, the one thing that hurts me the most, when watching David Montgomery is his ability to not bounce the ball outside of the tackles and make outside runs. 
On Monday night's game, there was a glimpse of promise. It was a run on 2nd down to the left side, in which David Montgomery bounced the ball past the left tackle and ran for 12 yards, probably his longest run of the season. If you don't believe me that David Montgomery isn't good, look at his fantasy stats. I had him on my fantasy team, and I could not deal with 15 attempts 27 yd and four receptions for 25 yards. That is not good for a running back. 
Not only that, but he has one touchdown on the year. It came on a one-yard attempt on the goal line of Tampa Bay. David Montgomery's longest run of the year is 23 yards. 
Do you want to know who has a longer run, and a higher average of yards per carry?
Wayne Gallman Jr. is the second running back on the New York Giants, arguably the second-worst team in the league behind an offensive line that cannot block for one of the best running backs in the league. He averages more yards a carry on fewer attempts and yards. Montgomery also has the same amount of touchdowns as La'Mical Perine, the second running back for the Jets–who have a worse record than the Giants. 
While I would love to hate on David Montgomery more, a lot of this does have to do with the offensive line. The offensive line should be the main target to improve this offseason and if not, and I am not sure what is going on in that front office. 
Nick Foles and the Deep Ball
As I mentioned earlier, Tarik Cohen is the perfect running back for the Chicago Bears. Nick Foles is not a quarterback that is known for his arm as we have seen throughout his first four games as the starting quarterback.
I think that all Bears fans can agree that on the last play Nick Foles was disappointing. His ball to Javon Wims was one of the worst game-ending throws I have seen. He threw the ball out of bounds when Mooney had nobody near him.
All he had to do was lead him from 40 yards. 
That is an inexcusable throw. 
The same thing happened against Tampa Bay two weeks ago, when Nick Foles tried to throw a ball to the right side of the field, it looked like a mallard. Rookie Darnell Mooney was wide open and could have easily scored. 
I just hope that Foles learns that check-downs and crossing routes over the middle are his thing, and he should not steer away from that. 
Foles vs. Nagy
It was reported Tuesday that Nick Foles when receiving the play from Nagy during Monday's game, knew that it wasn't going to work. 
Foles also apparently told Brian Griese, an ESPN reporter before the Monday night game in Los Angeles that he often knows that he won't have time to execute the plays that Nagy sends into him during games.
Nagy responded this Wednesday saying that "Nick and I have a good relationship and guarantee he I'll explain that to me later."
While Nagy seems calm about the misconception, this brings up a huge problem. Your team will not succeed if your play-caller and your quarterback don't see eye to eye.
It clearly shows on the field as well. ESPN reports that "through seven games, and a 5-2 record, the Chicago offense ranks 27th in points per game (19.7), 30th in yards per play (4.8), 30th in yards per run (3.8), 29th in yards per pass (5.6), 30th on third-down conversions (35.1%) and 29th in red-zone efficiency (47.6%)."
How much worse can it get?
In my opinion, it might be time to throw Mitch back in the picture. I think that Mitch Trubisky fits Nagy's offense better, as he is more mobile.
However, Nagy denied anything that related to him putting Mitch back in. He has his trust in Foles.
A bright spot is that Jim McMahon and Mike Ditka disagreed all the time, and they won a super bowl–Nick Foles also wears number nine so maybe he should start changing the plays more.
The bottom line is that the Bears have some key problems that need to be fixed. Whether that be trading for a new running back that isn't like David Montgomery, fixing the offensive line, or Nick Foles and Matt Nagy, but something has to change.
As you can see, I did not mention anything about the defense. The defense has no problems. I love the defense and what Chuck Pagano is doing. The offense is what holds the Bears back from winning games.
Who knows? Maybe we'll see Mitch back out there again.