Another One for the Books
The Varsity Girls Tennis team finishes strong with a Sectionals win in their altered fall 2020 season.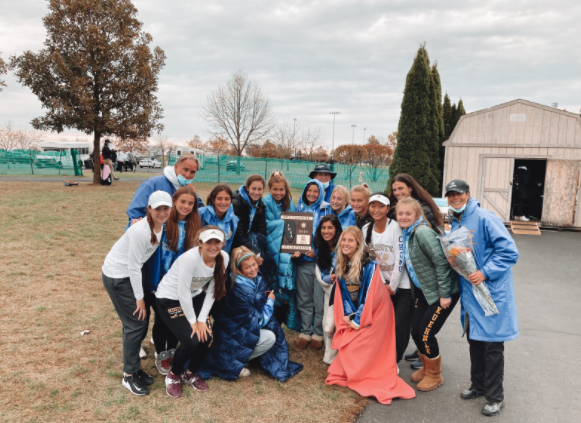 This year has definitely been an adjustment for all, not excluding the Varsity girls tennis team. With the countless restrictions and changes to the sport, it was a difficult transition from what would have been the norm. This obstacle however was no match for this year's team. The season was able to continue with flying colors, keeping in mind social distancing rules and being especially careful in order to keep their season alive. 
Due to the State tournament being cancelled this season, the team could only go as far as the Sectional tournament. This did not discourage the team. With spirits kept high and their eye on the prize they were determined to make Sectionals their new State.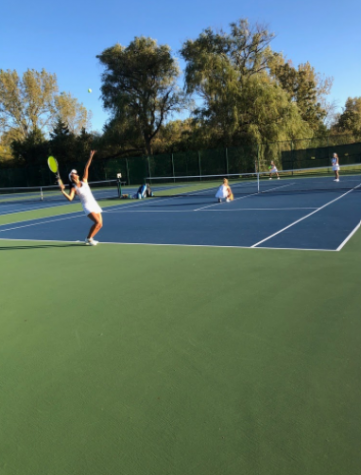 "I would say playing this year was a lot of fun, you know sort of feeling like this was the new State. That made it a little more stressful because I wanted to perform well, but I was thankful that we were able to even have Sectionals in the first place" said senior Lili Goshgarian.
They certainly accomplished this goal. The previous week the team took home the gold in the Conference tournament, with every team (1, 2 and 3 both singles and doubles) taking first place in their division. This was the team's first impression on their upcoming competition, and they certainly made a lasting impact. Head Coach Denise Murphy claims that a conference clean sweep has been unheard of in her many years coaching.
Confidence was definitely not a problem the following week, but the weather unfortunately was. Multiple rain delays caused the tournament to keep being pushed back and eventually cancelled to the next day.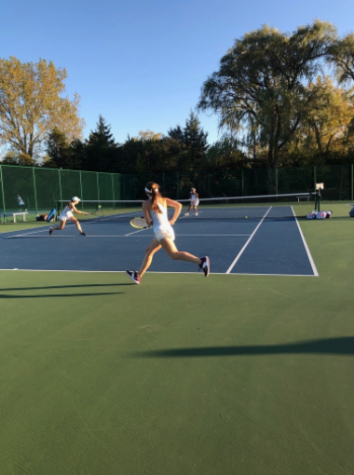 The rain delays couldn't have been more amusing for the team, with trips to Shake Shack and a pottery painting to help waste time. 
When the tournament finally got going on the cold Saturday morning, the girls were prepared to play all four rounds in one day. A long day is an understatement. 
"It was really fun to be part of the team and be a doubles partner with Lainey. It was a great experience" said freshman Isabelle Chong (1st doubles)
This years Sectional tournament lineup:
Singles:
Kiley Rabjohns

Autumn Rabjohns
Doubles:
Lainey O'Neil and Isabelle Chong

Lili Goshgarian and Clara Goshgarian
Both singles and doubles dominated in their first three rounds of the day, winning all matches, despite the brutal wind and cold. With helpful coaching from all three coaches, Head Coach Murphy, and coaches Corky and Jeff, the players were able to utilize what they learned in practice about how to deal with such conditions, and now apply it to when it mattered most.
When the finals were announced it was revealed that both singles and doubles teams would be competing against each other in the finals. This was an exciting shock for the whole team as well as the coaches. 
"It was a really great experience, and it was so much fun. Winning as a team made it even more enjoyable for all of us. It's a huge bummer there was no state, but I'm proud our team went as far as we could" sophomore Lainey O'Neil said.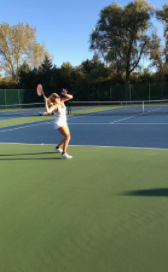 This interesting circumstance may have been intimidating for some schools, but the Lake Forest Varsity team was used to going head to head. With the finals being rescheduled for Tuesday the girls still had some more time before their season came to an official end. 
Watching the end of the final tournament of the season can be filled with mixed feelings, especially when your team is competing against one another. All other members of the team showed up in their LFHS tennis gear and brought their school spirit, ready to cheer their team on one last time.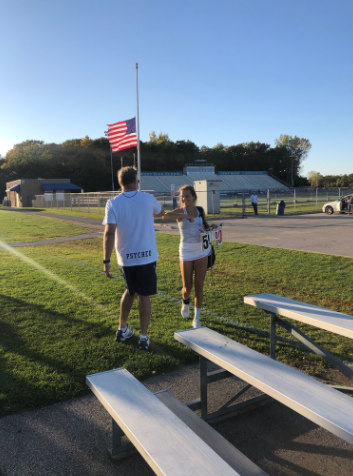 After the amazing win from both number 1 singles and doubles, the team carried on their tradition and went to Chick-Fil-A for a post tennis celebration meal.
"Winning sectionals was so much fun this year because I knew it would be the last high school match that I would ever play. it was so fun that lots of the team came to support the players and it was super cool that we all played each other in the finals" said senior Kiley Rabjohns.
Reminiscing about all the great memories made from the most unusual season, the team enjoyed one last win before they were forced to hang up their rackets. Hopefully next year the season will be back to normal and Covid-free.
"Sectionals went so great for us as a team," said sophomore Autumn Rabjohns, "We had worked very hard all season so it was great to be able to go and win not only conference but also sectionals this past week."