A Leap of Faith
New Media Wins International Film Festival
What do Spielberg, Scorsese, and the LFHS New Media department have in common? They've all produced at least one internationally acclaimed film.
The night of Oct 12 marked a monumental evening for director Yana Savitsky, cinematographer Ian Jackson, and many other students involved in the curriculum. Their creation for the International All-American High School film festival, titled Out For a Long Time, won the program's Complete Experience Contest, an invitational receiving thousands of submissions from around the world.
After tireless nights spent editing over Google Meets, Jackson and Savitsky were both shocked and overjoyed to have received validation for their hard work.
"I thought I was getting pranked when I first heard about it," Jackson said. "Never in my life would I have imagined we would win something this big."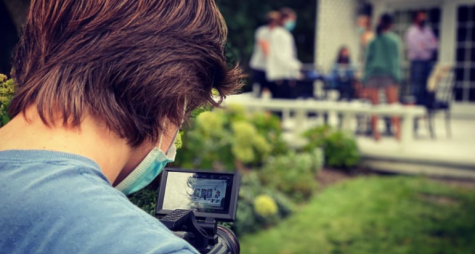 Like Jackson, Savitsky struggled with grasping the news.
"I'm very unconfident in my work as a whole, so I didn't even stream the awards in the first place," Savitsky said. "Finding out that we won was absolutely incredible – I still can barely process it."
The team took a leap of faith when submitting to AAHSFF this year. As regular contestants for the MMEA Seven Day Challenge, program director Mr. Steve Douglass had no idea what to expect when dipping his toes into international waters.
"We've never done [AAHSFF] before, so it's hard to know what else will come from this [opportunity]," Douglass said. "Getting even finalist credit was impressive, but winning is a whole other story. It's like combining multiple AP classes together and getting a 5 on every single test."
After receiving the news that COVID-19 restrictions would cancel the department's traditional New York film trip, Douglass aimed to find an opportunity that would be equally as challenging. Instead, he stepped up the expectations, asking the students to curate an idea that could beat out 5,000 other submissions.
In terms of plot, the writers decided to keep it simple: a timeless story of an unlikely duo working together to reach a common goal – covering up an accidental assault. When bickering siblings Max (Reid Baasan) and Pierce (Pierce Docherty) end up with a passed out hockey player in their yard, the pair has to shield the incident from their parents before the victim (Cole Joseph) comes to his senses. Lighthearted and hilarious, the overall feel of the short was crafted specifically to cater to the judges.
"Last year's winners from Taiwan produced a really heartwarming video," Savitsky said. "We knew we needed to think of something just as fun in order to contest with the top submissions."
Given the climate surrounding group-based activities with COVID-19, the students made safety a top priority when filming. According to Douglass, the challenge was nothing short of motivational for the already cohesive team. 
"We shot 95% of the short film outside," Douglass said. "This was essential, as we had over 20 people on set at all times. Regardless, it operated just like a professional set. We had departments led by experienced seniors, who had been on three to five similar sets over the years, and they did a great job communicating with eachother so we could move through the shot list efficiently. All of the crew wore masks the whole time; they did a great job keeping the big picture of our collective safety in the forefront of their minds."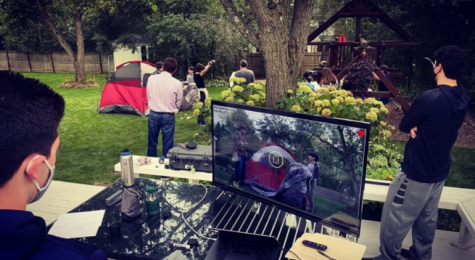 Actor Pierce Docherty appreciated the opportunity to be back on a New Media set. After previously starring in a plethora of Talent Show videos, the seasoned performer was more than enthusiastic to catch up with the kids he loves to create with.
"It was the first time I'd seen many of the crew members since well before March," said Docherty,  "It was great to have the chance to work with them again. It was also great getting to know some of the new faces on set, specifically my co-stars Reid Baasen and Jay Sharman – the latter of which I had plenty of great conversations with during our downtime."
The post-production process for Out For a Long Time required Savitsky and Jackson to stare at a computer for much longer than the length of a typical school day. Endless hours on Final Cut Pro forced the two to become incredibly acquainted with one another's work ethics. 
In the editing room, Jackson's sustained persistence with the project stemmed from a desire to try something new.
"[Out For a Long Time] is unlike any of my other projects because it is a true film," Jackson said. "My previous work involves a lot of self-produced videos, interviews, and commercials – but this is a short film. A lot more planning and professionalism went into this compared to my past videos, but I'm super proud of the end result because of it."  
The extensive amount of effort put in by the director-cinematographer duo proved to be fruitful; according to Savitsky, as the results rolled in, the New Media group chat became flooded with texts. Praises for the team were displayed all over social media, congratulatory emails from teachers were hot in their inboxes, and, most importantly, the students were frivolously celebrating eachother's hard work. 
As a result of the big win, Douglass could easily see how his experiential style of learning had affected the creators in his program.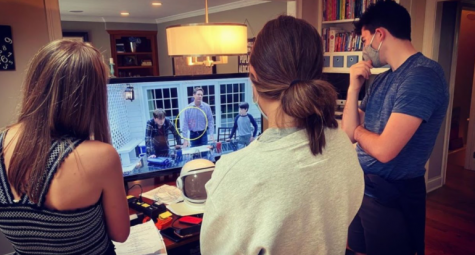 "I don't know if [the students] will ever have a better experience on set than working with each other on this project," Douglass said. "The level of trust, collaboration and selfless leadership during those four weeks is what made things run so incredibly well."
With this school year marking Savitsky's final opportunity to participate in LFHS New Media, the longtime director said she's grateful that Out For a Long Time felt "more like an opportunity than an assignment."
"Honestly, even with the win under our belt, I'm most grateful that this project connected me with such a dynamic, talented group of creators." 
If you haven't seen the award winning short film yet, check it out here.
About the Contributor
Kailey Albus, Editor-in-Chief
Kailey Albus is so excited to be returning to The Forest Scout - this time as an Editor-in-Chief! A senior at LFHS, you may find her in the choir room,...