County Health Department Recommends Remote Learning After Spike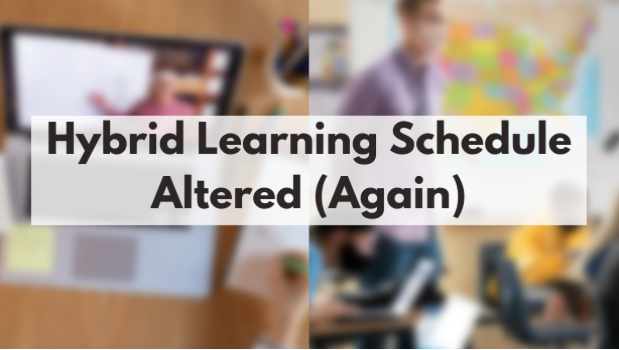 Finally, after weeks of waiting, sudden schedule changes, and a rush to hire proctors in classrooms, freshmen returned to an almost-normal high school experience last week. Sophomores were back for two days this week.
But then the number of cases in Lake County jumped, forcing the district to consider a return to remote learning.
According to a message from district, the Lake County Health Department is recommending remote learning in order "to protect students, staff, and their families and slow the spread of COVID-19 in the community." Superintendent Michael Simeck wrote that he plans to meet with representatives of Lake County today.
While the return to classes may have been short-lived, sophomore Piper Rother said she was excited.
"Even though it's going to be really different, I'm excited to go back to school just to get out of my house, and see people that I normally don't see outside of school."
This change is exciting to underclassmen, as they are finally able to return to school. Unfortunately, upperclassmen were told to stand-by and wait for their in-person return to school, as the date for the in-person return for seniors was pushed back to November 2nd.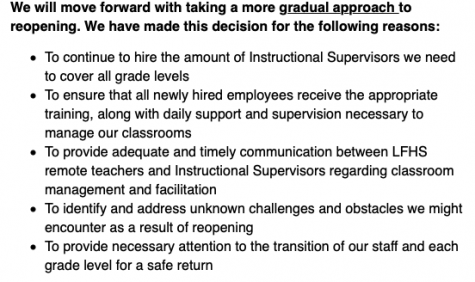 "It's not fair that we can't go back right away," senior Julia Turinsky said. "We should be going back first, it's our senior year."
"It is a very disappointing start to our senior year. They said that they would try to make it as normal as possible, but this is the furthest thing from normal, especially for us seniors," senior Ellie Pierce said.
Juniors are scheduled to return to school next week.
"The fact that the freshmen go back first is ridiculous, this year hardly even counts for them. It should go seniors, then juniors, then underclassmen" junior Gigi Snellback said. "Freshmen never had to adjust before, so why are they now?"
Some students are even more empathetic toward seniors.
"I just feel bad for the seniors. The seniors should be going in right after the freshmen, and the rest of the grades after," junior Francesca Pezza said. "Seniors are getting more and more of their senior year and high school experience taken away. However, I appreciate all the effort that the school has put forth during these unprecedented times."
Senior study hall advisor Ms. Laurie Hektor explained the reasons behind the in-person learning update.
"Truthfully, the reason for the delay is that the district has not been able to hire enough instructional supervisors to accommodate the number of students that will be brought back when all grade-levels are back in the building," Hektor said. "These supervisors are in the classroom with the students who are in-person, as the teacher is remotely presenting to the class."
About the Writer
Jackson Olenick, Staff Writer
Jackson Olenick is a senior at Lake Forest High School. He is a member of Human Rights Club, Model UN, and a Link Crew leader. Outside of school, he loves...