Scout Shout Out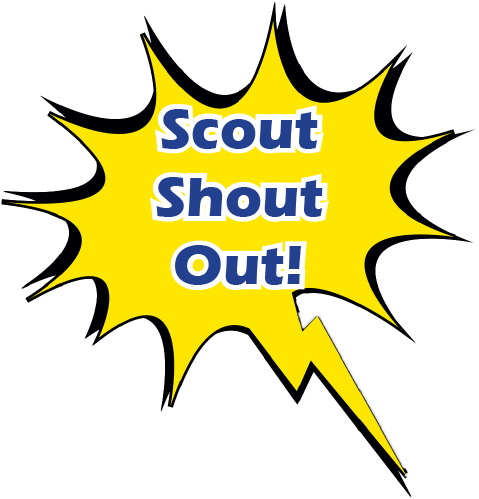 Good deeds, kind behavior, and important accomplishments deserve to be recognized. The Scout Shout-Out is an opportunity for Scouts of all types to honor each other when we demonstrate the values that are most important to us. If you would like to recognize a fellow Scout for kindness, hard work, personal accomplishments or any other contribution to our community, please visit here.

Carley Walker
What happened: Her article on depression was so powerful; I think it is the most important thing I have seen done at LFHS to help support suicide prevention in my time here.
Personal Message: Carley thank you, and your fellow contributors so much for having the bravery to share your stories.  I'm am in awe of your ability to be vulnerable for such an important cause.  We are all in your debt.
Who Made the Shout-Out: Mr. Maigler
Colin Burton
What happened: Colin is a kind and generous student who consistently works hard in academics as well as athletics. It is remarkable watching him take on E-learning. He works hard, participates, and engages in discussion – he is a solid leader in the classroom! In addition to his classroom performance, Colin is a great athlete on our football and wrestling teams. He had a great year in wrestling last year! Way to go, Colin!  They say success is 90% perspiration and Colin proves this point.  He is a great self-advocate and one of the hardest working students I have.  Keep up the fantastic job in biology class Colin!
Personal Message: Keep up the good work, Colin! 
Who Made the Shout-Out: Mrs. Horan, Mr. Sassen, and Ms. Cooney

Jahari Scott
What happened: He is always so positive in class and works hard to understand the material and connect with everyone in class.
Who Made the Shout-Out: Mr. Galla
Mr. Covey and Mrs. Frye
What happened: I am new to the Precalculus Accelerated course team this year, and I am so grateful for the amazing and collaborative work of my colleagues.  Ms. Frye has taken on a new role as math instructional coach, and she has gone above and beyond in every way. If someone has an idea, she runs away with it and redesigns it to fit our needs perfectly. She has spent a lot of time on Google Meets with individual teachers helping them with ideas for remote learning, and she also has been a great help to the Algebra team. Everything that she does, she does with care and love, and she is so greatly appreciated.
Personal Message: Thanks for being rock stars!
Who Made the Shout-Out: Anonymous
Will Elliott and Erica O'Neil
What happened: Joined our first freshman Student Council meeting to welcome some of our newest Scouts, explained the Stuco goals for the year, shared some plans in the works, and encouraged the freshmen to be all in.
Personal Message: Will and Erica your enthusiastic message to our Student Council Freshmen left them energized and ready to do whatever is needed.
Who Made the Shout-Out: Ms. Rogna
Students of Dr. Dukats
What happened: Students have been responsible, diligent, caring, and engaged!
Personal Message: Thank you for the awesome conversations and an amazing start to the year!
Who Made the Shout-Out: Anonymous

Caroline Graham
What happened: Caroline is such a light in my life!! I admire her work ethic and balance between volleyball and academics. I love doing school days with her, she always motivates me to be my best self. I'm so sad this is our last year together, but I know we will stay friends after high school.
Who Made the Shout-Out: Mia Springer
Tamar Cooney, Lena Kopecky, Kurt Schuessler and Tom Galla
What happened: Kudos to their enthusiasm, organization, patience and commitment in their Bio and chem classes this school year!
Personal Message: Thank you for making the start of this crazy school year the best for your students!
Who Made the Shout-Out: Ms. Dell
Juli Jennings
What happened: Juli has been a huge resource for TA's during remote learning.
Personal Message: Juli is an exceptional TA.  She has reached out to the newer TA's offering assistance with the new questions one does have.   She is always available to assist  , offer instruction , and her time when you reach out to her.   She is never too busy to lend her advice.   We are so lucky to have Juli on board to assist our students , TA's and to reach out to with any help in supporting the students.  Juli will take the time to find the answer you may seek or  ideas on data collection at its best… Thank you Juli for all you do !!!
Who Made the Shout-Out: Anonymous
Debbie Schneider
What happened: She loves her students and is constantly finding creative ways to spark their love of learning.
Who Made the Shout-Out: Anonymous
David Eckenbrecht
What happened: Mr. Eckenbrecht is a magician…or more specifically, he is able to help students through technical challenges with extreme patience and a deep knowledge of both Macs and PC's.  Graphic Design, Photo, Animation and AP Studio Art students need to have the right tools to be able to take their classes — and when it was announced we would be in a remote learning situation, Mr. Eckenbrecht and his team went to work finding Adobe software-compatible computers for our students, loading software packages on them and creating directions sheets and videos.  But the work wasn't done there — after the students brought the computers home, Mr. Eckenbrecht spent hours on Meets with students telling them how to hook them up.  On one occasion, Mr. Eckenbrecht had a student bring in her own computer and spent the day completely reformatting it so that he could run the Adobe Creative Suite.  Thank you so much for all your help, Mr. Eckenbrecht!
Personal Message: So grateful for your help! 
Who Made the Shout-Out: Ms. Bielski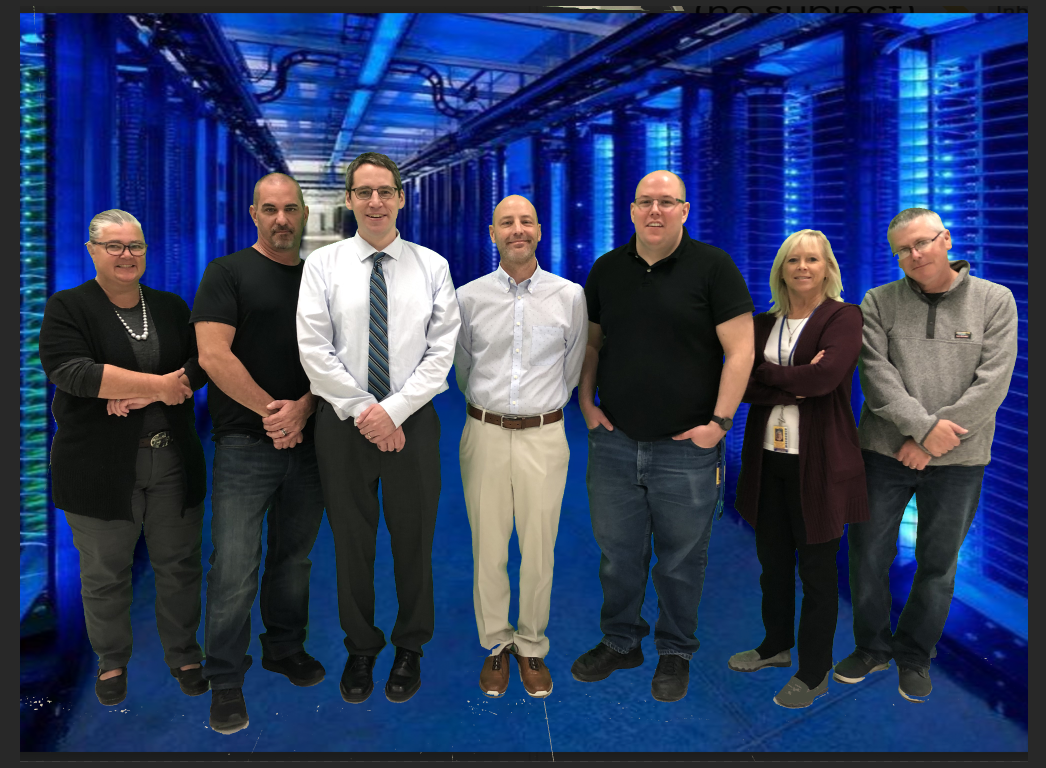 The Tech Department- Ryan Eleveld, Jim Streit, Rob Parry, Jordan Salus, David Eckenbrecht, Monica Wertz
What happened: This amazing team worked hard throughout the summer to find, format and inventory computers (aside from the Chromebooks) for students to borrow for the semester and run the Adobe Creative Suite!  We feel so fortunate to be able to provide this technology to our Digital Arts students so they don't miss a beat during remote learning.  Thank you!
Personal Message: Can't thank you all enough. 
Who Made the Shout-Out: Carolyn Bielski
Coco Stevenson
What happened: The first day I met her last year before going into freshman year, she was immediately welcoming and so friendly and ever since then, she has become one of my best friends, both on and off the course. She has become another sister to me and I honestly can't imagine my life without her. She never makes me feel guilty for being myself.
Personal Message: It's so sad to think that next year you'll be in college but until then, i'm so happy you're my big sister!!
Who Made the Shout-Out: Olivia Adams
Maggie Harmsen
What happened: Maggie has done an amazing job of getting our Freshman Advisory sessions up & running. Not only does her positive energy impact everyone involved, but her clear messaging & communication really helps!
Who Made the Shout-Out: Anonymous
Ed Techs
What happened: Virtual Open House was streamlined by their deft hand with Parent Partner groups and the videos they created, responding to all late requests for student schedules from concerned parents who had not yet received their links, and always, always are upbeat, kind and always there when we need them.
Personal Message: Thank you for all that you do to help our Lake Forest High School Community. Thank you for helping me.
Who Made the Shout-Out: Ms. Rogna
Wellness for Life TAs
What happened: The TAs are helping the freshmen feel welcome. They are leading & engaging. We are lucky to have you!!!
Personal Message: Thank you! The W4L teachers
Who Made the Shout-Out: Ms. O'Donnell
Lane Linder
What happened: He has transformed this school into a safe place for students to return
Personal Message: Thanks Lane for your leadership and attention to detail that will ensure our students and staff are going to be safe.
Who Made the Shout-Out: Anonymous
Margot Pierce
What happened: Margot suggested we create an orchestra "bracket". Students would submit their favorite pieces anonymously and then later the class would vote on them in the style of a "bracket". Margot took about 50 musical submissions and organized them into a bracket that made sense musically and really made the activity so much more meaningful! It was a lot of work and it was above and beyond! This is just one example of the many things she has done to help our orchestra program!
Personal Message: Thank you for everything you do! I appreciate how much you help me and the orchestra every day! 
Who Made the Shout-Out: Mr. Bassill

Tommy Gibbons
What happened: Class discussions can be difficult on Google Meet, but Tommy helps keep the conversation interesting with his very insightful comments.  Thanks Tommy for sharing your ideas and making class more fun for everyone!
Who Made the Shout-Out: Ms. Cooney
Athena Schneiderman
What happened: Not only is she an amazing artist, Athena knows all kinds of obscure facts about animals and nature.  Thanks for sharing and making biology class so much more interesting, Athena!!
Who Made the Shout-Out: Anonymous

Patrick Sassen
What happened: Patrick went above and beyond to ensure our spaces at Transition are set up and ready for when staff and students return.
Personal Message: Thank you, Patrick for always willing to help even when your plate is overfilling.
Who Made the Shout-Out: Dr. Sterpin
Joey Kowalik
What happened: Thank you, Joey for wearing a million hats and supporting the safe return of students.  I appreciate the partnership and collaboration.
Who Made the Shout-Out: Dr. Sterpin
3rd Period AP Calculus
What happened: For simultaneously laughing on the Google meet when I combined the words math and method this resulting in our "mathod" for evaluating a limit. It was a screen full of genuine smiles and made my day.
Personal Message: Really, to all of those AP Calc students putting up with Team Schlakin's Bitmojis and shenanigans — you are rocking this virtual learning!
Who Made the Shout-Out: Ms. Schwartz
Michelle Lawrenz and David Hain
What happened: Thank you for your leadership and collaboration with our problem solving committee.  You always have students' interests at the heart which makes collaboration successful.
Who Made the Shout-Out: Dr. Sterpin
Grace Blendonohy
What happened: Freshman Student Council always has a senior liaison that fosters a feeling of belonging and empowerment to our newest Stuco Scouts. Even before we had our cabinet in place, Grace met with me to share ideas and talk about ways to have the freshmen feel included. Her energy and kindness has been evident from the start. She will be a great ambassador for our freshmen as she helps them connect with  the overall group.
Personal Message: Thanks for being my side kick and letting me be yours. This year will be epic.
Who Made the Shout-Out: Ms. Rogna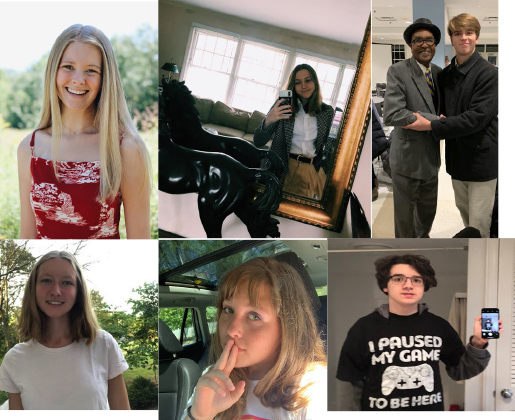 Ella Kuehnle, MaryGrace King, Lukas Pruim, Ella Vander Velde, Owen Bauder, Whitney Wisniewski, Kailey Albus
What happened: These are students who will always tell me when my sound isn't working well or will jump in to try to answer a question when the online classroom is a little quiet. They are not the only ones, but they are consistently there, helping us all get through.
Who Made the Shout-Out: Ms. Lemke

Lemke's 2nd period Stats class
What happened: I am really happy to get to work with these seniors who seem willing to try anything I ask them to try even though math might not be their favorite area – yet! They have great personalities, they are fun as a group, and they really brighten my day!
Who Made the Shout-Out: Ms. Lemke

Jake Terry and Dan Tennant
What happened: They are always willing to put themselves out there during English 3 class; to venture a guess, or offer an insightful comment. They demonstrate exemplary class participation. Even on sleepy Mondays.
Personal Message: Keep up the great work!
Who Made the Shout-Out: Anonymous
About the Writer
Ghost, Author
Ghost is a section of The Forest Scout that chooses to publish material anonymously in order to increase the depth of their investigative reporting. Ghost...