College Football Preview: Week 3
Another week is another week of college football, and I couldn't be more excited about it. After many thought it wouldn't come, it is here and it is better than ever. With schedules being in-conference only it makes every game matter a whole lot more than it normally would, and you sense that in the players. 
This week brings another great slate of games with four matchups of ranked teams. Normally one of the biggest games of the year is being played on Saturday, but due to the sluggish starts from both Oklahoma and Texas, the Red River Showdown is just another game this year. 
Going into this weekend, the rankings look like this:
Clemson

Alabama

Georgia

Florida

Notre Dame

Ohio State

Miami

North Carolina

Penn State

Oklahoma State

Cincinnati

Oregon

Auburn

Tennessee

BYU

Wisconsin

LSU

SMU

Virginia Tech

Michigan

Texas A&M

Texas

Louisiana

Iowa State

Minnesota
It is pretty clear why the top four teams are in the top four, as they have been better than everyone this season, it is after those top four where things get messy. How can you have two Big Ten teams in the top ten if they haven't even played a game? Wouldn't a team like Tennessee or Cincinnati deserve to be there? The answer is yes, but because of how this season started, and how teams aren't all starting at the same time, the rankings will be off for a while, but eventually, they will get back to normal.
Noon Game of the Week: 
Florida #4 at Texas A&M #21
Where: Kyle Field, College Station, TX
When: 11:00 CT
Channel: ESPN
Florida has gotten off to one of its best starts in recent memory, and it looks to keep that hot streak going against Texas A&M. Florida comes into this game with one of the best offenses in the country so far, averaging 44.5 points per game, which is good
enough for 5th in the nation. Texas A&M is coming off of a beating from Alabama, in a game where they let up 52 points to another one of the best offenses in the country. 
Not only that, but Texas A&M came into the season ranked 10, but quickly dropped after beating a very mediocre Vanderbilt team by a mere four points. Florida has proven to be the better team by a lot in both games they've played, although their defense has shown that it is not very strong. Texas A&M has the talent to win this game, but the pieces aren't there yet. In order to win this high scoring shootout, those pieces are going to need to come together very quickly. 
Prediction: Florida wins, 41-31
Other Noon Games of Note: 
North Carolina #8 vs Virginia Tech #19 (ABC)
Texas #22 vs Oklahoma (FOX)
LSU #17 vs Missouri (SECN)
Afternoon Game of the Week:
Georgia #3 vs Tennessee #14
Where: Sanford Stadium, Athens, GA
When: 2:30 CT
Channel: CBS
Yes, there may be some bias in this pick as the "afternoon game of the week," but no one can convince me that this isn't truly the best game in the afternoon slot. Two SEC rivals playing each other where both teams are ranked for the first time since 2016, and
the first time both are ranked 15 or higher since 2006. 
Tennessee currently has the longest SEC winning streak in the SEC with seven, and they're hoping to get possibly their biggest one on Saturday. Georgia looks to keep their three-game winning streak going against Tennessee, as they have outscored them 122-26 in their past three meetings. Georgia will look to play its unique style of football in this new age and win at the line of scrimmage. Tennessee will do everything and anything they can to win their biggest game since the Peyton Manning era. It will be no easy game for either team and unlike the noon game of the week, this game should be much lower scoring and will look like the SEC football of old. 
(Bias prediction): Georgia wins, 28-14
(Unbiased prediction from fellow editor Wilson Irvin): Georgia wins, 30-17 
Other Afternoon Games of Note: 
BYU #15 vs UTSA (ESPN 2)
Auburn #13 vs Arkansas (ESPN)
Iowa State #24 vs Texas Tech (ABC)
Night Game of the Week: 
Clemson #1 vs Miami #7
Where: Memorial Stadium (Death Valley), Clemson, SC
When: 6:30 CT
Channel: ABC
Possibly the game of the day, this game most definitely has playoff implications. Miami is somewhat of a surprise team this year as they are solid every year, but I don't think anyone saw them rising all the way to seven in the rankings. Grad transfer D'eriq
King has definitely helped with that ranking, as he has led Miami to a great 3-0 start, with very commanding wins over both Louisville and rival Florida State. 
Clemson, on the other hand, has gotten off to the start everyone was expecting, 3-0 and averaging 42 points per game. With commanding wins over Wake Forest, The Citadel, and Virginia, Clemson looked very comfortable. However, the defense allowed
23 points to a Virginia offense that is much worse than the Miami offense the same 42 points per game that Clemson is. If an upset were to happen, Miami would have to outscore Clemson, and although that is a possibility, I don't see it happening. 
Prediction: Clemson wins, 38-24
Other Night Games of Note:
Alabama #2 at Ole Miss (ESPN)
Notre Dame #5 vs Florida State (NBC)
Kentucky vs Mississippi State (SECN)
About the Writer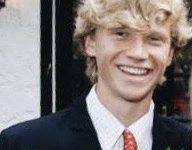 Luke Davis, Sports Editor
Luke Davis is one of the sports editors of The Forest Scout and is a senior at Lake Forest High School. Most of his work is done in the Sports section...