"Homecoming" Outfit Trends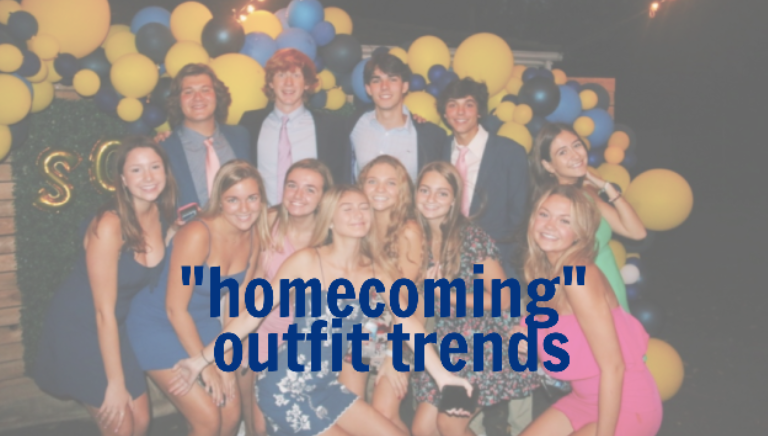 With its Friday night football game accompanied by the Saturday night all-school dance, LFHS Homecoming has been deemed a beloved tradition by many former and current students.  The week is dedicated to celebrating the broader community of Scouts, making it the hallmark event of the fall. a hallmark event for all to enjoy. It celebrates LFHS alumni and is essentially the first big event of the year. 
This year, however, homecoming week looked different than usual. There were no school-orchestrated celebrations as a result of COVID-19 restrictions, but many students took it upon themselves to have their own "homecoming dances." This gave everyone the opportunity to get dressed up and enjoy the night. Below are some of our favorite trends we spotted on social media. 
The first major trend was floral. This was insanely popular as dozens of girls rocked this trend. So many different styles, patterns, and colors of this trend were worn last night, and everyone who wore it looked amazing!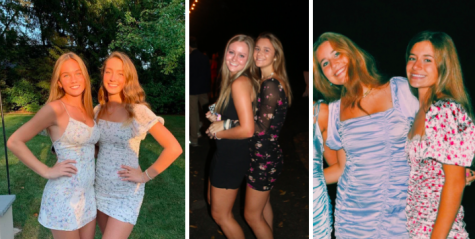 Sophomores Victoria Lang and Sascha Robb     

Senior Julia LeClercq (right)

Junior Lyla Walsh (right)
The next big trend of the night was pink. These dresses look good no matter what you rock it with. Girls in dresses and rompers in various shades of pink stood out in the crowd with their bright colors.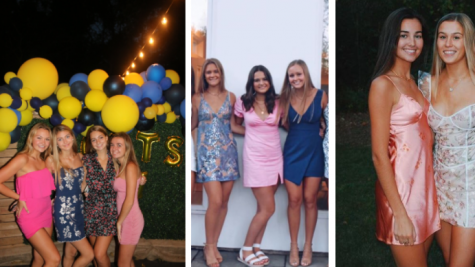 Seniors Avery Ellis and Julia Turinsky (far left and far right)                  

Senior Kate McCabe (middle)

Senior Lillian Rohrbach (right)
Another trend was the ruched style. This type of dress has always been popular because it comes in so many different colors and patterns. The most popular way the dress was designed was with a square-shaped neckline and over-the-shoulder sleeves.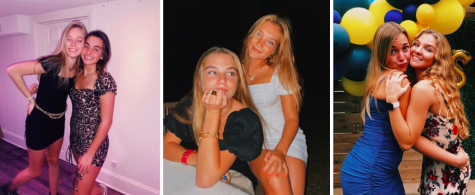 Juniors Gigi Snellback and Maggie Volpe

Seniors Carmel Hickey and Avery Robb

Senior Claudia Delhey (left)
Lace dresses are a popular trend seen year after year. This year was no different, lace dresses still remained in the spotlight. These dresses are simple, but elegant and can be styled in so many different ways. 
Sophomore Chloe Robb (right)

  

Senior Blair Flavin (left)

Senior Jacqueline Richer (middle)
While this isn't a dress trend, sneakers were exceptionally popular this year. Girls traded in fancy style for comfort and many paired their dresses with simple white sneakers. 
Seniors Ellie Pierce and Evie Frentzas        

Sophomore Maeve Bradley (right)

Senior Callie Birtman (right)
A timeless look that proved itself to be popular this year was dresses with puffed sleeves. Whether it be short sleeves or long sleeves, the puffed shoulder adds definition and an extra flare.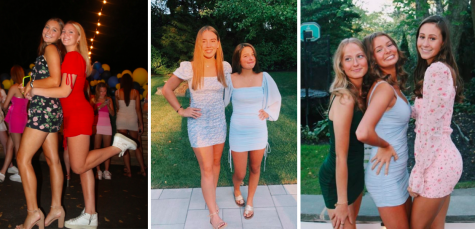 Senior Robin Kokke (right)

Sophomores Anna Marquis and Luca Ferraioli

Senior Gabbie Jakubowski (right)
Our last trend that can be seen all year-round is side cinching with ties. Typically seen with a cowl neck, the dress can be worn in a variety of patterns and colors. Dresses with cinching adds dimension to a look that is otherwise simple. Girls rocking this style always look elegant and pretty, no matter what shoes and jewels the look is rocked with.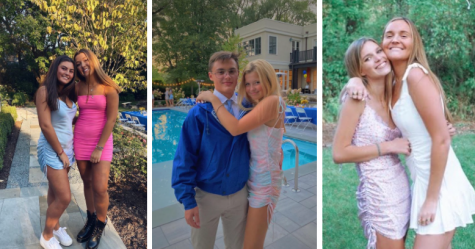 Sophomore Posy Connery (left)
Sophomore Autumn Rabjohns (right)
Senior Lindsey Asmussen (left)
Stay safe and stylish LFHS!
About the Writers
Rory Summerville, Managing Editor
Rory Summerville is a senior at LFHS and is back for her second year with The Forest Scout. She is a coffee enthusiast, enjoys traveling to new places,...
CC Carter, In Style Editor
CC Carter is the In Style editor of The Forest Scout and is a senior at Lake Forest High School. This is her third semester writing in journalism, so you'll...