Time is Ticking: The Manhattan Union Clock Predicts Earth's Deadline
The meaning behind the mysterious NYC clock and its countdown.
For many years, a strange electric clock that faced Union Square In Manhattan counted hours, minutes, and seconds from and to midnight. According to The New York Times it has been known as "one of the city's most prominent and baffling public art projects." People have struggled to find the purpose of the clock: bouncing between ideas of it counting national debit to having no clue at all.
On Sept. 19 all of this confusion changed as two artists named Gan Golan and Andrew Boyd saw a chance for action involving the irreversible effects of global warming. In honor of Climate Week they changed the clock's purpose on Saturday afternoon at 3:20 p.m. ET by showing the number of years, days, hours, minutes and seconds until the Earth's deadline. 
The Earth's deadline is when the earth reaches its carbon capacity and exceeds the carbon budget which are scientifically made requirements in order to tolerate climate change and global warming. These requirements are based off of current emission rates and if the budget exceeds this line the struggle between saving our Earth will be lost. 
According to Jennifer Hassan, "A total depletion would thrust the world into further turmoil and suffering through more flooding, more wildfires, worsening famine and extensive human displacement." 
These statements about our future Earth and its deadline, if nothing changes until then, were made by the same artists who created this clock and wanted to spread awareness to the issue.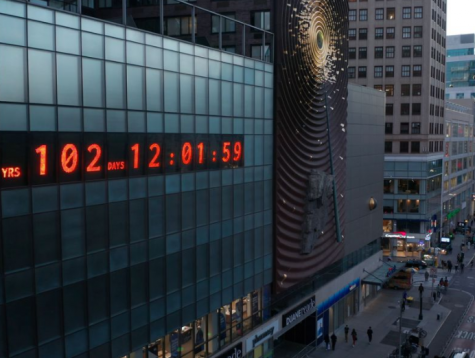 The awareness the artists want to spread is that if the earth increases by only 1.5 degrees Celsius then the whole world would fall into a series of unstoppable events like wildfires, droughts and heat waves, along with a destruction of ecosystems and damage worth up to 54 trillion dollars. One of the most extreme consequences due to this temperature rise is a disappearance in the world's water supply, which is one of three things necessary for sustaining human life. 
Throughout his interviews, Glan Golan emphasized on the worry he has for future generations including his newly born daughter. "What we did in the next few years would determine the world my daughter would live in, that all of us would live in, and I felt that timeline needed to be understood by everyone, everywhere," he said. 
The incredible emphasis on changing how we live our lives is the main goal in creating this clock. Along with Greta Thunberg, who Gan Golan and Andrew Boyd both worked closely with to create her own clock which was presented to the UN back in September, all shows how important it is that everyone takes action now.  
The clock was put up for a week making Sept. 27 the last day. Some people believe that the clock will become a part of the Manhattan landscape always reminding people how much time we have left.  "Different countries and different communities may have different roles, but we all have to be on the same timeline," Golan said, calling for "global unity." As of Sept. 25, the clock read as seven years and 97 days left. And still counting.
About the Writer
Chloe Mutter, Staff Writer
Chloe Mutter is a junior at Lake Forest High School. She loves drinking coffee, exploring new places, watching movies and going shopping. Chloe is always...