Staying Motivated Despite Dismay
Varsity Girls Tennis Team committed to Sectional win after State canceled
The IHSA decision to cancel the Girls Tennis State Tournament has been hard on the  LFHS varsity girls tennis team, which is the reigning State champ. Plus, senior Kiley Rabjohns has won the individual state title the past two seasons and will miss her chance for a three-peat.
You might be asking yourself, well what's the point of having a tennis season with no State? This is definitely not the case for the players this year, however. They are doing their best to keep their head up and focus on the next best thing: Sectionals. This is the smaller tournament that assures them a spot in what would have been the State tournament. The team has redirected their motivation to envisioning this as their new State. 
The season has already had some immediate changes affecting everyday practice. All players have to wear masks at all times except when in play, while the coaches have to wear masks at all times. Players and staff have to remain six feet apart at all times, even while working out during the warm-up tasks, such as running laps. All players have their own two tennis balls that they have to write their names on so there is no overlapping contact with equipment. To help monitor each athlete's health, the physical trainer comes to monitor every practice along with the athletes having to  fill out a daily survey asking about their exposure to COVID. 
The tennis team has gone above and beyond to try to make the best out of the situation. From ordering team masks to making team dinners COVID-proof with individually wrapped food, they are making an effort to make this difficult situation an enjoyable one.  trying to turn this difficult situation around. 
"When I read the email from the IHSA confirming rumors that the State series would end at the Sectional level I was really disappointed," Coach Denise Murphy said. "I felt like there was definitely a safe way to modify the tournament so it could be played. I also felt bad for our incredibly talented team and Kiley not being able to fight for a repeat and three-peat.  Those thoughts lasted about 10 seconds before I immediately thought of the things we do have. We have an amazing team led by our awesome captains Kiley and Olivia Wheldon."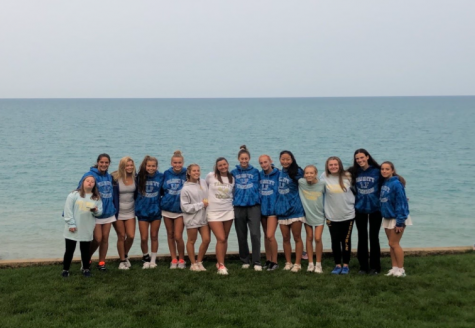 For senior Kiley Rabjohns, this would have been her fourth time competing in State, and her chance at a third consecutive state title. Rabjohns committed to play D1 at Northwestern University at the beginning of her junior year. Winning multiple titles back to back for two years, and potentially going for a third which has never been done in the history of the LFHS girls tennis team, let alone for one individual gaining a personal state title multiple years in a row. 
 "It's my senior year and I'm super sad that State is canceled because it is always super fun and we get to play people that we haven't played the whole season," she said. "We are also state champs, and our team is really good this year so I think it would be pretty cool if we could compete at State and try to win again."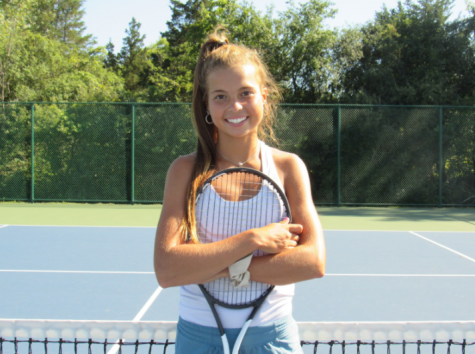 Rabjohns is known for her humble demeanor and positive attitude towards herself and others, whether on the court or off. Alongside Rabjohns as co-captain is senior Olivia Wheldon. She recently committed to play D1 at Providence College in Rhode Island. 
"It's heartbreaking to hear that we won't have State this year, especially with it being mine and a lot of teammates' senior year. Our team is really strong this year and I think we could have done really well. I'm trying to look at the positives and I'm grateful that we even get to have a season and be together as a team," said Wheldon.
Wheldon is seen on the court laughing and always cheering on her teammates. She is key to the energy and enthusiasm that comes with being on the tennis team.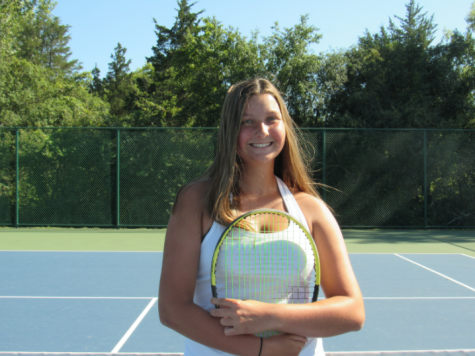 Only six players participate in the state tournament, yet all teammates spectate the stressful and competitive matches. Watching is just as entertaining as playing. Tennis is not the rowdiest sport with people screaming and cheering, but at the state tournaments, there is definitely a serious competitive edge. Rival teams face off and teams often come together, bonding over the need to beat competitive schools.  
Returning player junior Sofia Falls had the pleasure of watching State last year and getting to witness this excitement first hand.
 "State is the most exciting part of the season for any team that participates. I feel while there could have been some way to make it happen, our team will never lose the spirit and excitement building up to the final moments of the season. My favorite part of State is definitely the bonding that happens because of our strong support for one another," said Falls.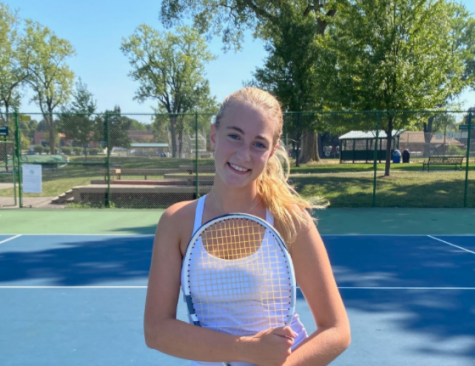 Being a freshman may be nerve-racking, but being a freshman on a varsity sport while trying to configure due to the global pandemic is even more difficult. Freshman Ameena Alsikafi has never been to a state tournament herself, but has heard the amazing stories from her siblings who are varsity tennis alums. 
"Being a freshman and never experiencing the state tournament from a player or teammate perspective was different. I had grown up watching tennis. My 4 older siblings all played at the varsity level. When my sister played in State her freshman year I thought it was just the way things were and that everyone got to go to State" Alsikafi said, "When I went to watch and there were umpires everywhere it was a little overwhelming. Last year I got to watch my sister play, and I knew that she deserved to be there and that she was actually good at tennis. When it got canceled this year of course I felt sad for the seniors who wouldn't have another chance but I personally didn't feel terrible. I know that I will get a chance next year to play my best."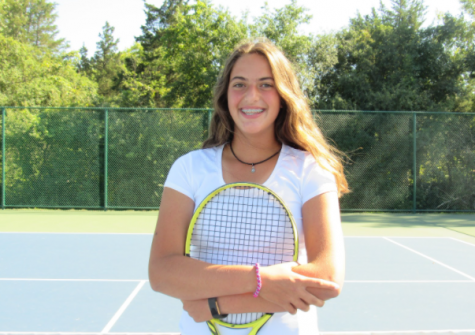 "We are lucky enough to be one of the four [sports] teams able to play the game we love this fall and we are making the best of every day. Teammates challenge and motivate each other in such a positive way.  As a result, we are learning and improving each practice, every match. Our goal ìs to win conference and sectionals," said Murphy.  
To go along with the disappointment, the team has already faced so many changes, that they can't count on anything anymore.  This cancelation can either bring out the glass half full or half empty in people and it was definitely prevalent that the Lake Forest tennis team is not in any way hindered by their season being cut short a week. The team appears to be as motivated and psyched as they would be in a normal fall season. All COVID regulations aside, they seem as close as can be, and are ready to take on Sectionals. 
"I am so proud of this very special group," said Murphy, "Regardless of any of the final tournaments, they are true champions."