LFHS' Wall Of Excellence To Be Virtually Unveiled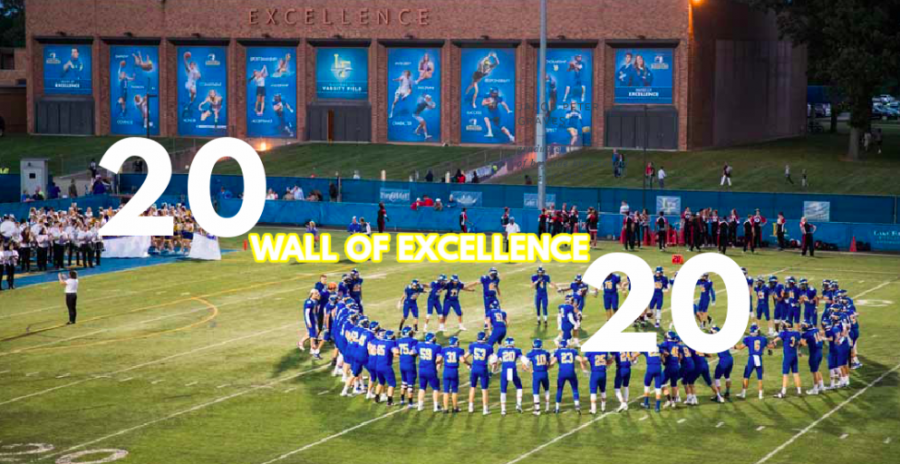 Despite not having a traditional unveiling at the first football game, the LFHS Wall of Excellence stands strong. 
The wall, which faces the football field at West Campus, is famous for displaying recent graduates who highlighted the values of character, commitment, leadership, and spirit during their time at LFHS. Four of the individuals appearing on the wall are recipients of the Outstanding Senior Athlete Award. The selected students, according to LFHS Boosters, demonstrated "excellence through their athletic performance, leadership, spirit and sportsmanship as an athlete at LFHS." Along with the highly coveted spot on the wall, these students are each awarded $1,000. 
"While it is unfortunate that we are unable to unveil the wall this year as we typically do, Boosters has partnered with LFHS New Media to make this year's unveiling extra special and particularly powerful," Boosters President Lesley Fisher said.
"These 15 honorees are deserving of the moment, as is the entire class of 2020."
Recipients of the Senior Scholar-Athlete Award, Bill Rawson Memorial Award, Gayla Clemons Athletic Award, Matt Coutu Award, and the Philip Sousa Band Award, and finalists of the Outstanding Senior Athlete Award are also depicted on the wall, as well as LFHS' Student Council Senior Class President and Student Body President. 
This year's honorees from the Class of 2020 are as follows: Halle Douglass, Grace McGowan, Benjamin Rosa, Rylie Mills, Breck Nowik, Julia Tanna, Sophia DiVango, Nate Schmitt, Chase Waggoner, Julia Hender, Nika Belova, Charlie Aberle, Mark Smirnov, Haley Banta, and Sarah Bires. 
For former girl's varsity soccer goalie Sophia Divagno, being on the wall is a long-lived dream come true. 
"It shows I did my part in setting a good example of what it means to be a Scout," Divagno said.  "I feel very fortunate that I was able to represent LFHS for the past four years and do my part on the field. I owe it to my coaches and teammates for always motivating myself and others to do our best."
Julia Hender, formally known as "Big 3" among LFHS field hockey fanatics, recognizes the impact the wall has had on the way she worked on the field.  
"I've grown up admiring the seniors on the wall my entire life," Hender said. "I love field hockey, and when I found I was going to be on the wall it felt like all of the hard work I put into the sport was recognized."
While all would love to see the mural for the first time in person under the friday-night-lights, there will still be an unveiling, just virtually. The video will be sent to the community tonight (September 11th) by email, as well as being posted on Twitter and Instagram. Make sure to throw on your blue and gold, and be sure to tune in to this modified yet classic LFHS tradition!
About the Writer
Rory Summerville, Managing Editor
Rory Summerville is a senior at LFHS and is back for her second year with The Forest Scout. She is a coffee enthusiast, enjoys traveling to new places,...