COVID-19 Makes Already Challenging College Admissions Process Even Harder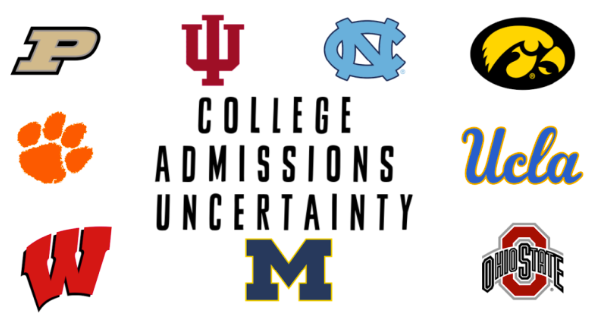 Due to the Coronavirus pandemic, many rising seniors have been increasingly confused and anxious over the college process. Multiple dates for both the ACT and SAT were cancelled this past spring and summer, leaving a handful of students without basic standardized test scores.
"Not only was I not able to take the ACT for multiple months, but now trying to find a place to take the test is impossible," senior Asher Sklarov said. 
Fortunately, the test makers are well aware of the chaos caused by the cancellations; the ACT announced that multiple testing dates in September and October had been added to ensure that students who are required to take the ACT or who wish to send scores to schools have the opportunity to do so. 
Over the past few months, more than 300 schools have gone test-optional because of the unanticipated circumstances. This list includes notable universities such as Yale, Vanderbilt, Boston College, UCLA, and Harvard. 
While removing the standardized test requirement has relieved some stress, another uncertainty is the ability to tour universities before applications are due. Social distancing guidelines make it difficult to have visitors on campus, leaving students possibly having to decide where to go to school without ever visiting. Furthermore, hundreds of schools have elected for online learning, meaning the campuses are not accessible to anyone. 
"I had multiple college visits planned over spring break, and they all got canceled which was extremely disappointing," senior Heidi Schoeller said. 
In response, a handful of schools have implemented a system of virtual tours, as well as providing additional information pertaining to student life on their websites. Schoeller found these new virtual components to be convenient and compelling. 
"I ended up doing virtual campus tours and I reached out to college counselors who gave me advice and information on the schools I like."     
It's possible that Covid-19 could impact college scholarships and financial aid, but currently, most colleges have reassured applicants that the absence of scores will not affect a student's opportunity to receive aid. 
While a majority of students are planning for college, as usual, plenty have decided to take gap years or spend their first year of college at a community college to save money. Recent LFHS graduate Kate Wildman decided to hold off on attending the University of Michigan due to this year's uncertainty. 
"I had talked a little about the idea of a gap year with my parents because I knew that college would be looking very different this year," Wildman said. "I was originally against the idea because it just seemed so different from what most of my friends were doing and I was worried about taking a more unusual path, but I ended up applying for deferral super last minute. I'm still going to Michigan next year, and I'm hoping that by then everything will be a little more back to normal."
With Covid-19 restrictions, college admission staff visiting LFHS may be canceled or moved virtually. These traditional visits give seniors a chance to hear about different schools and gain a lot of information at once. Now, students are urged to research schools more individually. 
"Corona has created multiple speed bumps like connecting with college admission staff since they are no longer able to come to the school," Sklarov said. 
This year is a notable one for high school students as almost every part of the college admissions process is being altered as universities, students, and parents try to navigate the difficulties during this pandemic. Applying to college has always been the same repetitive routine for every senior class, but this year comes with a greater amount of uncertainty. While students may be accepted into universities throughout the course of the year, it is unknown when these applicants can expect life on campus to return to normal.
About the Writer
Rory Summerville, In Culture Editor
Rory Summerville is a senior at LFHS and is back for her second year with The Forest Scout. She is a coffee enthusiast, enjoys traveling to new places,...