Outfit of the Week featuring junior Carmel Hickey
This week's outfit of the week goes to junior Carmel Hickey. Her dress is from Princess Polly (brand is 'Hazel'). She actually purchased it off of senior Margo Thornberry's Instagram closet account – @margosclothes (a new quarantine craze)! Her earrings are from Missguided and add so much to the look! Her other jewels are from a variety of places, but mostly from local boutique, Valentina. Carmel loves to shop local! Although you can't see her shoes in this picture, she paired the dress with a pair of strappy sandals from Marc Fisher.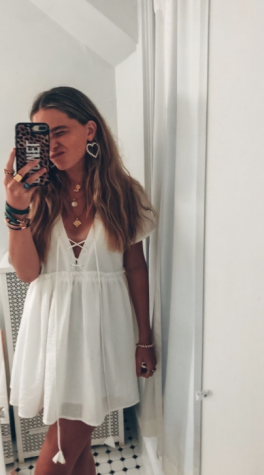 Q&A with Carmel:
Who is your fashion icon?
"Definitely Courtney Mawhorr. She's an influencer, but also younger, so her style is much more relaxed and fits the same aesthetic of what I wished my closet looked like; whether it be an array of hightops, boyfriend jeans, little dresses, or lots and lots of gold jewelry.
How would you describe your own style?
"I think it's hard to pin my style into an exact category, but I typically switch off from streetwear, so hoodies, hightops, jean shorts, etc. to more put together looks, such as the one above!
What is your go-to outfit?
"My go-to outfit would probably be my black doc marten platform boots, ripped jeans (zara has the best), either a graphic tee or just a white tee, and my gold rings that I wear daily. 
What's your favorite latest trend?
"Leopard will always be my favorite trending pattern to wear, but more recently I've noticed more 70's looks like Free People's fit and flare jeans and cool sweaters that I also like. 
What is your favorite look/theme?
(ie. athleisure) "My favorite is definitely street style because it incorporates so many elements that otherwise would never be paired together, whether it be a hoodie with a blazer, or dresses with sneakers.