What is College Going to Look Like Now?
Perspectives from Health Experts, Seniors, and Alumni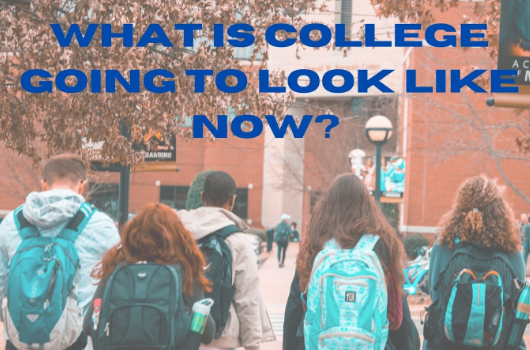 After getting the remainder of their senior year 'canceled,' prospective and current college students now have new questions: What will college look like now? When it is time for them to start their new journey and will they be able to do that? The classic college experience that they have been looking forward to for years might be on the line. As colleges are unable to give a definitive answer about the future, it leaves students wondering.
Due to the COVID-19 outbreak across the globe, a number of universities are considering the possibility of not opening for in-person classes until 2021. If they were to open, there will be many actions that have to be taken to make sure that colleges are safe enough for students.
Predictions suggest there might be a second wave of coronavirus coming in fall/winter of 2020. However, there is also hope that by that time there will be more testing available and we will be more prepared to handle the spread. Right now, no one can say for sure what college will look like this coming fall.
In one of his reports, Dr. Anthony Fauci thinks there is hope for students returning in the fall.
"I fully expect – though, I'm humble enough to know that I can't accurately predict – that by the time we get to the fall that we will have this under control, enough that it certainly will not be the way it is now where people are shutting schools."
Though he reminds us "normal" will not come back right away. "It will be a totally different ball game," Fauci said.
Colleges hope they can give their students the normal experience, but realize that may not be the case. Large lecture halls, dorm life, and sporting events all bring students together in a good way, but when faced against coronavirus it can be a recipe for disaster and that is something colleges have to consider. 
According to the Chicago Tribune, "while some Illinois schools say they can make a determination by June or July, the outcome will largely hinge on how public health experts evaluate the threat of the coronavirus."
Many schools across the country are evaluating the cleaning of their facilities and how that can improve as well.  Whether or not there will be treatments, testing and masks readily available for students and staff will be a huge deciding factor in whether or not students and staff will be able to resume on-campus learning.
"
Meeting new friends, going to sports games, attending class, and living in a dorm isn't the same if it has to be virtual
— Margo Thornberry, LFHS Class of 2020
Colleges are putting together many scenarios that can range from normalcy to not opening in-person classes until January 2021. It might be the case that large lecture halls will need to be changed to online or smaller, masks might need to be required, delayed semesters, and sadly, sports might have to be played in empty stadiums. All these are things that students never imagined when thinking of their college experience. 
Things like admitted students day, orientations, summer programs, and much more have either been canceled, changed to be virtual, or dates put on hold for the time being. 
Being part of the dance program at Oklahoma, senior Lexie Conley will have Zoom calls every day from 10-3 in place of a three-week intensive in June. This is the program's at-home solution to maintain this valuable opportunity for dancers to get their bodies trained, in shape, and ready to go for the fall. Conley's concern, however, is space.
"I don't mind it being online since I get to be home more but it's also hard because I don't have the proper place to dance and it can be challenging," Conley said.
One of the 3 girls committed to play soccer at Northwestern next year, senior Nicole Doucette was set to leave for school July 6th to start training with the team.
"As of right now, none of us know what is going to happen regarding when we get to go school," said Doucette, "but hopefully it is a soon as possible," Doucette said.
The plus of athletes getting to go to school early allows them time to bond with the team and focus solely on their sport.
"It's nice to get adjusted to the initial soccer schedule without having to worry about school as well," said Doucette.
More than anything however, she is eager to get on the field with her teammates. "I'm devastated if I'm not able to start my season on time," Doucette said.
Obviously, however, this current speculation has effects far beyond athletes with early programs, or even the Class of 2020. Current college students who were forced to return home early have also entered into speculation, with a wide variety of hopes and perspectives.
Despite everything that has happened the past couple months, many students are still remaining hopeful that their schools will be open next year.
"Given what has been discovered about the virus' 'aversion' to heat, I believe that school will continue in the fall and I really hope that I will be able to return back to campus. As far as my school is concerned, the fall semester will be conducted on campus," Iowa State student and LFHS alumnus Jacob Phelps said.
"
I feel like I'm in a situation where the class is getting in trouble just because of a few rowdy kids.
— Keegan Thoronin, University of Illinois/LFHS Class of 2019
Some other students are not trying to get their hopes up about returning to campus next semester and are worried about the future. 
"As much as I would like to say yes, my hopes are pretty low. I feel like I'm in a situation where the class is getting in trouble just because of a few rowdy kids,"  University of Illinois student and LFHS alumnus Keegan Thoronin said. "The news I keep hearing about people not following social distancing measures worries me."
Schools closing for part of the spring semester this year has already had a large effect on students' ability to get their credits outside of the classroom, especially for students in hands-on majors.
"For an engineering school, the quality of my education has gone down like 90%. My major is a lot of hands-on work for computer engineering. Not being in class makes it hard to actually do things that are relevant. I have been doing a lot of busy work and it is basically impossible to learn," Milwaukee School Of Engineering student and LFHS alumnus Justin Bower said.
It has also been extremely difficult for fine arts students to get their credits in a fulfilling way.
"Online classes were strange. I am a musical theatre major so it was hard to do dance and acting classes over Zoom. Our voice lessons worked very well but it was almost impossible to act with a scene partner over a screen," Syracuse University student and LFHS alumna Jane Margolis said.
Coronavirus moving schools into online learning has really taken away from "the typical college experience" and campus life that students look forward to their whole lives.
"Meeting new friends, going to sports games, attending class, and living in a dorm isn't the same if it has to be virtual," said senior Margo Thornberry, who will be attending Indiana University. 
And looking among current college students, this also remains a priority and current disappointment. However, there is also some confidence that whatever the decision is from each school, they are doing it with the best in mind.
"As an active club member, I certainly have felt like I have missed out. Extracurriculars are by far one of the best parts of college," Jacob Phelps said. "Also being home, I have missed movie nights and 1 a.m. trips to restaurants with my friends. It's not fun that I round out my freshman year like this, but certain measures have to be taken to ensure the safety of others."