Bulls Organization Makes Fundamental Changes in 2020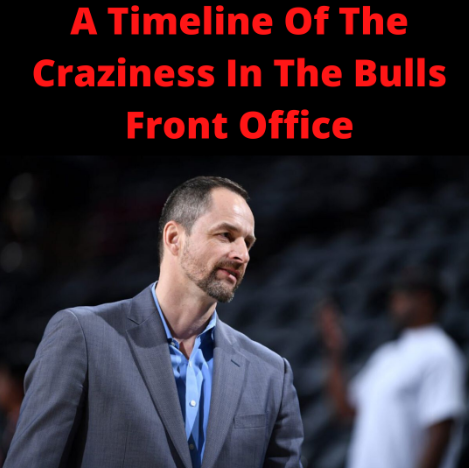 This past February, the city of Chicago got to celebrate by hosting the 2020 NBA All Star festivities, but celebrating is all but what Bulls fans were doing. 
Diehard Bulls fans expressed their frustrations with the team's front office, with chants calling for the termination of General Manager Gar Forman and Executive of Basketball Operations John Paxson, collectively known as "GarPax".
Although the duo had brought a lot of success to the city in previous years, questionable decisions to fill the Head Coaching position and player acquisitions have brought the two figures into a more negative light. During interviews, Bulls fans could be heard chanting "fire GarPax' on national television during the All Star weekend.
After months of waiting, the fans got what they wanted after the Bulls announced they had officially started their search for a new front office on April 3. The organization fired Forman, and Paxson was reassigned to a "special advisor" role.
Their top two candidates to fill the top executive role were Toronto Raptors GM Bobby Webster and Denver Nuggets GM Arturas Karinsovas.
After just 5 days, the Bulls announced that they had hired Karinsovas as their new Executive of Basketball Operations. Karnisovas was in the midst of building a successful franchise in Denver as he signed all-star Paul Millsap in 2017, his first year as General Manager.
Since the day he was hired, Karnisovas made finding a new General Manager his top priority. The Bulls were granted permission to interview Mark Hughes of the Los Angeles Lakers, Marc Eversly of the Philadelphia 76ers, and Matt Lloyd of the Orlando Magic. All of the candidates were Assistant GMs with their respective teams.
On Monday, April 27, the Bulls confirmed that they agreed to deal with Marc Eversely. Eversly is coming from one of the best franchises in the last 10 years as they had signed and drafted multiple all-stars. Eversly is also coming from a winning culture as the 76ers have made the playoffs the last couple of years, something that the Bulls have not done since 2017.
The Bulls recent hirings are something that the fan base has desperately been waiting for since November and they finally got. Now there is only one question left: can the new front office bring a winning culture, and a seventh championship back to the city of Chicago?