Top Five Recipes To Make During Quarantine
Since the stay-at-home order was announced, kitchens around the world have been getting much more use out of them than normal. Ordering take-out can get expensive, so it is more economic—and delicious—to make homemade meals instead. As someone who has always been an avid cook and baker, it's fun to see so many people trying out new recipes. Here are my top five suggestions of recipes to try during quarantine.
1. Homemade Gnocchi with Gorgonzola Cream Sauce
Let me start by saying that this is the best pasta I have eaten in my entire life—and I have eaten a lot of pasta. This recipe definitely takes a while, but it is so worth it. Plan to spend a weekend night in the kitchen and get your family to help you out. Making fresh pasta rather than buying store-bought makes all the difference in the world; this gnocchi is unbelievably soft, billowy, and delicious. The sauce is creamy, cheesy, and delicious, coating each piece of gnocchi perfectly. The one addition I made to the recipe was to add about ½ cup of white wine to the sauce—it brings out the flavors even more. Put on some Italian music when you are cooking and you have the perfect, quarantine-friendly weekend night!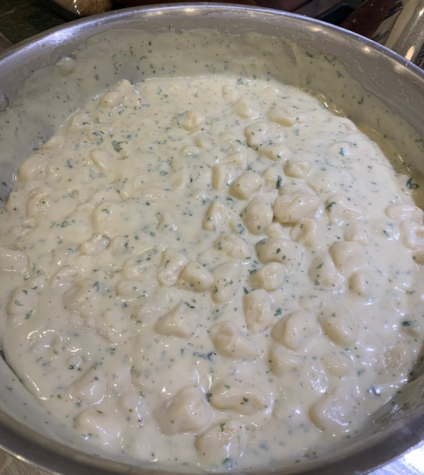 2. Brown Butter Coconut Cookies
I'm not a huge fan of cookies. I know, unbelievable, right? But these cookies are honestly life-changing. They are thick, chewy, and buttery; everything you could dream of in a cookie. The brown butter in the recipe is a total game-changer. Surprisingly, I've never actually browned butter before. But it is so simple and adds so much to the cookie, I might never go back to regular butter. The large coconut flakes in the cookie add to the chewy texture. However, if you aren't a huge fan of coconut, it would be super easy to simply substitute chocolate chips or something of the sort. I highly recommend these cookies!
3. Fancier Ramen
Ramen is an easy and delicious meal—but, it is kind of boring. However, it is not too hard to fancy it up! This is my quick and easy recipe for tastier ramen. Since I'm vegetarian, I used a vegetable ramen packet, but any instant noodle packet will work. Since the noodles are already seasoned, there is no need to add any extra. As the noodles were cooking according to the instructions, I sauteed the mushrooms in olive oil. About one minute before the noodles were finished, I threw in a handful of spinach to blanch. Then, I poached an egg (which sounds scarier to do than it actually is, I promise). I added the egg on top of my ramen, and voila! A quick and easy lunch.
4. Breakfast for Dinner
Breakfast for dinner is one of my favorite things to make when I am feeling lazy but still want something delicious! My dad makes delectable egg sandwiches that I have started to make myself. Egg sandwiches are definitely my go-to breakfast for dinner. My favorite way to make them is to start with an English muffin or bagel—whichever you have on hand—and toast it. Make sure to butter it. Then, I like to fry an egg, making sure to leave the yolk runny, and a few pieces of (veggie) bacon. When I put it all together, I add half an avocado and some arugula or spinach! It is super filling and delicious for any meal of the day.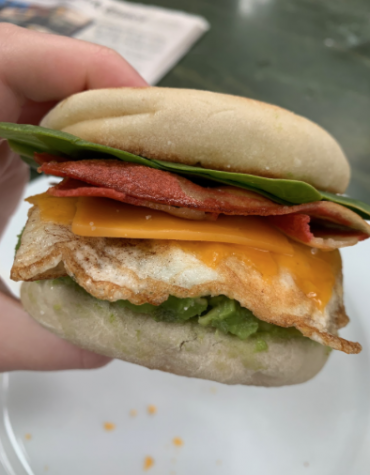 This strawberry muffin recipe is simply exquisite! I made these as a part of my family's Easter brunch and they were to die for. The almond extract really brings together the muffin as a whole. There is also a sprinkle of turbinado sugar on top that gives it the perfect crispiness. As spring slowly creeps into summer and strawberries become more in season, this would be the perfect recipe to satisfy your sweet tooth! You could make these the night before and eat them for dinner, or whip them up midday for a delicious snack.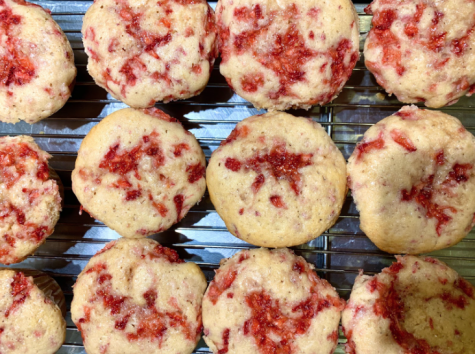 Happy baking!