Senior Travelers Recall and Reflect Their COVID-19 Experience and Reactions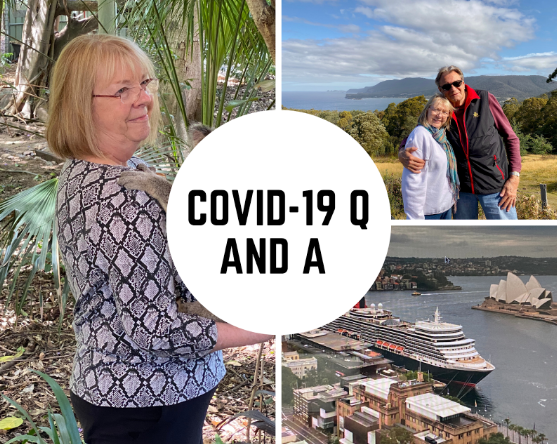 The Covid-19 pandemic has hit home for many Americans and has really changed daily life for many. Despite all of the warnings from federal and local governments,  many people are still making unsafe decisions.
This virus has hit home for my family since the beginning due to the fact that my grandparents, Don and Sue Dethlefsen, were on an Australian cruise from January to mid March and were almost unable to make it home. They left at a time where it was not completely unsafe to travel and over the course of the month and a half saw the world change. I decided to do a Q&A with them to share their story about what it was like to be so far away from home in a time when they should have been home and to show the dangers of travel during this time.
What factors did you take into account before making the decision to go on the cruise?
"When we decided it was not really dangerous yet and had not really come to the rest of the world. We sign up for these cruises a long time before. The issue wasn't known when we decided on the trip to take."  — Don
What kind of news were you able to get while on the ship?
"We had TV and we had it going on BBC and Australian News. We had two good sources for what was going on. It was 24 hour coverage. We kinda knew everything that was going on. But around us, there was nothing, it was like as normal." — Sue 
Where specifically did you go on the cruise?
"It was a day or two in Sydney, Brisbane, Papua New Guinea, back to Tasmania, back to Sydney. Because we got a free 6 days and could not go to Bali and Singapore, we went back to Tasmania. The first leg was 21 days and the second leg of the tour was cancelled. The company cancelled everything, including all of Japan and added cruises around Australia. They announced there would be no more cruises after Sydney. We got off just in time and got home just in time." — Don
Did you feel prepared coming home?
"Yes because of all of the news you were able to access. Nothing was serious on the ship. No precautions on the ship. It felt like a regular cruise, but when we got home it felt different." — Sue
How much did you know about what was going on back home?
"TV news was informative but it was still a shock coming home. We had been in contact with our doctor and we had agreed early on that we would do 3-4 days of self confinement. When we got home, however, it was apparent that if anyone had the virus it was us due to the travel and we had been in and out of all of these countries, so we quarantined for 14 days." — Don
Did this cruise feel different than all of your other ones because of Covid-19?
"It was different missing out on Singapore and Bali and the fact that we were not allowed to get off in Papua New Guinea when we really wanted to go there. They helicoptered 2 people off a couple days ago, and the port thought that we had the disease so we could not go there." — Sue
How hard was it to get home?
"We had to change all of our flights but the ship made all of the arrangements.  It was a 15 hour flight to Abu Dhabi and a 15 hour flight to Chicago." — Don
"Sydney to LA is more expensive, so the cruise line put us on the cheaper flight going west. We were in business class, however, so it was okay. We did not have a big layover so I got to watch a bunch of movies." — Sue
Do you regret taking the cruise?
"No, we do no regret taking the cruise. We met a lot of interesting people from all over the world. We made it by a day to getting stuck in an airport somewhere. If we had waited any longer to leave, we would have been stuck in Abu Dhabi." — Sue
Were you afraid about being able to make it home/afraid of what you would be coming home to?
"We did worry about making it home. A lot could have gone wrong. It helped that groceries were bought for us. I just wanted to get home and be with everybody. We were most fortunate in that the plans that the ship put together went perfectly. No delays, no changes, etc." — Don
Do you have any words for all of the people who continue to not take this pandemic as seriously as they should be?
"The longer you do things you are not supposed to do, the longer this is gonna last, so we should suck it up and move on. It doesn't help if almost everyone does what they are supposed to do — everyone has to do it." — Don