PROM- Let's Make It Happen
But First, Let's Beat COVID-19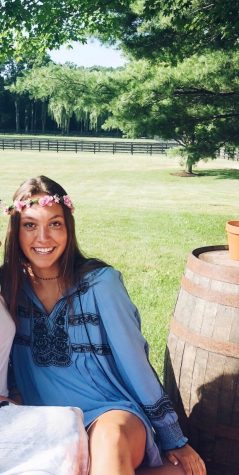 There is a lot going on in our world right now where we must put our lives on hold if we want to get back to normal and save lives. What is happening is serious and having to take a break from our normal lives is difficult, but as we know, necessary. 
One of the aspects of our normal lives that has been sadly taken away from us is Prom. But for us students at LFHS, Prom is not just a dance. It is an end of high school tradition, something that we have looked forward to from the first day we stepped through the front doors of the school freshman year. 
I believe if we can get back to normal life, prom should be rescheduled for some time in the summer, just as graduation is going to be.
When I was in middle school, my friends and I would hurry over to LFHS every late May to watch the upperclassmen walk down the red carpet to the busses on their way to Prom. Not even knowing most of the students, it was something that we did because we thought it was so cool, and something that we hoped to do one day as high schoolers.
I would imagine myself one day making that same glamorous walk. My friends and I would talk about all the pretty dresses and would get so excited when someone we knew walked down the infamous red carpet. 
"
There are schools in the state who have planned for alternative dates to host their school's prom. It gives our grade one last hurrah together, and I think we should do the same."
"I thought it was the coolest thing ever and thought all the kids were famous," said senior Mimi Yale. 
It's Lake Forest tradition. Ask anyone around town, and I'm sure they'd say the same. 
Senior classes for generations have been attending prom, but as we know here at LFHS, it is also a prom for the junior class. This being said, our unique tradition at LFHS is to go two years – not just one. 
Juniors wear the classic long prom dress and seniors wear short dresses. Prom as a junior is new and exciting, but as a senior, it's like one last hurrah that, arguably, we need to have before we graduate.
"Prom last year was one of my best experiences of high school. It's so fun as a junior getting all dressed up and wearing a long dress for the first time. I was very excited to do it again as a senior," said senior Julia Hender.
For some, it's not a lot of preparation or very important. But for others, it is. Finding the perfect dress, deciding what to do with your hair, looking for a date/group to go with: these are just a few aspects that go into making the prom a fun night.  
Personally, I love this kind of stuff. I love to search through online stores for hours and look for shoes to match the perfect dress that I found. I love to get all dolled up and go meet up with my friends and take pictures. And that's only the preparation for the exciting night that I love.
Some may argue that us seniors already went to prom, so it's not that big of a deal if we don't have it again. But I know I am not alone when I say we need Prom now, more than ever. 
COVID-19 came into our lives very abruptly and completely shifted the experience of our second semester senior year. These few months were meant to wrap up this long high school journey: the last few school sporting events, last times sitting in the upper commons, the last few memories that got to be made with our friends and peers, some of which we have been going to school with for 12 years. 
From a larger lens, lives are still at risk, the economy is struggling, and no one knows when we will be out of this pandemic. But from a smaller lens of a high school senior, I wonder if I will ever get to go to class in the high school again, see my peers, and of course attend my last prom or graduation.
All the traditions that anyone who has gone through high school are practically guaranteed. 
These last few months of high school as seniors, we were supposed to enjoy our final moments with kids that we have grown up with. Along the way I have made some of the strongest friendships that I am so grateful to have, yet within a blink of an eye, the next three months that we had together were put on hold and quite possibly canceled.
The unexplainable has entered our lives, and I know I'm not alone in saying I have learned a lot from this pandemic. I have learned how lucky I am to be able to be healthy and to live my life every day so freely.
I'm lucky that before this pandemic, each day I got to go to school to see all of my friends, classmates, teachers. Every moment we all spent together, those were all gifts. Life was so simple and so normal before the virus, never did I think that all could be taken away from us. 
We are going to get through this time and get live back to normal. With that being said, when we get our lives back, whether that ends up in May or sometime this summer, I believe it is very important to find a way to celebrate Prom. 
There are schools in the state who have planned for alternative dates to host their school's prom. It gives our grade one last hurrah together, and I think we should do the same.
"
This was meant to be our year, and with all that is going on the least they could do is reschedule."
— Senior Alyssa Marquis
"Every little girl dreams of a senior prom. This was meant to be our year, and with all that is going on the least they could do is reschedule," said senior Alyssa Marquis. 
The same goes for graduation, yet there are already some alternative dates for graduation if we cannot celebrate it on June 6th. Why can't we do the same for prom?
"We should reschedule prom because there are a lot of ways we could do it – we aren't asking for anything fancy, we don't even need the food honestly," said senior Lexie Conley. 
We just want the opportunity to celebrate prom like every senior class has for generations. This is a year and pandemic that will never be forgotten, but the least we could do is try to fill the void of missing events that this senior class is experiencing. 
Sure, life is different and there are many cancellations that need to happen to fight this virus, but we cannot continue to take away huge milestones of a high school student. We should come together to do our part, but still celebrate the events that we can. 
About the Writer
Halle Douglass, Staff Writer
Halle Douglass is a senior at Lake Forest High School, where she keeps herself busy playing basketball. She enjoys spending time with friends and family,...