Massmails, Zooming, and Being a Freshman Again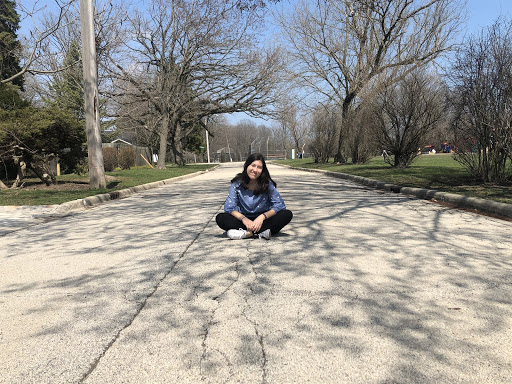 Katie Pierce is a freshman at the University of Illinois at Urbana/Champaign studying Instrumental Music Education.  She was the Editor-in-Chief of The Forest Scout during the 2018-2019 school year.
On March 10, my life and my calendar were moving at the speed of a bullet train.  Tuesday I had a meeting with a professor about jazz opportunities in the music school.  Wednesday was bible study. Thursday I was going to observe a high school orchestra and spend the evening playing oboe for my band student organization.  Friday I had a singing quiz (it's music school). The week after spring break: orchestra concert Wednesday, more band, a midterm, an upcoming executive board election, and 13 oboe recitals to attend–all in addition to taking nine courses.
After I walked out of bible study on March 11, that life stopped.
A month later my line of communication with my school as a college student takes place completely through massive group emails (called "massmails" at Illinois). Leaving campus for the foreseeable future was unthinkable until we got a message telling us to "take your computer, textbooks, and other things you will need… to study remotely."
I was terrified.
My mode of transportation home for spring break was a charter bus.  I was allowed two bags and one additional carry on item. This was pretty reasonable for getting enough stuff home for break, but the limit freaked me out.  My oboe was going to count as one bag. I stared at my room for a while trying to figure out how much I could stuff in my suitcase–we had no idea at the time that we wouldn't be coming back.  In talking to my friend at Loyola, we shared the sentiment that we felt somewhat like glorified refugees. I could only take what I could carry, and most of it was textbooks.
When I arrived home on March 13, my mom and sister quickly became ill with the flu.  My spring break consisted of fielding emails from school and professors, and bringing trays of food to their respective rooms.  We are so blessed that it was just the flu.
On March 16, our massmail read, "we are suspending face-to-face instruction for the rest of the spring 2020 semester."
When mom was finally better on March 20, we were sitting in the McDonalds parking lot eating Filet-o-Fish sandwiches (Lent has definitely not been canceled for us!) when we got word that Governor Pritzker was going to be issuing a stay-at-home order for the whole state.
Just sitting there thinking about what was happening in the world was a surreal feeling.  Never had anyone in my family had to endure this kind of restriction under such dire circumstances, for any reason.
And then it hit me that all my stuff was three hours south in my dorm room.
That afternoon's massmail read, "the shelter-in-place order means that [move-out] needs to be suspended… until the order is lifted."
Thankfully, I live in private housing, which operates under separate rules than the university housing.  Private housing had decided not to close until 5 p.m. on the 21st.  
Naturally, we left the house in two cars at 8 a.m. on March 21, and returned at 7 p.m. with all of my belongings.  They now are unwelcome guests in my family room–it's a nightmare of a mess.
The massmail that day revealed to us that there were "…two separate confirmed cases… in our university community."
All my professors were (rightly so) thrown for a complete loop.  My supplemental instrument classes, that I need to graduate on time, were cancelled.  I didn't hear from one of my professors until the week we returned from break and were supposed to have class.
And amid all this internal chaos, the massmails continue to flood our inboxes.
"Campus will remain open."
"There will be no access to the [music]  buildings… effective immediately."
"Commencement ceremonies will not take place as scheduled in May."
"All Summer 2020 courses will be conducted remotely."
"We have made the decision to cancel all university summer camps through July 10."
We just keep getting these emails, with each one more shocking than the next.
"
How will we remember this time? We can choose to live each day with the resources and gifts we are given.  Or we can spend the days just waiting and waiting for the country to start again."
But other than that, I feel like my college life has been put on hold, as if this virus had put its foot on the hose that allowed my activities and events to flow through.  I'm living the life that I live in the summers, a dull, muted version of what high school was like, without high school. It's draining.
Despite the crazy month of March that I had, I'm forging on.  I have every class, with the exception of one, at the scheduled time, with the syllabus as normal or slightly revised.  I have to wake up at my usual time to attend my class and listen to the lectures, taking notes like I always do. The only differences are the virtual face of my professors over Zoom–a platform that has proved to be extremely successful thus far for the university.
Even my student organizations have made extraordinary efforts to keep a consistent schedule.  I have my bible study on Wednesdays at 6, and our chapter of the National Band Association is conducting our board elections on the 16th via Zoom–we all had to record videos in place of a speech.  I am attending professional development with college band directors from across the country every week, and today we held a brainstorm session for this fall's Marching Illini halftime shows.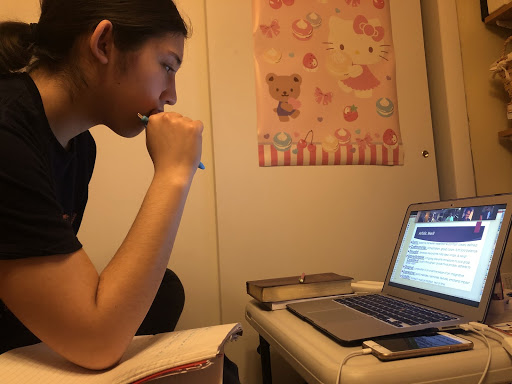 I am still terrified.
There are talks about moving the football season to the spring.  There is a possibility that I won't start on time in the fall. There is a great chance that if we don't start in-person classes right away in the fall, I'm looking at an extra semester of college a few years down the road.  I worry every day that my job as a camp manager won't happen because of this virus.
Don't get me wrong–being home is a blessing.  I struggled so much during the first semester to make friends and cope with being away from my community and my family.  That being said, I was finally finding the right balance, my perfect stride, during the second semester when it was all cut off.  I feel like a cheater–I didn't really make it to the end of my first year of college (even though this isn't true–I'm almost there).
Frankly, it sucks that my college life has ended for the foreseeable future.  We don't get to choose how to conduct most aspects of our lives right now.
But we do have some choices to make.  How will we remember this time? We can choose to live each day with the resources and gifts we are given.  Or we can spend the days just waiting and waiting for the country to start again.  
Truthfully, we didn't stop–America has not stopped.  We are working in our homes, learning our content to graduate, making music on live streams, calling family and friends, and finding innovative ways to participate in religious services, birthday parties, and events we cannot attend in person.
And, well, being a freshman again sucked at times.  That aspect of life has not changed–I know I felt that way when I was a 6th grader, and then a freshman in high school.  But I still triumphed this year and made it through the transition to college. We all do. We all make it.  
I finally can say I feel adjusted.  All the change that I have experienced over the past eight months prepared me for this ultimate test.  
And somehow, I found the right words a year ago for the times we're all facing right now–the joys of accomplishment, the fear for the future, and the responsibility we all hold in our hearts.
"Despite your urgency to create your future, your future really comes to you. Time does not stop moving, no matter how fast or slow we want it to. The future will greet you in whatever way it decides, sometimes despite all the work you've put into it.  It's how you greet your future that determines how you fit into it."
Despite all the work we put in.  Despite all the plans we made. Despite our prayers and work to slow the spread.  Despite our relentlessness in trying to see the end of this.
It's how we greet each day that will determine how we fit into this time.
I can't wait to get back out there and kill it on that bullet train that I call my college life.  
But I also can't wait to see what I can get out of this future that I've been handed for the time being.
About the Writer
Katie Pierce, Editor in Chief
Katie Pierce is a proud senior at Lake Forest High School. Besides being Editor-in-Chief of TFS, Katie is a drum major of the LFHS band, and spends most...