The Importance of Staying Active During Quarantine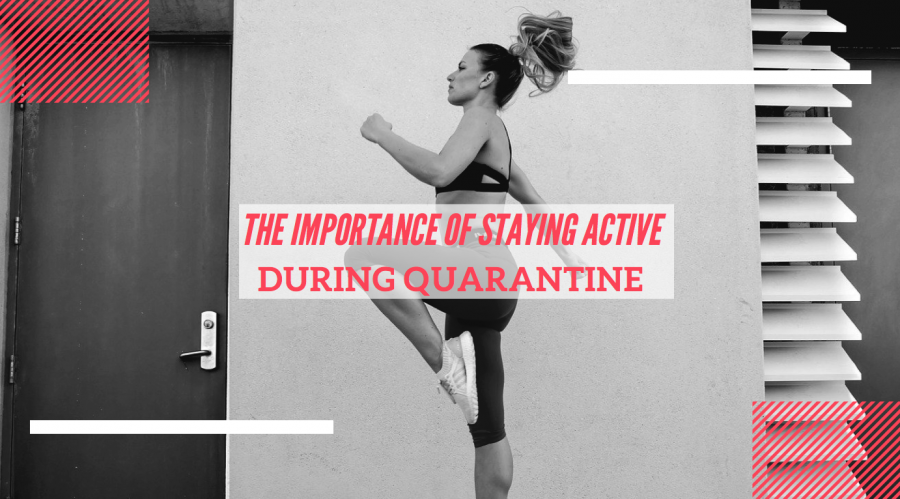 During these very odd times, it is important that we remember to stay active in our everyday lives.
It can be easy for us to stay in bed all day and forget about all about our health, but with so much free time on our hands, there is really no excuse to not stay active.
It doesn't have to be anything insane, and can be something as simple as a walk, but we definitely just need to stay moving. Just because gyms are closed does not mean that we have no other option to work out!
During this quarantine, many people have felt additional stress and physical activity is a perfect tool to give us all a break and stabilize that stress. Exercising regularly can help support a healthy immune system, prevent weight gain, and boost your mood (which is also probably something that people need right now!)
Go on a run 
Running is a great way to get your cardiovascular system going. You don't need to have a treadmill to run and in fact, it's probably better to get out of the house and get fresh air on a run. One positive thing is that we are heading into spring and that means the weather is getting nicer so more time can be spent outdoors. 
Take a walk 
Running isn't for everyone, so if you're one of those people, a walk could be more enjoyable way to stay active.
There are so many beautiful places around Lake Forest to go take walks like the Open Lands Preserve, the beach, or even just your neighborhood. Even I hadn't gone to many of these great places until now.
My family has made it a goal to take our dogs on walks every day, and not only is it quality family time, but the dogs LOVE it. Walks don't just have to be for dog owners though- even if you don't have a dog I still encourage you to go out and talk a walk. 
Yoga/Pilates
If you prefer something less fast pace than a run or a walk, then yoga or pilates is perfect for you.
This workout not only tones you, but can help regulate your breathing and calm you down, therefore it makes for the perfect break if you are stressed.
Another plus is it doesn't take up a lot of space, so if you have limited open space then you still should be able to practice yoga or pilates. You could also take your mat outside to practice these workouts and enjoy the fresh air. You can find many free yoga routines online to follow on Youtube or Google. 
Bike Ride 
Going on a bike ride is the perfect exercise because you don't feel like it's an intense workout, but you are definitely being active and burning some calories. Opposed to a walk, on a bike you are able to go further and enjoy the nice weather we've been having.
This could even be a fun family activity to do, if you grab your whole family and all of your bikes and go on a nice ride! 
Exercise class
To compensate for many workout studios being closed, many of those studios and even local gyms are offering at-home workouts.
Places like Orange Theory or Forever Om have workouts available for members through the app, but there are plenty of other free home workouts on Youtube. These videos all do a great job of using limited equipment, as many of us are stuck at home with limited equipment and they know that.
Again, if you aren't a member of a gym that does something like this, you can simply look up workouts on YouTube and find one perfect for you. These are my personal favorite way to get my workout on each day!
Practice your sport 
This has been a very upsetting time for many students that are involved in sports because many seasons have been put on hold for the time being or even cancelled.
But, just because you can't be practicing with your team, you shouldn't stop practicing whatever your sport may be on your own. It is a great way to stay active while doing something you're actually passionate about. By practicing at home, it can help you feel connected to your team even though you are apart from the sport. 
Though things are different right now, we should still remember the importance of taking breaks to help our bodies. I encourage everyone to keep active and promise you that you'll see a positive outcome mentally and physically.
About the Writer
Julia Knipfer, Staff Writer
Julia Knipfer is a senior at Lake Forest High School. Her favorite subject is science. Outside of school she spends most of her time at dance but when...