Quarantine Cinema: Bombshell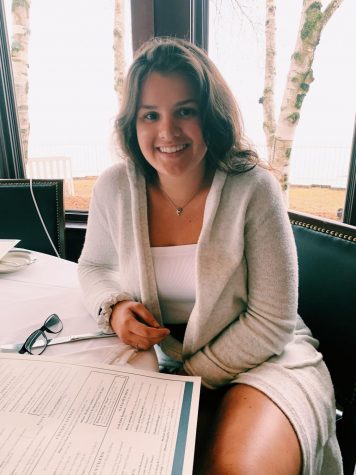 COVID-19 has taken over my life and forced me into binge watching just about everything. Bombshell was at the top of my list to indulge in though. 
Bombshell does more than just speak the truth. Bombshell invites everyone in on a little secret that is actually monumental, life changing, and job changing. Literally.
Based on a true story, lead actresses Charlize Theron, Margot Robbie, and Nicole Kidman play the roles of bombshell women: female news anchors who have dreamt all their life to be on Fox News and have a primetime slot all to themselves. 
But that all comes at a price. This movie, directed by Jay Roach, highlights the true story of disgusting duties women have the choice to consent to: doing sexual favors for the prime time slot.
While it is very easy for me to say I'd slap the guy and walk out of his office, a $200,000 job, prime time television slot, personal security, and a locked office door are quite daunting things to be on the line. However, the captivating union of powerful women taking down Roger Ailes, the Fox News monger who created the empire, is almost mesmerizing.
Bombshell zeros in how the women change and come out to the public about these unfortunate moments. Gretchen, the catalyst of this movement at Fox, loses her job and becomes a stay-at-home mom, Megyn Kelly struggles in her marriage with husband and professional relationship with Ailes, and Kayla becomes the last woman that Ailes can get his hands on before they bond together and put a stop to him.  
I found this movie to be somewhat motivating. It made me really think about what I wanted to do after college. Do I really want to be a news anchor? Sure, I would hope this isn't still going on. But I also understood that this movie gave light to not only this situation at Fox, but millions of big companies that had a "similar policy." It's quite scary if you ask me. 
When you get the chance to watch Bombshell, I would like you to notice how the office workers change throughout the movie and who and what each of them represent. It's a challenging position for someone who is Roger Ailes secretary to go against him. 
If you're someone who likes politics, satires, and the truth, then this movie is for you. This is not a feministic movie but an honor to the women who went through situations with men at the top. Like quoted in Bombshell, some people tend to believe that feminism is "man hating." And Bombshell sets it straight. The feminism tone in this movie is not anything to do with "man hating" but pinpointing the actions of CEOs, Presidents, VPs, or just any top dog that has the power to control the ones below them.
Watch the trailer to be 100% hooked and watch the movie tonight!