Fallout of Boys Hockey's Viral Postgame Incident a Catalyst For Discussion and Reflection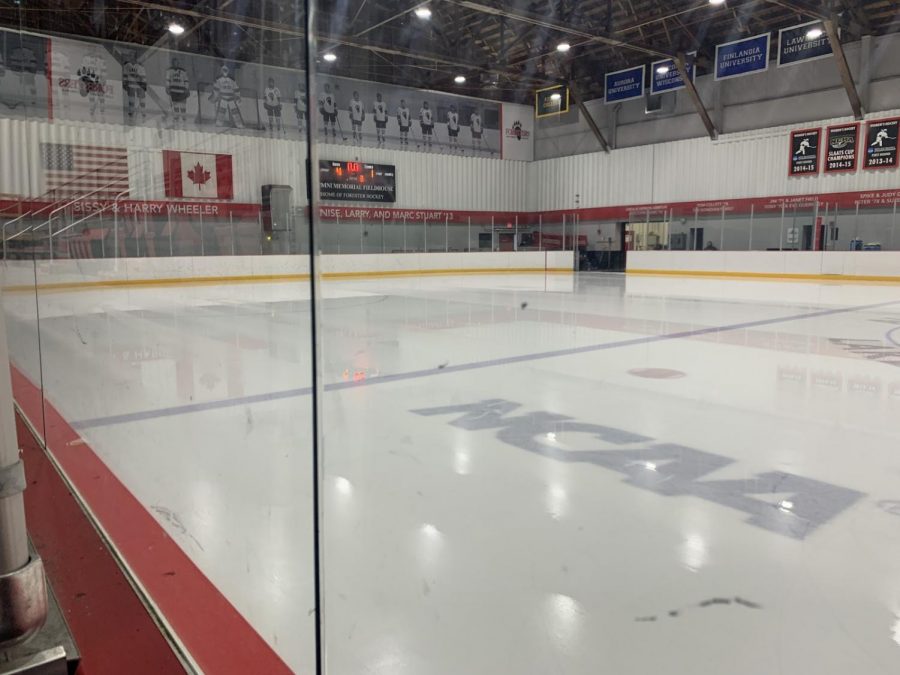 Popular and team responses varied, while administrative consistency was maintained as the Lake Forest Boys Varsity Hockey Team's season came to an abrupt end on Feb. 22 after the Scouts withdrew from their upcoming AHAI State Tournament.
The withdrawal followed an investigation of a fight that took place in their league playoff game against Evanston. A scrum at the Evanston goal during the game's final seconds led to a bench-clearing brawl that ended up as a viral video that surfaced the next week on national sports social media platforms Barstool Sports and TMZ. The videos (which also made a brief appearance on the Instagram of ESPN's SportsCenter) most notably include Lake Forest players clearing their bench and delivering illegal charging checks on Evanston players.
Evanston Hockey coaches, board members, and players did not respond to requests from The Forest Scout for comment — the organization temporarily posted a bulletin statement on their website discouraging the sharing of photos and videos from the game.
The fallout also led to a vast range of reactions between players and fans, many of whom displayed their shock at the extensiveness of the fight despite the aggressive tone that sunk in earlier in the game.
"I was pretty shocked when Evanston left their bench," junior Andrew Clemmensen, who was in attendance, said. "The whole game was pretty chippy, but I didn't expect a whole team-on-team fight to break out."
Senior Jonathan Jasica, also in attendance, said he also didn't expect the viral nature of the postgame incident since he was "jacked up in the moment" as the game ended.
Some Scouts defended the reaction from the Lake Forest players, who left the bench after the Evanston players left their bench.
"I was kind of relieved when our guys left the bench because for about 10 seconds, it felt like 20 on 5 and the Evanston players were handing it to us," Clemmensen said.
Players echoed these reactions, justifying their eventual actions in the wake of a quick downward spiral of events.
"We defended our teammate, and we weren't negatively trying to affect our team's future," senior forward Trevor Mower said.
Although Head Coach Steve Sarauer and team representativc did not respond to The Forest Scout's requests for comment, he condemned the illegal checks to the Lake Forest Leader, stating that they were "unacceptable."
However, disappointment with the consequences of the incident remained a very common reaction — especially toward the withdrawal from the State tournament.
"I think it is a little extreme. I wish they just punished individuals who threw punches or the illegal checks so the team could still have a season," said senior Will Dee. "Our coach tried to keep [teammates on the bench] out of the fight for as long as reasonably possible, so it's not necessarily a team issue."
"
As different situations come up, we engage in dialogue to find out what happened and they are open to sharing their ways of handling it in the best interests of our student-athletes."
— Principal Chala Holland on LFHS' positive relationship with hockey association
The team's classmates echoed these sentiments.
"Of course, you have to send the message that fighting isn't allowed, but when five of our guys are getting teamed up on by the entire Evanston team, the boys are going to defend their teammates," Clemmensen said. "I would've done the same thing if I was in their position."
Despite these frustrations, however, many understood the measures taken in the context of the national reaction that was received.
"I understand why [the team withdrawal] happened — especially because it went viral. USA Hockey saw it, and came down on AHAI, which is the governing body of our league," Dee said. "They had to issue a harsh punishment due to the more extensive pressure."
More than anything, general frustration over an odd end to a season dominated the reactions from a senior-heavy varsity team.
"It sucks," said senior forward Drew Jacobs. "We compete all season and work hard all year training for the playoffs and to hear we wouldn't be allowed to play in State was just devastating."
Contrary to common misinformation perpetrated in national coverage, the Scouts hockey team is officially known as "Lake Forest Hockey Association," and has no affiliation with the high school itself beyond the use of the color, logo, and nickname.
Principal Chala Holland emphasizes a consistently positive and active relationship between the two parties to coordinate and properly direct any issues.
"As different situations come up, we engage in dialogue to find out what happened and they are open to sharing their ways of handling it. Whether we agree or disagree, we look to maintain an open dialogue in moving forward in the best interests of our student-athletes," Dr. Holland said. "Even though the association is not a part of LFHS, we are naturally interested in anything that our students are directly involved in."
The hockey association uses the same code of conduct as IHSA athletic programs at the school, and seeks to work in the best interests of maintaining "Scout Excellence" with their student-athletes.
"I guess our expectation is that a lot comes with another entity using a high school logo or name affiliation," said Dr. Holland. "Our hope is that it will be well represented, because there is pride in that. We know what our expectations are for our student-athletes and what it means to be a Scout, and I think that is important that it is mirrored wherever that logo or name is being used."
About the Contributor
Joey Goodsir, Editor-In-Chief
Although Joey is astounded it is his senior year, he is excited to be writing and editing at The Forest Scout for a second year - this time as an Editor-in-Chief....