A Thank You From The Announcer
Dear Lake Forest Scouts everywhere,
The past four years of my life have truly been life changing, and the fact that high school is coming to an end is extremely hard to believe. I know – it is very cliche to say that it feels like freshman year just started yesterday, but it truly does feel like that.
During my freshman year of high school I tried out for the basketball team, and to my surprise (at the time) I did not make the team, and this news was hard to hear.  I had been playing basketball since I could walk as my dad taught me the game and how to play. Despite not being able to play on the team, I wanted to still be involved with the LF Hoops program in one way shape or form.  
The next morning it hit me – broadcasting. I had been doing play by play of Cubs games for a YouTube channel I once had in eighth grade, where I would record cubs games with my phone, turn off the volume, and call the game to myself. This was something I had interest in, but I didn't know if I wanted to take it very seriously or not.  
That day after tryouts, broadcasting became my number one priority, and I immediately reached out to Coach LaScala and Mr. Douglass (LFHS New Media Teacher). They both helped me get set up broadcasting football and basketball.  I found the best color guy out there in AJ Shaw, who I can't thank enough, and we got to work. From then on these games would consist of some of the most fun experiences I have had to this day. 
Calling games for LFHS has been nothing short of amazing, and the fact that I was able to have the opportunity to pursue my passion and be able to find something that I want to do for the rest of my life is priceless.  I have made countless amazing connections with some incredible people that are either in the business, coming up in the business, or people around the Lake Forest community.  
There have been so many unbelievable moments over the four years that I have been able to call, I can't even pick a favorite. From impossible comebacks on Friday nights in the fall at Varsity Field, to buzzer beaters and regional championships that made the Comp. Gym crazy night in and night out,  I will never forget my time here.
I can't express how grateful I am for the town of Lake Forest and the entire LFHS community.  The support Shaw and I received on a daily basis was something I never expected, and honestly quite shocking in the fact how many people were encouraging us.  I have had conversations with parents and community members that I have never met before about the broadcasts, even visiting fans would support AJ and I during halftime or a timeout of a game.  It is the people around me that have given me the determination to get better every day.
To everyone at LFHS, thank you for all of the support throughout the past four years. I wish this time could last forever, but all great things must come to an end.  
This is Connor Clark signing off, and as always…GO SCOUTS!
View Comments (1)
Donate to The Forest Scout
Your donation will support the student journalists of Lake Forest High School. Your contribution will allow us to purchase equipment and cover our annual website hosting costs.
About the Contributor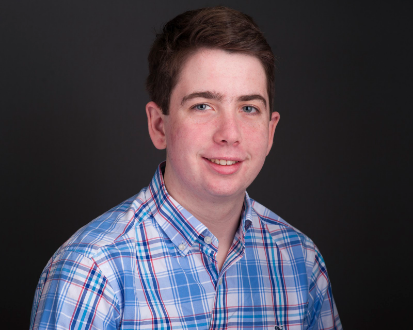 Connor Clark, Editor
Connor Clark returns to The Forest Scout for his senior year at LFHS.  He continues his passion of calling play by play for Scout Athletics, running cross...