Boys Basketball Season Recap: A Winning Tradition Returns
AJ Shaw, Sports Editor
March 5, 2020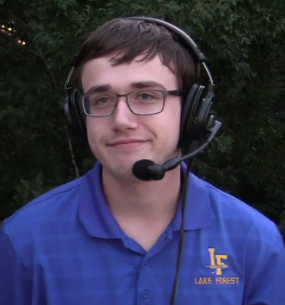 The 2019-20 Lake Forest Scouts varsity boys basketball season was a year of great change within the program. After three consecutive seasons with losing records, the team had their first winning season since 2015-16 with an 18-13 record.
While the team did eventually lose a heartbreaker to Highland Park in the Regional Semifinals at Stevenson, 33-32, there were a lot of positives to take away from the Scouts this season.
First off, the youth movement. The Scouts had four underclassmen on the roster in sophomores Cade Nowik, Leo Schiedler, and Louis Novelli and a freshman in Asa Thomas, who was named an honorable mention for All-North Suburban Conference.
All four players showed they call all play huge roles on the Scouts going into the future. Thomas has always asserted himself as a lights-out shooter from long range. Nowik is a great shooter and a hard-working gritty player who fights for rebounds and loose balls. Schiedler is a good on-ball defender who is a lanky wing player and Novelli is a solid rebounder and should improve with more playing time next season.
The Scouts also had a lot of depth this season. At the beginning of the year, head coach Phil LaScala and the coaching staff were using up to twelve players in games. Ultimately, the rotation dwindled to eight men, but all eight players played well in their roles.
The best three examples of this would be seniors Andy Brown, Stephen Young, and Grant Kaus. All three players were forced to limited offensive roles this season due to the talented young scorers, but all three played their roles well and were incredible leaders throughout the season. 
Other players like Schiedler and Will Thomas also played big roles off the bench. Will Thomas should be in the starting lineup next season to replace the hole left by Stephen Young. While he does not have a ton of offensive range, his ability to score inside and rebound should be a huge advantage entering next season.
The same thing can be said about Jack Malloy, the team's lone all-conference member this year, who showed just how dominant a player he can be entering his senior season. His ability to score is incredible and gives the Scouts at least three scorers on the floor at the start of games. 
The thing that mainly impressed me this season with the Scouts was their play in big games, particularly their conference matchups. While their conference of 8-6 is nothing to write home about, they won big games over hated rivals Libertyville and Stevenson and took Mundelein to overtime in their second matchup, before losing a heartbreaker.
Yes, the season did not end the way the Scouts or their fans envisioned, but there are many positives to take away from this year and going forward. Over 60% of their roster is coming back next year with talented JV players and potential underclassmen on the way. 
This season is just the start of returning to winning basketball at Lake Forest High School and it won't be surprising to see this team make a deep playoff run in the next few years.