2020 Lake Forest Scouts Varsity Baseball Preview
A New Year Is Just Around the Corner For the Scouts Baseball Team
AJ Shaw, Sports Editor
March 2, 2020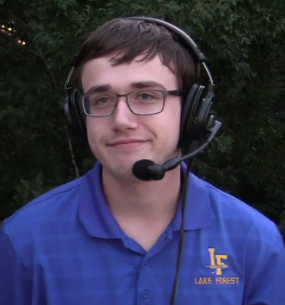 Throughout the 2019 regular season and postseason, there was something special about the Lake Forest Scouts varsity baseball team. This special group of players turned this into a 25-win campaign, the most in the tenure of head coach Ray Del Fava, and the program's eighth Regional championship.
The team would ultimately bow out to the Fremd Vikings, 13-0, in the Sectional championship game at Boomers Stadium in Schaumburg, but that deep a run has put a hunger in the returning members of this year's club.
"Everyone is excited for the season to begin," said Del Fava, who will be entering his tenth season as Varsity coach this season, "While I am always excited for the year to begin, there is just something with this year's group that makes me very, very excited for it to begin."
The Scouts will return ten players from their 2019 roster, headlined by third-year captains Breck Nowik, Michael Vallone, and Connor Morrison. All three have played significant roles on the roster each of the last two seasons and barring any serious injuries should be able to replicate that in 2020.
But what makes this senior class so great for Lake Forest entering this season is the large amount of collegiate talent on the field. As of the time of this article's release, six seniors have announced their commitments to play baseball at the collegiate level – Nowik, Vallone, Steve, and Ryan Antrim, Luke Chlystek, and Anthony Ranallo.
For the third year in a row, the Scouts will once again be built around their pitching. The starting rotation is headlined by two bonafide aces in Vallone and Morrison with plenty of depth like Chlystek, Ryan Antrim, Robby Gray, and Matt Birtman. 
"It always helps to have depth in your rotation," said Del Fava, "However, with the return to the two-game conference series [last year] it allows you to use your top guys more often well as in the past you needed to be real careful with certain guys."
"It is nice to have that flexibility," he added.
When it comes to the lineup, the Scouts have a very balanced lineup with contact, speed, and power. On a team that saw five starters from their lineup against Fremd graduate, the Scouts will not struggle to fill the holes left by players like Peter Turelli, Will Davis, and Luke Nolan to name a few.
"We have five guys returning that played a lot of innings last year, so you know what to expect out them," said Del Fava, "I feel with the seniors that could potentially grab spots and play more are ready."
The lineup should be headlined by Birtman, Nowik, Morrison, and Vallone. For Nowik, he had a fantastic season offensively last year, leading the team in hits, RBIs, homers, and in batting average amongst players with at least 15 plate appearances.
However, Nowik's pitching career is now over after having offseason Tommy John's surgery to repair a partially torn UCL (ulnar collateral ligament) but Del Fava thinks that now having to not worry about pitching will benefit the senior captain.
"He knows at this point that pitching is no longer an option. But now he can focus on playing shortstop and dominating," he said.
However, all the great things to look forward to for the Scouts will not matter if the team does not show improvement in certain areas. The team struggled defensively last year, compiling a team fielding percentage of .939 for the entire season. The other issue they faced was a losing record in the conference at 6-8. 
When it comes to errors, they're going to happen from time to time, but there were plenty of games last year, especially in conference, where the Scouts made costly errors that would cost them the game. Games like their April 1st loss to Mundelein and their May 13th loss to Stevenson are great examples of this.
But the main thing that needs to be improved is their conference record. The team went 6-8 in the NSC last season, despite winning 25 games. In a conference that has many talented teams like Warren, Mundelein, Stevenson, Lake Zurich, and Libertyville, making mistakes and not playing a complete game will kill you.
"We just need to focus on playing the game," said Del Fava, "It ends up being a mental thing if we aren't playing well so it helps that we are starting the conference schedule a little bit later this season."
In past seasons, the Scouts would begin the season on their spring break trip and then immediately head into conference play, but this year they will have ten non-conference games before their conference opener against Mundelein on April 6. 
"Usually we would return from break and head into the conference schedule, but still be in spring break mode. With that extra week of non-conference games, I think it will make us a lot fresher heading into the week against Mundelein."
Overall, the pieces are there for the Scouts to make a deep postseason run this season and the group of players that are returning along with the addition of some talented juniors will make the Scouts a strong team. While Del Fava agrees that the team has the pieces to make this said raid, he is also focused on one major thing:
"Keep getting better," he said, "Keep growing and playing our best game. I always say we won't remember the wins and the losses in the future. If we work hard and continue to get better, the results will come. That is all we ask from our players."
The Scouts will begin their season on March 20th at Lane Tech. Stay tuned to The Forest Scout all season long for coverage on the boy's baseball team as they look to make a deep postseason run. 
SCOUTS SCHEDULE:
*in bold are home games, not in bold are away games.
3/20: Lane Tech 4:45 pm
3/26: Warren County 4:30 pm (in Murfreesboro, Tennessee)
3/26: Oakland 7:00 pm (in Murfreesboro, Tennessee)
3/27: Shelbyville Central 3:50 pm (in Murfreesboro, Tennessee)
3/27: Summertown 5:30 pm (in Murfreesboro, Tennessee)
3/28: Tullahoma 10:00 am (in Murfreesboro, Tennessee)
4/1: Hersey 4:45 pm
4/2: Maine South 4:45 pm
4/3: Niles West 4:45 pm
4/4: Lakes 2:00 pm
4/6: Mundelein 4:45 pm
4/7: Mundelein 4:45 pm
4/11: Rockford Christian 11:00 am
4/13: Lake Zurich 4:45 pm
4/14: Lake Zurich 4:45 pm
4/17: Evanston 4:45 pm
4/18: Vernon Hills 10:00 am
4/20: Warren Township 4:45 pm
4/21: Warren Township 4:45 pm
4/24: Highland Park 4:45 pm
4/25: Clemente 11:00am
4/27: Waukegan 4:45 pm
4/28: Waukegan 4:45 pm
4/30: Niles Notre Dame 4:45 pm
5/2: Prospect 11:00am
5/4: Zion-Benton 4:45 pm
5/5: Zion-Benton 4:45 pm
5/8: Glenbrook North 4:45 pm
5/11: Libertyville 4:45 pm
5/12: Libertyville 5:00 pm (at Miller Park in Milwaukee, Wisconsin)
5/16: Barrington 10:00 am
5/18: Stevenson 4:45 pm
5/19: Stevenson 4:45 pm
5/22: Deerfield 4:45 pm
5/23: Glenbrook South 10:00 am