Trip to hospital leads to award-winning business idea
Coronavirus slowing prototype team needs for SXSW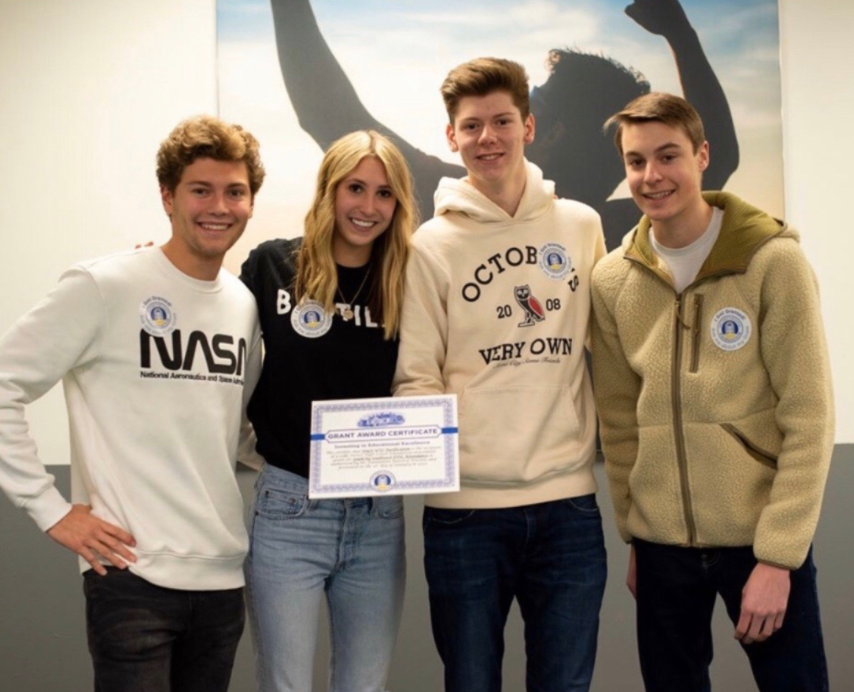 Senior Ally Page sat in Laurie Children's Hospital in Chicago hospital three years ago, just a day after an emergency flight home from Mexico. The most excruciating pain she had ever felt pulsed through her body, and she didn't know if she was going to make it another day.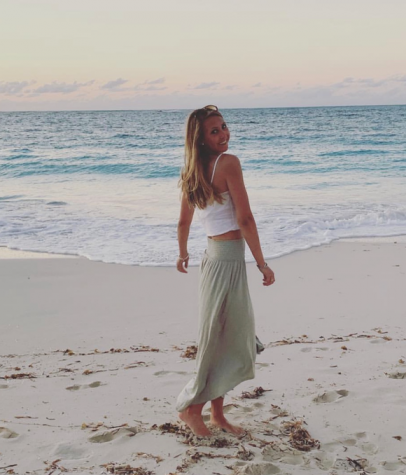 Page says she had been infected with E-coli while on spring break, after just a few sips of the drinking water in her hotel room. That simple act to quench her thirst led to a week's stay in the ICU and another month's stay at the hospital. 
But two years later, her Business Entrepreneurship teacher Mr. Joe Pulio tasked her and three other students with finding a solution to a problem that had affected one of them personally. 
Upon hearing this, Page knew exactly what she wanted to do – help people in developing countries who don't always have access to clean water.

And thus, SOLIS UVC Purification was born. 
Run by seniors Dylan Cofer, Chase Rupprecht, Ally Page, and Jeremy Hughes, SOLIS is a water-filtering bottle with the goal of  clean water for everyone in the most simple way possible.
Their strong efforts throughout junior year landed them in a spot at last year's Pitch Night, where they went on to win a $4,500 grant from investors and the "best pitch of the night" award.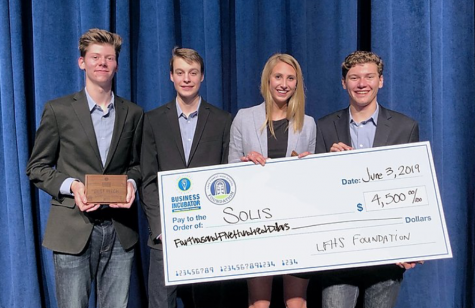 The group stuck with the Business Accelerator class their senior year. To their surprise, they  recently landed a spot in the 'South by Southwest (SXSW) EDU Student Start-Up Competition' in Austin, Texas, on March 11. They are one of five finalists in this global pitch competition, beating out over thousands of talented applicants.
The national competition is a pitch-style event that attracts thousands of people from around the country. It gives high school entrepreneur groups extreme publicity and the chance to be funded by investors watching the pitches. 
"I am beyond proud of my team and how far we have come as a group. I'm so happy that we have this opportunity to show the world what we've created, and I can't wait for the competition," said Page. 
How much they will be funded  – or if anyone will be funded at all –  is unclear, but Page shared that money isn't the main point of the competition.
"It's a big game of chance for funding, so we see it as more an opportunity to go and pitch in front of so many amazing people, and gain tons of publicity," she said. 
The group has faith that their filtered water bottle, backed with a touching personal story, will put them over the edge of their four other competitors at the competition. 
With less than a month until the competition, the group is preparing by practicing their pitch every day and building a prototype (by themselves) that they can bring to the competition to show in their pitch. 
The group is facing some issues with the prototype, as pieces of their product are coming from China, which is struggling to contain the Coronavirus. 
Team member Chase Rupprecht has had to hand saw many pieces of their product in less than a week's time. 
"
"Creating the prototype is like putting a puzzle together, but all the pieces are changing shape. I'm constantly juggling different manufacturers and getting things to work together" "
— -Chase Rupprecht, on his work on the prototype
But no matter what ends up happening at the competition, the team craves the exposure and exciting atmosphere that Austin is sure to bring. 
"I'm so excited to finally expand from LFHS to the real world with this competition," Rupprecht said. "SXSW is going to allow us to really bring SOLIS to the next level, as being in front of people who have never heard of us is such a big deal. We can finally begin to expand our name, and we just can't wait to see what's in store."
Check out their website and Facebook for further updates on their journey.
About the Contributor
Ava Manelis, Editor-in-Chief
Ava Manelis is a senior at LFHS who is on the poms team. She has been taking Journalism for a year now, and is back again as an Editor-in-Chief of the...