2020 MLB Preview: National League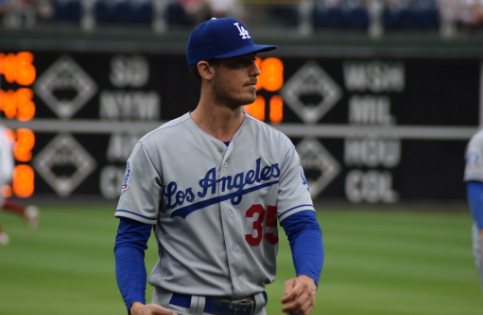 With pitchers and catchers reporting this week to Spring Training that only means three words. Baseball is back. Today, I will be previewing what to expect from the National League this season.
National League East
1. Atlanta Braves
Last Season: 97-65
Key Additions: Cole Hamels, Marcell Ozuna, Travis d'Arnaud, Will Smith
Key Losses: Josh Donaldson, Brian McCann, Dallas Keuchel
Although the Braves lose their star third baseman Josh Donaldson, they still return one of the best young cores in the MLB. With the additions of veteran pitcher Cole Hamels, power-hitting Marcell Ozuna, reliever Will Smith, and catcher Travis d'Arnaud to pair with Tyler Flowers, they should be the favorites in the NL East. After a strong 2019 campaign where they nearly made the NLCS, the Braves can prove they are a contender in the National League. 
2. Washington Nationals
Last Season: 93-69
Key Additions: Starlin Castro, Will Harris, Eric Thames
Key Losses: Anthony Rendon
The Nationals lose arguably the best third basemen in the MLB in Anthony Rendon but are bringing back their entire pitching staff. Adding Will Harris will be significant for the bullpen and Starlin Castro and Eric Thames add depth to the infield. The pitching rotation is arguably the best in the MLB headlined by Max Scherzer, Stephen Strasburg, and Patrick Corbin. The Nationals should compete for the NL East title and should be back in the playoffs and could be a team to watch for another playoff run. 
3. New York Mets
Last Season: 86-76
Key Additions: Dellin Betances, Michael Wacha, Rick Porcello, Jake Marisnick
Key Losses: Zack Wheeler
The Mets were much improved last season due mostly to the outstanding season from rookie Pete Alonso. Dellin Betances has proven he is one of the best relievers in the MLB, and if he can carry that success from the Yankees to the Mets who had one of the worst bullpens in the league last season then expect significant improvement. The starting rotation looks to be one of the best in the division led by Jacob DeGrom, Noah Syndergaard, and Marcus Stroman despite the loss of Zack Wheeler to free agency. If Noah Syndergaard can stay healthy, expect the Mets to compete for a playoff spot.
4. Philadelphia Phillies
Last Season: 81-81
Key Additions: Zack Wheeler, Didi Gregorius
Key Losses: None
After a disappointing 2019 season, the Philadelphia Phillies finished 4th in the NL East and missed out on the playoffs even after adding star outfielder Bryce Harper. The Zack Wheeler signing will give the Phillies another viable starter to pair with their ace Aaron Nola. Adding Didi Gregorious will also give the Phillies a great shortstop to pair with Jean Segura in the middle infield. If they want to compete for the NL East title, they will likely need a Cy Young level season from Aaron Nola and will require a much improved season from Didi Gregorious.
5. Miami Marlins
Last Season: 57-105
Key Additions: Corey Dickerson, Jonathan Villar, Jesus Aguilar, Matt Joyce
Key Losses: Starlin Castro
The Marlins surprisingly went out and made some big free-agent signings this offseason. Veterans Dickerson, Villar, and Aguilar should all make an impact right away for the rebuilding Marlins. Although the Marlins do have some young pieces in Jorge Alfaro, Sandy Alcantara, Jordan Yamamoto, Isan Diaz, Lewis Brinson, and Brian Anderson as well as a decent starting rotation, they probably won't be able to compete in the stacked NL East. They should be in for another last-place finish in the division.
National League Central
1. St. Louis Cardinals
Last Season: 91-71
Key Additions: Kwang Hyun Kim
Key Losses: Marcell Ozuna
Although the Cardinals failed to get a big hitter to replace Marcell Ozuna, they still return most of their roster from the team that won the NL Central last season. Korean lefty Kwang Hyun Kim, who was signed in the off-season, should compete for a spot in the rotation. The biggest question right now with the Cardinals is if Carlos Martinez will be back to normal after undergoing a procedure on his right shoulder after the end of last season. The rotation, headlined by Jack Flaherty who broke out in the second half, still remains solid and could lead the Cardinals to be at the top of the division again.
2. Cincinnati Reds
Last Season: 75-87
Key Additions: Shogo Akiyama, Nick Castellanos, Mike Moustakas, Wade Miley, Pedro Strop
Key Losses: None
The Reds made some huge moves this off-season that immediately makes them a contender not only in the division but for a championship. The two biggest additions are Nick Castellanos and Mike Moustakas, who are both all-star level players. Adding Wade Miley also gives them another viable starting pitcher to go along with Sonny Gray, Trevor Bauer, and Luis Castillo. Japanese outfielder Shogo Akiyama will likely start in centerfield and make an impact in the majors right away. The Reds can make some noise in the NL and should compete for the NL Central division title.
3. Chicago Cubs
Last Season: 84-78
Key Additions: Jason Kipnis, Steven Souza Jr.
Key Losses: Nick Castellanos, Cole Hamels, Steve Cishek, Pedro Strop, Brandon Kintzler
The Cubs were very quiet this offseason and only added Jason Kipnis to a team that was just okay last year. The biggest question with the Cubs this season is if they are going to trade Kris Bryant. Bryant's value is probably as high right now as it will ever get, and getting some good prospects out of him for the future is a very realistic option. The Cubs also lost most of their bullpen from last year, which wasn't very good in the first place and could be a big issue for them. I see this Cubs team being very similar to last year in that they are pretty good but not great. Although I picked them third in the division, I'd never count them out in the race.
4. Milwaukee Brewers
Last Season: 89-73
Key Additions: Eric Lauer, Josh Lindblom, Brett Anderson, Luis Urias
Key Losses: Yasmani Grandal, Mike Moustakas, Zach Davies, Chase Anderson, Eric Thames, Trent Grisham
The Brewers lost a lot of players this offseason. After making the playoffs last year, the Brewers traded away Zach Davies and Chase Anderson, who led them in starts last season. The only real lock in the rotation is Brandon Woodruff, who was pretty good last season. Replacing stars Yasmani Grandal and Mike Moustakas will undoubtedly prove challenging, but I wouldn't count them out. Having arguably the best player in the MLB, Christian Yelich, makes them a contender regardless of what players they added or lost. A postseason trip might not be as likely this year, but it is certainly possible.
5. Pittsburgh Pirates
Last Season: 69-93
Key Additions: None
Key Losses: Starling Marte
The Pirates aren't going to have a lot to look forward to this season. They have a couple of good players in Josh Bell and Bryan Reynolds, but they should still struggle to score runs this season. Their starting rotation is average at best, led by Chris Archer and Joe Musgrove. If they have any chance of competing, they are going to need some breakout seasons and for starting pitcher Trevor Williams to return to his 2018 self. I would expect the Pirates to finish last in the NL Central by a wide margin.
National League West
1. Los Angeles Dodgers
Last Season: 106-56
Key Additions: Mookie Betts, Blake Treinen, Alex Wood, David Price
Key Losses: Hyun-Jin Ryu, Kenta Maeda, Rich Hill
The Dodgers aren't just the best team in the NL West; they might be the best team in the MLB. The Mookie Betts addition to already one of the best teams in the league is going to be huge for this team. The only concern with this team is the back end up their rotation. Losing three starters from the previous season is going to be hard to replace. David Price and Alex Wood will likely be at the back end, along with Julio Urias. The offense should be able to make up for this shaky back end but it could be something to watch. I think this team should cruise through the regular season, but come playoff time Dodgers fans could be worried about another October breakdown
2. Arizona Diamondbacks
Last Season: 85-77
Key Additions: Starling Marte, Madison Bumgarner, Kole Calhoun, Stephen Vogt
Key Losses: Adam Jones
The Diamondbacks were a very under the radar team last year and almost made a wildcard spot. Starling Marte and Kole Calhoun should be able to make up for the loss of Adam Jones and start in the outfield. Madison Bumgarner won't be pitching for the Giants for the first time in his career, and if he can carry over the success he had there, he can be an ace for this team. If Bumgarner can come close to the level, Zack Greinke had for the Diamondbacks before getting traded, that would be huge for this team. I am not sure they can compete with the Dodgers for the division title, but they can undoubtedly get a playoff spot led by breakout star Ketel Marte.
3. San Diego Padres
Last Season: 70-92
Key Additions: Trent Grisham, Tommy Pham, Jurickson Profar, Zach Davies, Emilio Pagan
Key Losses: Eric Lauer, Hunter Renfroe, Manuel Margot
The Padres were pretty good last year before Fernando Tatis Jr. went down with an injury. Tommy Pham will be able to make an impact for this team immediately after a strong season with the Rays. The pitching staff is still young, but if they can make some strides from last season, this team could be very good. The top half of the lineup is great, but they could have trouble scoring runs if players like Grisham and Profar can't step up. If the Padres can stay healthy this year, they can definitely replicate some of the success they had before the All-Star break and contend for a playoff spot. 
4. Colorado Rockies
Last Season: 71-91
Key Additions: None
Key Losses: None
After multiple trade rumors throughout the off-season with star third baseman Nolan Arenado, it looks less and less likely that he will be traded. With that being said, the Rockies still have their stars Nolan Arenado, Trevor Story, and Charlie Blackmon. The offense shouldn't be a problem for this team, but the biggest concern is their pitching. The starting rotation is below average and unless Wade Davis can return to his former self the bullpen will be too. This team has the potential to be really good but also the same chance to repeat last season's performance. I'm leaning more towards a repeat of last season because I don't think they can keep up with the Dodgers or Diamondbacks.
5. San Francisco Giants
Last Season: 77-85
Key Additions: Kevin Gausman, Drew Smyly
Key Losses: Madison Bumgarner, Will Smith, Kevin Pillar, Stephen Vogt
The Giants seem to be headed into rebuild mode after years of continued success. Johnny Cueto, Jeff Samardzija, and Kevin Gausman headline the starting rotation, which seems to be pretty bad this year, especially after losing Madison Bumgarner. The losses of Kevin Pillar and Stephen Vogt should hurt the offense, which doesn't boast much firepower this year. The top prospects still look to be a couple of years away from the majors, so they could be in for a rough season after losing some key players.
About the Writer
Carter Mitchell, Staff Writer
Carter Mitchell is a senior who plays basketball and baseball for LFHS. Outside of school he enjoys going to the rec center and playing basketball and...