Style Profile #7: Avery Ellis
After a long weekend, it can be hard to find motivation to get out of bed and pick out a set of cute outfits for the week. Junior Avery Ellis defies the odds and wears trends that are out of the ordinary. You can always look to Avery for the latest trends and unique styles.
Monday… 
To start of the week, Avery is wearing a black cropped tank top from Aritzia. She pairs this top with not your everyday joggers from Adika.
The pink dragon detail on the side makes them different from regular joggers. To finish the look, Avery wears a white puffer jacket from Target to allow the look to be more seasonal and stay warm.
Avery added a classic pair of white Nike Air Force 1s to add a neutral shoe to complete her outfit. She accessorized her look with the new Apple Watch that she got for her birthday. The navy band adds a new pop of color to the outfit.
When I asked Avery what her inspiration was for this outfit she said, "I really liked the neon design on these joggers as well as the waistband and the puffer helps make the outfit warm yet still fashionable."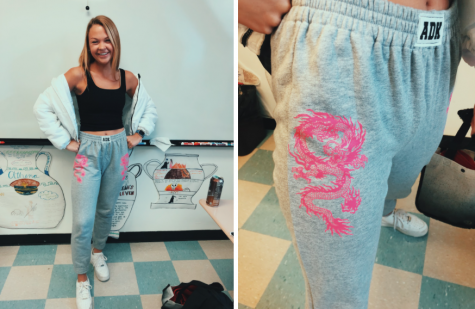 Tuesday… 
Today, Avery wore a white crop top from Adika. She paired this simple top with a pair of pink, blue, and white marble joggers from Target.
Again, colorful sweatpants are totally in style right now- the perfect combination of cute and comfy. Lastly, she neutralizes the look with a pair of white Adidas sneakers. Avery accessorized this look with her Apple Watch, this time with a pink band to go with the theme of the outfit.
Avery's inspiration for this outfit was "I decided to wear this outfit because usually the #1 priority is comfort and school and this outfit is super relaxed yet still on trend with the tie dye aspect."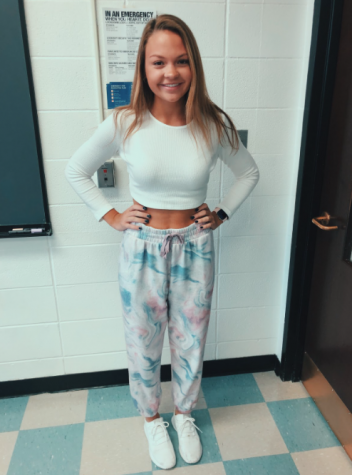 Wednesday… 
Today, Avery is wearing a black sweatshirt from Adika with a snake decal on both sleeves. The decal adds an edgy vibe to the outfit. She paired this top with a classic pair of blue jeans from Free People.
Avery ties this look together with a black western style belt from Amazon. Lastly, she finishes off the look with white Air Force 1s from Nike.
When Avery was asked to describe her inspiration, she said "I love black hoodies and I feel like they are super simple and comfy yet on trend and the snake design adds a fun pop."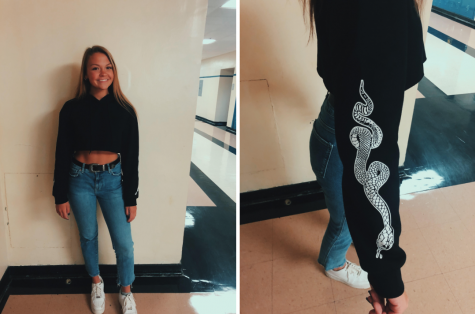 Thursday… 
In today's outfit, Avery is wearing a T-shirt from the Colorado University Bookstore. She layers this look with a white shirt from Urban Outfitters underneath the tee. The layered look is timeless and has been even more popular in recent years.
Avery styles this look with jeans from Garage. Lastly, she completes this look with a pair of Nike Air Force 1s. Avery added her Apple Watch to the look to accessorize. The pink band added a pop of color. She also accessorized with a horn necklace from Forever 21.
When I asked Avery what her inspiration was behind this outfit she said, "I have been loving the t-shirt over a long sleeve look so I decided to try that and I paired it with ripped jeans to make it a little bit less casual."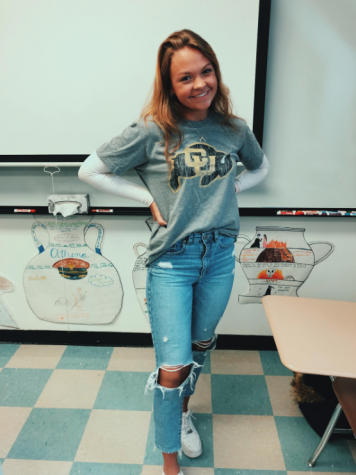 Friday… 
To wrap up the week, Avery is wearing black camo print leggings from Lululemon, paired with a black crop from Topshop. Since it is cold out, Avery adds a white puffer jacket from Target to stay warm.
The puffer jacket is one of the most popular trends right now, so it was no surprise when Avery showed up to school wearing one, as she is always on top of the latest styles. To complete the look, she adds finishing touches with a hot pink beanie from Zumiez and her favorite white air force 1s from Nike.
When Avery described her mindset behind the outfit she said, "I recently got this beanie and I loved the neon pink color so I decided to pair that with black and white to neutralize the outfit a bit and keep it wintery."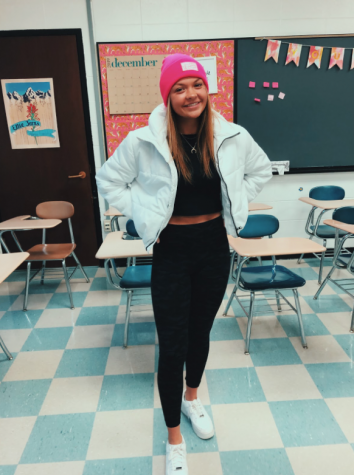 You can always look to Avery Ellis for outfit inspiration as she is always on top of the latest trends. 
Stay tuned for the next style profile!