Little Women is an Inspiration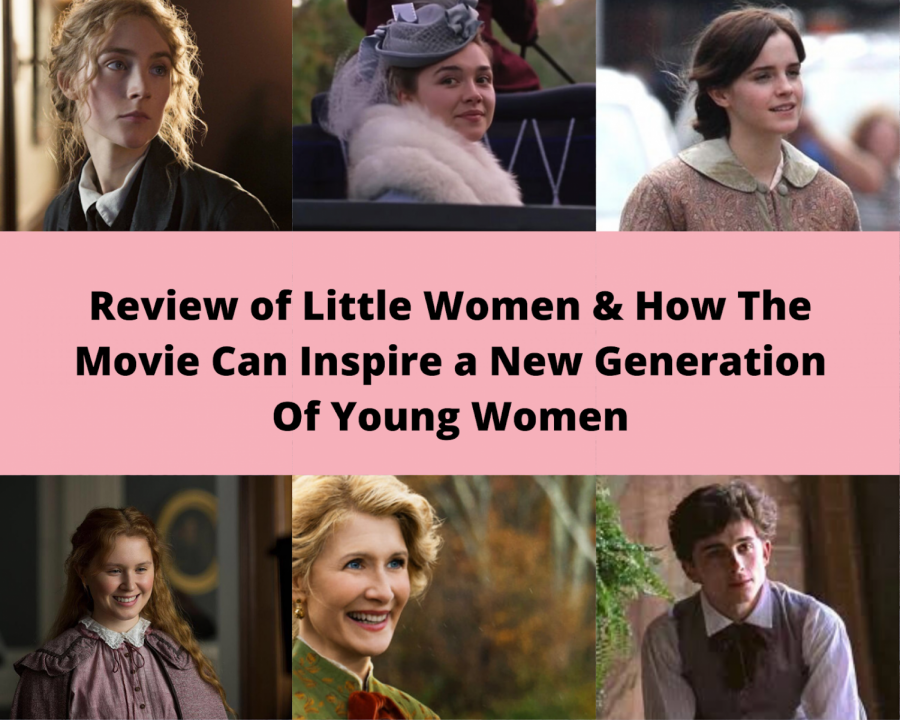 When I heard that directorial genius Greta Gerwig was putting her own spin on Little Women by Louisa May Alcott, I was ecstatic to see how she would rework the timeless screenplay,  which is now up for Academy Awards in six different categories. The nominations include Best Picture, Leading Actress-Saoirse Ronan, Supporting Actress-Florence Pugh, Costume design, Original Score and Adapted Screenplay.
I was immediately impressed by the star-studded cast including big names such as Emma Watson (Meg), Saoirse Ronan (Jo), Timothée Chalamet (Laurie), and Meryl Streep ( Aunt March) to name a few. I was overall very happy with everybody who was cast.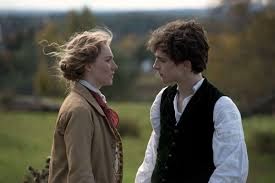 The actress who truly caught my eye was Ronan and her impeccable performance as Jo March and how she and Gerwig were able to really transform the character into one that really is able to match the Jo that is seen in Alcott's book. None of the other adaptations, in my opinion, have truly been able to do that.
I was also extremely impressed with the dynamic between Ronan and Chalamet as they portray a friendship like none other and make their way to adulthood. Having seen them work together on Gerwig's film Ladybird and knowing how close they are in real life, I was not surprised by how well they were able to portray the friendship of Jo and Laurie.
I found it truly interesting how Gerwig, in some scenes, put Jo in the shoes of Alcott, making parallels to the journey of getting her book published, when the publishing industry was run by men.
Gerwig made many interesting choices in this film, including making Amy (Florence Pugh) both younger Amy and older Amy, which was something I found myself not liking. In the 1994 film, they had two actresses portray Amy,  one as a child and one as an adult. Florence Pugh, a rising star, was nominated for an Oscar due to her role in the film as Amy.
I also feel like they should have given Beth (Eliza Scanlen) more depth and gone into her character a bit more. Beth just seemed to be overlooked and I would have personally liked to have been able to see a bit more of her background in the movie.
Even though I felt that Beth was overlooked, they went more into depth on many of the people that did not have major roles in the 1994 film.  Meryl Streep's Aunt March, for instance, was given some witty lines that truly gave the film a more lighthearted feel and shined a light a bit more on her character. But of course, there really is no such thing as a mediocre role for Meryl Streep.
Growing up, one of my favorite movies was the 1994 adaptation of Little Women. Being the lover of classic literature that I am, it made a lot of sense. I recommend watching the 1994 version before the current adaptation because the story is told linearly in the former production. Gerwig's version jumps through time, almost as if members of the March family are recalling memories.
Other little girls had Disney princesses, but I had Jo March. I loved Jo (Winona Ryder in 1994) for the strong and independent woman that she was able to become and I looked up to her for trying to make a career for herself in a time when the workforce was run by men. I also admired her for the fact that she did not feel the need to make her love life a priority. She did not think that she needed to find love in order to be happy and she channeled all of her energy into her career rather than finding love, which was unheard of at the time.
Young women can truly learn a lot from Jo March and her journey that Gerwig outlines in her take on the classic story. I am so happy that through this remake, she can be an inspiration to another generation of little girls.
Alcott shows that women can be just as successful as men, and that they do not need to find love in order to do so. If you are familiar at all with Alcott, shen ends up not marrying but was pressured to have Jo end up finding love, which is why the book ends the way it does.
Jo is an inspiration for many in a time where female empowerment is becoming a huge part of society and many women are finding ways to get their voices heard. Gerwig uses the March family that Alcott based off her own to inspire a new generation of young women and to show the power that a tight-knit family can hold.
About the Writer
Annabelle Lamb, Staff Writer
Annabelle Lamb is a senior at Lake Forest High School. She is a member of the LFHS theater tech crew and is a captain of the school speech team. Annabelle...