2020 Best Picture Nominees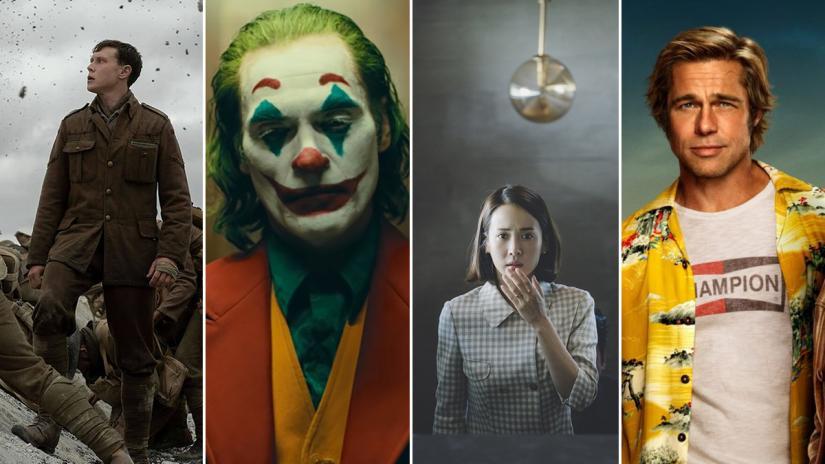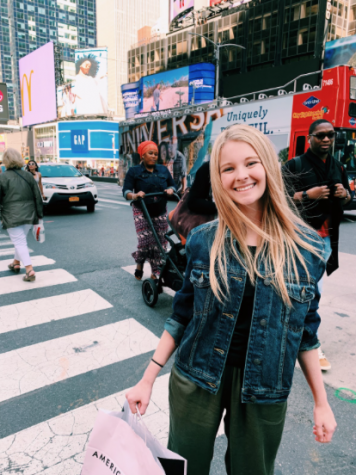 The Academy of Motion Picture Arts and Sciences will present the 92nd annual Academy Awards ceremony Sunday, honoring the best pictures, performances, and production processes of the year in terms of film. This marks the first Oscars of the new decade, and each award appears to be stacked with promising nominees. 
With categories ranging from Best Original Music to Best Story, the Oscars aim to recognize anyone and everyone who deserves praise for their commitment to the art of filmmaking. Among the wide variety of categories, the most widely anticipated award of the evening consistently seems to be Best Picture. 
Whether you've made it your goal to see every nominated flick this year, have watched the trailers to prep yourself for the awards, or have no clue as to what all the buzz is about, here is a rundown of this year's nominees for Best Picture.
Little Women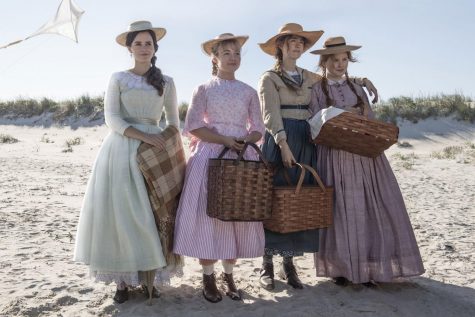 Little Women is a story that has been told thousands of times; it has had nearly six movie adaptations as well as at least 12 made for television, and at this point, every millennial girl knows exactly which March sister was their favorite. Despite this, Greta Gerwig reimagines the American classic in unexpected ways that correlate perfectly with lessons for girls (and boys) of this generation. Before its release, I felt that Little Women had the potential to turn into another feminist manifesto, reiterating to its audiences the horrible conditions for women in the past while showing how they relate to the present. But its message reaches far beyond that, teaching fans of any age not only about what it takes to be a strong woman but a strong human being.
Little Women revolves around the March sisters: Meg (Emma Watson), the homely and loving epitome of a lady, Amy (Best Supporting Actress nominee Florence Pugh), the precocious and headstrong artist, Beth (Eliza Scanlen), the shy yet gifted musician, and Jo (Best Actress nominee Saoirse Ronan), the determined and passionate author. All unique in their own light, the sisters share a bond that is unparalleled, and in many ways, they teach each other the lessons all children inevitably learn. The four women portraying these literary icons do it seamlessly; specifically, actress Florence Pugh presents Amy in a light which even the most avid of Alcott fans would never have anticipated. The youngest of the March sisters and typically deemed "the brat" of the family, Pugh gives Amy an arc like no other, showing how her closed-minded, stubborn nature as a child fuels the fire and passion within her as an adult. And the sisters are certainly not the only selling point of the movie, for Timothee Chalamet's performance as Laurie and Laura Dern's as Marmie really complimented the film in terms of the energy they bring in their respective scenes. 
With such a timeless story to tell, Gerwig picked the perfect ensemble to tell it, and while the film may not win the gold alongside many other dynamic nominations, I would certainly consider Little Women my new favorite "feel-good flick".
Jojo Rabbit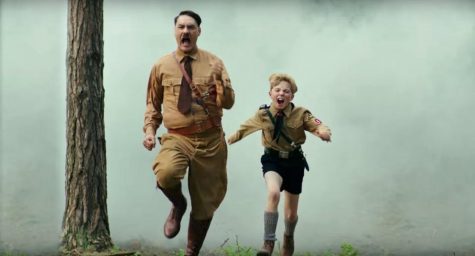 Taika Waititi's Jojo Rabbit is, among many characteristics, audacious, ambitious, and incredibly clever. At face value, this Hitler satire has the potential to offend absolutely everyone who watches, yet, in my opinion, it knew exactly when to joke and when to be serious. The movie stirred up much controversy when it was first released, but after the dust settled, many viewers realized this film had more heart than most that came out this year. It accomplished the impressive task of making an audience laugh and cry in a matter of minutes. When the credits begin to roll the film leaves you feeling optimistic making us feel like we can all be heroes in our own right.
The award-nominated screenplay of Jojo Rabbit was certainly one of the main reasons I enjoyed the film as much as I did. Writer, director, and actor in the film Taika Waititi brings his own brand of dark humor to the table; from satirizing a Nazi youth camp to look like a summer camp to having a ten-year-old boy's classic imaginary, the film is absolutely hilarious. But that's not to say that the writing is the only standout part of this film; for Jojo Rabbit has a stellar ensemble filled with a range of diverse actors. In the titular role of Jojo is Roman Griffin Davis who does fantastic, to say the least, and right by his side his imaginary best friend Adolf Hitler who is portrayed by Waitit himself. The rest of the cast is rounded out by Sam Rockwell as the scene-stealing Captain Klenzendorf, and (Best Supporting Actress nominee) Scarlett Johansson as Rosie Betzler among many others. This dynamic combination of a brilliant cast and witty writing leads to an incredible movie that leaves quite an impact on its viewers. My final praise about the film is that this anti-hat satire does not take the easy way out. The film makes an effort to not make a specific side of the war the heroes. It makes a point to show that certain people are heroes; people are not defined by where they are from, or what they are told, but by what they do. 
Waititi has made many movies throughout the course of his career, but I would absolutely consider Jojo Rabbit a standout among his body of work (Contributed by junior Cole Joseph).
Joker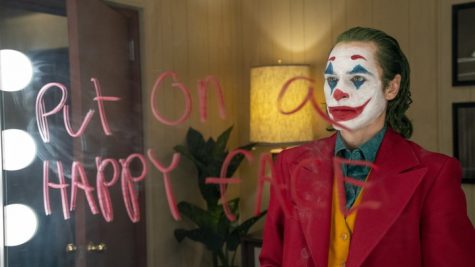 Todd Phillips' Joker is chilling; truly, there is no better word to describe this film. From the opening image to the final fade out, I found the story gripping, satisfying, and a great lead in to the DC comics depiction of the crazed killer. I was never a fan of superhero or action-driven movies, but I will certainly accredit Joker as the first movie that kick-started my interest in these franchises, despite it not being affiliated with them.
Joker tells the tale of outcast Arthur Fleck (Best Actor nominee Joaquin Phoenix), a mentally ill failed comedian searching for meaning in a seemingly lifeless world. Throughout the film, Fleck attempts to mask himself for the sake of fitting in with the world around him, but ultimately, these efforts prove to be fruitless, for eventually he begins to manifest his frustration through terror. To say the least, Phoenix is absolutely captivating in this role. The actor portrays Fleck in such an awkward manner that I couldn't help but empathize with him, even though every part of me wanted to despise him. But Phoenix is not the only captivating feature of this film; Lawrence Sher's cinematography certainly deserves some major applause. The dreary aesthetic of early 80s New York easily compliments the comics through the film, and the lack of color in most settings makes Fleck stand out among the others, showing how clearly unaware he is of the world around him. Even the music–particularly the repetition of Frank Sinatra's "That's Life"–fits perfectly with the tragedy that Phillips aims to tell: the story of a man who is finally coming to terms with his life in the most sinister of ways. 
Audiences were certainly torn when it came to the amount of violence in the film, with some saying that it was enough to inspire copycat behavior; however, Joker's flawed protagonist works to teach the audience a lesson about the human experience in the most unexpected ways.
Parasite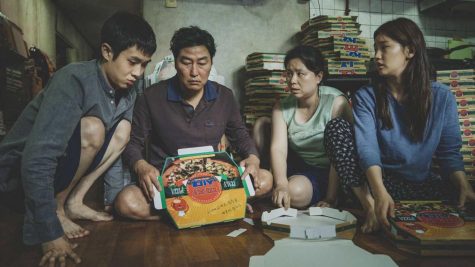 Parasite is unlike any film you will ever see.  It is unclassifiable in terms of genre: Is it a satirical comedy?  Is it a high-concept drama? Is it a horror film? Yes. But this genre-defying quality is one of the many things that makes Parasite a masterpiece.  The film is brilliantly directed by Bong Joon-ho, the South Korean mastermind behind Snowpiercer and Okja.  Bong also wrote the film, which won the top prize (unanimously) at the Cannes Film Festival last year. I didn't really know what to expect going into Parasite, and when it ended, I wasn't sure what I had seen.  But I knew that I loved it.
The film centers around the Kims, a poor Korean family who lives in a tiny basement apartment.  The Kims dream of bigger and better things in life, but their lower-class status makes it hard for them to get a foothold in society.  After the family receives a "scholar's rock" as a gift, which is supposedly a good luck charm, the son of the family, Ki-woo, becomes a tutor for the young son of the Parks,  a wealthy family who lives in a beautiful home. Through a sophisticated and ever-more-complicated series of cons and schemes, the Kim family infiltrates the lives of the Parks, basically taking over their lives. As the two families interact, the satirical message about social class stratification becomes more clear, but then as these lines blur, the film becomes more complex and nuanced in meaning.  New layers of characterization and new twists in plot continue to pile on, all leading to a climax that could never have been predicted at the beginning of the movie.
Parasite has been nominated for six Oscars, including Best Picture, Best International Feature Film, and Best Original Screenplay. In addition, Bong has gotten a much-deserved Best Director nomination.  The film sits atop many critics Top 10 lists, and it would not be a surprise to see it win several Oscars on Sunday night. At a time when big-budget popcorn movies seem like they are all the same, it is wonderful to come across a truly original and unabashedly audacious film.  Parasite is a one-of-a-kind film viewing experience (Contributed by Mr. John Wanninger).
Ford v Ferrari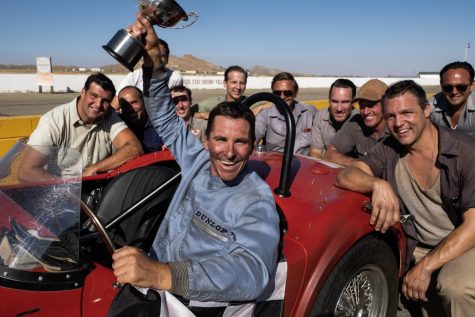 Let me start by saying I am not the type to genuinely enjoy a car movie. I've never been into Fast and Furious or anything similar to it, and frankly, I was very apprehensive about watching this film because of its focus on racing. But James Mangold's Ford v. Ferrari had an effect on me that no other movie has had this year. It is much more than a car movie; it tells the real life story of real life men in a real life situation, and I not only found it surprisingly gripping, but incredibly moving as well.   
The film centers around Ken Miles (Christian Bale) and Carroll Shelby (Matt Damon), two men commissioned by Ford to construct a vehicle that will dominate frontrunner Ferrari at the incredibly ambitious 24 Hours of Le Mans race. At face value, this plot is not incredibly pressing or appealing to the average viewer, especially because it models itself after a past event; however, there is something about this film that makes you care so much about these characters that you can't help but invest your every emotion into their story. Bale's performance, in particular, does exactly that; the way that he portrays a character that is the complete antithesis of his other roles is entirely unexpected of him and captivating at the same time. He was Cras, he absolutely nailed his accent, and he ultimately made you dedicate your attention to him every time he took to the screen. He proves to audiences how Ken Miles was more than just a driver; he was a father with a family at home to ignite his passion for cars and fuel his determination to succeed.
When my family informed me of their decision to take us to see Mangold's latest film, I actually rolled my eyes. I had no interest in watching a car movie, and I had convinced myself that my experience in the theatre would be nothing more than sub-par. Needless to say, I left in tears.
So, to any potential audience members, whether enthusiastic or on edge, my message to you is this: come for the cars, stay for the story (Contributed by senior Meghan Geraghty).
Marriage Story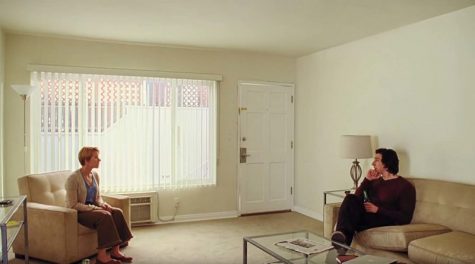 What shocked me most about Noah Baumbach's Marriage Story was not it's poignant writing nor was it the performances by its three best actor nominees, it was its humor that made me love the film more than many others. Marriage Story is certainly no comedy, but at the same time, it is not overly dramatic; it is what I would consider a perfect depiction of divorce: something that is complicated, ever-changing, and, at times, uncomfortably hilarious. 
Ex couple Charlie (best actor nominee Adam Driver) and Nicole (best actress nominee Scarlett Johansson) have entirely different versions of their "marriage story", but ultimately, they both strive to make their voices heard, something that they felt never happened when they were together. With a plot like this, it is hard to ignore the cynicism within this movie, yet at times, it was genuinely funny and shockingly heartwarming. Charlie's endearing friendship with Nicole's mother (Julie Hagerty), Nicole's special connection to her attorney (Best Supporting Actress nominee Laura Dern), and their son's (Azhy Robertson) whimsical and at times clueless behavior all had me smiling at times despite the lingering conflict. In terms of the actors, I knew from the moment each Oscar nominee walked on the screen why they were chosen by the academy. Johanson, in particular, has an unfathomable ability to shift from pleasant and civil to completely broken in a matter of seconds, and I would not be shocked to see her take home the gold for best actress this Sunday. 
From a cinematic standpoint, the film feels like a dream. The shots represent the jubilant atmosphere of often dreary Los Angeles and New York while the grainy texture gives off a homely, personal vibe. The score is subtle, but beautiful as well, featuring the classical work of Randy Newman that also produces an overwhelming feeling of contentment. Again, the film presents a completely unbothered, pleasant aura and uses the gradual introduction of harsh reality and unfortunate circumstances to completely diminish it. 
Baumbach's Marriage Story appears exactly how he intended it to: as "a love story told through the narrative of divorce". While the director has created a handful of audience favorite flicks over the course of his career, this certainly stands out among the rest in his repertoire. 
The Irishman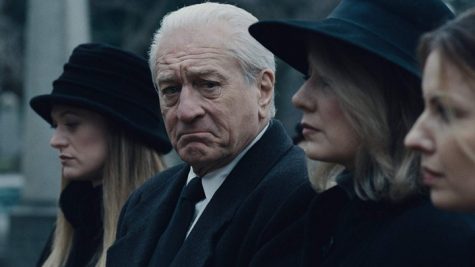 The Irishman is recounted by Frank "The Irishman " Sheeran (Robert DeNiro), now an elderly man living in a nursing home. Throughout the film, he recounts his life's involvement in the Bufalino Crime Family. Starting in the early 1950s as a truck driver who would sell some of his shipments of meat to various gangsters in the area, to becoming the right-hand man of the leader of the local crime family; Russell Bufalino (Joe Pesci). Eventually leading to his close involvement with infamous union leader: Jimmy Hoffa (Al Pacino). Obviously, Scorsese pulled no punches with his casting. DeNiro, Pachino, and Pesci all are electrifying in each one of their roles, and the three of them work incredibly well off each other. Not one of the three leads outshines the other two, leading for every scene they share to be completely captivating. Their performances bring to life a story reminiscent of Scorsese's previous mob flicks like Casino or Goodfellas. That of an average man rising to power in a local Mob Chapter, then dealing with the repercussions of his involvement later on in life. However, like it's two predecessors, The Irishman is able to stay fresh and stand as its own thing among Mob movies. The Irishman made the rounds earlier this year in regards to its use of digital de-aging on its actors, primarily DeNiro. Something that I can't commend enough. It's one of the best uses of CGI in recent memory and I had no trouble believing that the 67 year old DeNiro was 40, or 50, or even 85 runtime may seem intimidating, it's absolutely worth a look (Contributed by junior Pierce Docherty).
1917
As an entire production, from cinematography and production design, to sound design, acting, directing, and music scoring, 1917 was a seamlessly produced cinematic masterpiece. Award show buzz will, deservingly so, highlight the incredible feat of this appearingly "one-take" film; the film itself was shot in scenes up to eight minutes in length without a cut and stitched together with precision down to the frame. Directed by the award-winning Sam Mendez, 1917 tells the story of two young men during World War I instructed to deliver a message across no man's land by sunrise. The war story is made to feel as personal to the audience as it is to Mendes — the story taken from those told to him by his Grandfather — as the one-shot appearance gives the audience the illusion of going through this journey alongside them. This is largely credited to the collaboration of Roger Deakin's skilful cinematography, direction of Sam Mendez, and performances of George MacKay and Dean-Charles Chapman.
With that being said, the editor deserves great recognition as well; piecing together a film with a scale as massive as this is no small feat. Many of the films nominated alongside 1917 will have their directors cut; the scenes that didn't work, that made it too long. Sam Mendez began writing this project knowing that "fixing in post" was not an option; no scene nor shot could be thrown out without interrupting the sequence and ruining the illusion of the one-shot take. Lee Smith masterfully stitched the frames together, allowing a pure showcase of the extensive pre-production and production of the film.
War stories often gravitate towards a certain demographic, and while the stories are so important to tell, they can often feel the same. 1917 is a refreshing take on the simplicity of storytelling; highlighting the daily tasks that go unnoticed in the grander stories of war. The narrative has been nominated for nine Oscars, and it easily has the potential to take all of them home this Sunday. 
While up against big names and incredible films, 1917 should be expecting a cinematography award with little doubt. This masterfully told film is a one of a kind viewing experience and worthwhile regardless of your preferred genre of film. (Contributed by senior Caroline Zeeman).
Once Upon a Time in Hollywood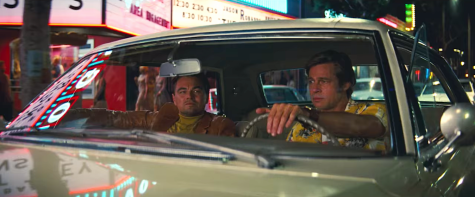 Once Upon a Time in Hollywood was my first encounter with a Tarantino film, and to say the least, I was anticipating utter confusion and dissatisfaction. I clearly never grew up on the media or culture of the 60s–totally unfamiliar with the term "spaghetti western" in the first place–and convinced myself that this movie was just as its reviews claimed: a movie about movies for intense movie lovers. After watching it, I could easily say it rivals Little Woman for my favorite film of the year, and I can anticipate it receiving the same acclaim at the Oscars.
Once Upon a Time in Hollywood is truly as it sounds: a fairytale. In terms of his characters, it seems that Tarantino aims to represent the epitome of Hollywood with every role that appears on the screen; there's the delightfully shallow depiction of a female cultural icon, an overly professional child actor, and a particularly entitled "big wig" to name a few features. Adding on to the fantasy is the comically dark element of the Manson Family, whose many cameos strikingly resemble the historical actions and events of the actual Manson Family. No matter what chaos surfaces on screen, the fictional dynamic duo of Rick Dalton (Best Actor nominee Leonardo Dicaprio) and his stunt double Cliff Booth (Best Supporting Actor nominee Brad Pitt) are in the middle of it all, which proves to be both fascinating and hysterical throughout the entire film. 
There is also something to be said about the cinematography of the film. Robert Richardson's vivid and retro vision not only compliments the fairytale nature of the film, it somehow stirs up this feeling of 60s nostalgia that even I could experience as a 17 year old girl. The shots look like every old movie I've ever seen, but with more saturation, more sunlight, and more hidden motifs than any other.
While a handful of critics showed their disdain for the film's disorganization as well as its twist ending, I found both to be pleasing in their own ways, and I am very glad to say that this movie was my formal introduction to the work of Tarantino.  

Loading ...
About the Writer
Kailey Albus, Staff Writer
Kailey Albus is a junior at Lake Forest High School. She is an avid member of the theatre community and she actively participates in Foresters Singers....