Outfit of the Week featuring Julia Turinsky
For this week's Outfit of the Week we have junior Julia Turinsky. Julia's outfit is right on trend with multi-color tie-dye sweatpants from Revolve and a white long sleeve ruffled tee shirt from Brandy Melville. The ruffles made for a fun twist on everybody's favorite staple of a plain long sleeve shirt.
This look is so perfect this time of year because you can stay warm in the freezing winter weather, but you don't have to sacrifice your trendy style. The sweatpants in particular are the perfect mix between comfort and trendy, and the white Nike Air Force 1s pull the whole outfit together.
This style has definitely been hot since coming back from winter break.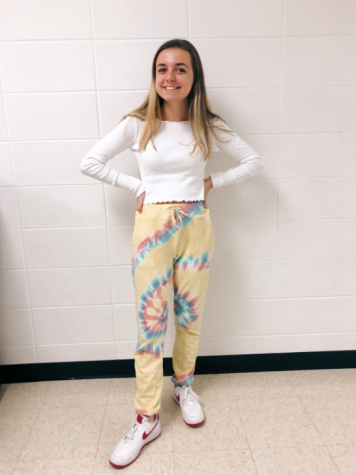 What is one clothing item you can't live without and why?
"I can't live without sweatshirts because they are comfortable and it's easy to style a cool sweatshirt to make it an outfit so I wear them like every day."
How would you describe your style? What makes it unique?
I would describe my style as trendy because I like to switch it up based on what's becoming more popular. It is unique because I find my own way to add accessories or cool shoes that make it my own."
What are your 3 favorite stores?
My go-to stores are usually Nordstrom, Lululemon, and Aritzia. I can always find something I like from them."