Douglass Named Nominee For McDonald's All-American Game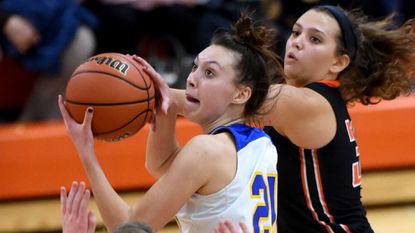 AJ Shaw, Sports Editor
January 15, 2020
LAKE FOREST — Wisconsin commit Halle Douglass has been named a nominee to the McDonald's All-American team, becoming the first McDonald's All-American nominee in the history of the girl's basketball program at Lake Forest High School.
This award for Douglass is one of many she has received over her decorated high school career, but this may be the biggest of all them.
"I am very honored to be nominated and associated with some of the best basketball players in the country," said Douglass, "To be named a nominee is the goal of many athletes near the end of their high school careers and I am just so honored to be a nominee for this great award."
Douglass is one of two nominees in Lake County, the other being Addie Budnik of Highland Park. Other nominees include Maine West's Angela Dugalic and Sycamore's Kylie Feuerbach.
If she gets to be selected to play in the game, Douglass will participate in the Girls All-American game on April 1, 2020, at the Toyota Center in Houston, Texas, home of the NBA's Houston Rockets. Douglass was one of 31 recipients from the state of Illinois and would be joining many talented players from around the country.
Congratulations to Halle on this fantastic accomplishment!