Page Takes the Stage
Senior is the first LFHS student to make Illinois All-State show since 1997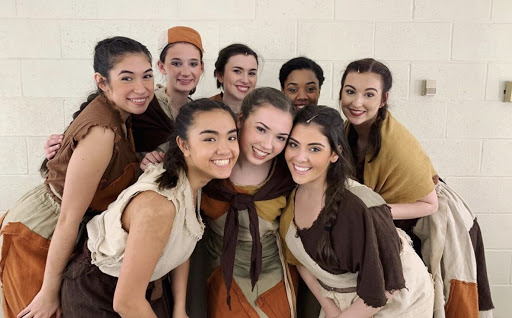 Last Friday, 35 students and four teachers from the LFHS theatre department had the pleasure of supporting senior Cara Page in the All-State production of "Aida" for the annual Illinois High School Theatre Fest.
"Seeing Cara on stage was so surreal," said senior Martha Clifford, one of the students who attended the festival. "She has always been so incredibly hard-working with the shows at LFHS, and to see her work pay off through being in All-State made me so proud to call her my friend."
"Aida," a high-energy musical showcasing the stylings of Tim Rice and Elton John, tells the tragic tale of a forbidden love between an Egyptian captain and a Nubian princess turned slave. When the committee in charge of All-State at IHSTF announced the award-winning show as their 2020 production, Page's interest immediately sparked.
"I remember when the audition information came out for Aida; I had always been interested, but I was so close to not auditioning just because I didn't think I had a shot of making it in," Page said. "And now, looking back on my experiences, I am so happy that I did."
The tradition of the Illinois All-State productions started in 1977 with a simple mission: to provide an intensive theatre experience for students looking to pursue their artistry outside of their high school programs. Since then, the committee has put on a wide range of productions, varying from original work, to straight plays, to well-known high caliber musicals.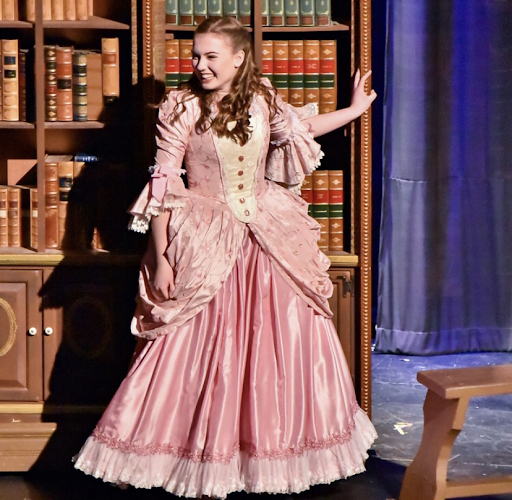 Students interested in the All-State production must submit an application in May and attend auditions in June as well as a potential callback. Interviews and instrumental auditions for prospective student directors, technicians, and pit orchestra players are conducted around the same time; final selections for the cast, crew, and orchestra are released in June.
In terms of performers, over 180 high school students across Illinois auditioned for this year's production of "Aida." About 60 of these were called back and considered for final casting, and 20 girls and 20 boys were ultimately offered roles in the show. The highly-selective process is meant to mirror casting in the professional world; no more than seven students from one school are allowed to participate in the same production, and typically, only one to two are chosen each year.
Page is the first Lake Forest student to have been cast as a performer in an All-State show since 1997.
The rehearsal process was grueling, intense, and demanding for all involved; the cast only rehearsed for 25 days over the course of six months, but their days were often 12-14 hours long. Not to mention, these rehearsals took place over weekends, meaning that Page and the rest of her cast were forced to sacrifice any down time they may have had and devote it entirely to their show.
"I would be lying if I said it wasn't challenging," Page admitted. "I definitely had to make some large sacrifices along the way to be able to do the show, but I wouldn't have had it any other way. Each rehearsal day was very emotionally and physically taxing, but, because of it, our cast and crew grew so close overtime and we eventually became a family."
Students who have attended Theatre Fest in the past will tell you that the All-State productions rarely disappoint, but "Aida" seemed to be a crowd-pleaser like no other. The audience roared when the ensemble broke into beautiful West African dance routines; they cheered when certain characters defied dangerously high notes; they fawned over the student playing Radames who, when removing his shirt, revealed a set of chiseled abs to a crowd of nearly 2,000 people.
With regards to Page's performance, students say her captivating personality shone through her every move, making it easy for them to point her out in a crowd of many others.
Senior Foster Thomas said seeing his friend onstage was incredible.
"It was such a unique experience to see such a talented performer among the greats of this state," said Thomas. "She was shining in every number she performed in and she represented our school so well. Cara deserves recognition for the hard work she put into the show and the incredible talent she has."
English teacher and theatre advisor Mrs. Sara Dreiling said watching Page emerge from the wings and greet her friends was "the most heartwarming moment of the night."
"Watching everyone cheer for Cara as she walked up to us and our shared sense of pride in her accomplishment was pretty incredible," said Dreiling. "For me, it highlighted the sense of community we have in the LFHS Theatre program."
Page acknowledges her participation in All-State as "the most fulfilling experience [she's] ever had," and she hopes to continue to create beautiful art like this for the rest of her life.
"I know I will keep in touch with this cast forever, and I highly encourage anyone who is interested to audition for next year's production," said Page.
"Trust me, it will change your life."
About the Writer
Kailey Albus, Staff Writer
Kailey Albus is a junior at Lake Forest High School. She is an avid member of the theatre community and she actively participates in Foresters Singers....