The True Leader of Every Team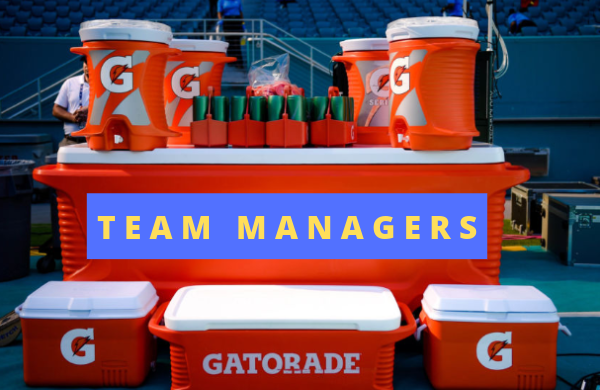 They do all of the little things that nobody else wants to do.
It's up to them to keep track of the stats, to film the games, to fill up the water bottles. That work doesn't show up in the stat box or in news stories, fans won't be talking about them after the game, but the work is critical to the team's success. 
Team managers are okay with this because they live by a motto: It's all about the team. Once a part of the team, always a part of the team.
Junior Max Edison, manager of the Boys Varsity Basketball team, is a favorite of every player on the team. 
"Max is the best, he's really cares about the team," said teammate Will Thomas.
Edison first became a manager last year and he never looked back. 
"
You learn how to be part of a team"
— Junior Rory Summerville
"I love being around the guys, choosing to be a manager last year was one of the best decisions I have ever made," he said. "My favorite part is being there for every single person," said Edison. "I enjoy helping others and pushing them to do better."
Beyond the small tasks that help make a team succeed, managers bring an attitude that sparks the team. 
Varsity baseball player Robby Gray says manager AJ Shaw brings "great enthusiasm to the dugout."
Shaw said he likes to "bring energy to the team." 
Senior manager Jay Decoster brings a similar energy to the Varsity Football team, "I bring a nice vibe to the team," he said. 
This year was Decoster's first year of being a manager for the football team, and he said he loved every second of it. "It's just a great environment to be around," he said.
Junior Rory Summerville is another prime example of how much managers care. She gladly takes on the responsibilities that come with being a manager for the Girls Varsity Basketball team, including writing scouting reports, helping with drills, and filling empty water bottles. 
"It's a big time commitment, but it's absolutely worth it," said Summerville.
Being a manager is no easy job. It takes responsibility, commitment, and heart. Anyone who wants to be a manager for a team must have those traits to succeed. 
There are many perks to being a student manager, especially at a place like Lake Forest High School. But perhaps the best part of being a manager is the lessons that you obtain from it.
"You learn how to be part of a team," said Summerville. 
That is the lesson that all managers will take away. Once a teammate, always a teammate.
About the Writer
Andrew Levin, Staff Writer
Andrew Levin is a senior at Lake Forest High School. He is on the Varsity Basketball team, does a lot of work at Beacon Place, and will soon be involved...