Douglass Breaks School Record For Most Points Scored As Scouts Roll Through Waukegan
Douglass Becomes All-Time Leader in Points Scored With 1395 Points
AJ Shaw, Sports Editor
December 21, 2019
LAKE FOREST — Over her four-year Varsity career, senior Halle Douglass has broken her fair share of records and on Thursday night, she broke another record, maybe the most prestigious of all Scouts girls basketball records as she became the all-time leading scorer in franchise history, breaking Janie Hodkinson's record of 1,391 set back in 1998.
"I was told earlier in the week that I was [nearing the record], but I didn't have any thoughts that I may break it [in last night's game]," she said.
Around the five-minute mark of the fourth quarter, the senior drove to the rim as she has so many times, and buried a layup scoring point 1,393 in her storied high school career in front of a packed Competition Gym.
"[To break the record at home] was an amazing moment," she said, "With my family in the crowd, along with the little girls who were attendance on feeder night, and all the great fans packing the gym, I felt so much love and support from them all when I broke that record."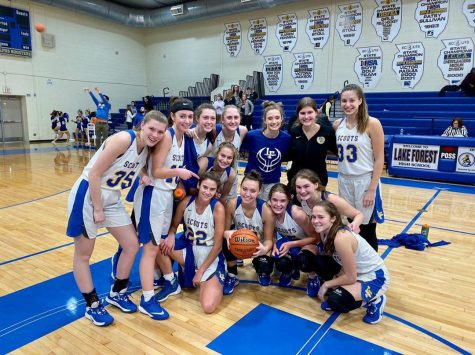 Douglass' record-breaking basket was the headliner of an all-around amazing night for the Scouts as they defeated the Waukegan Bulldogs, 67-41, to improve to 10-2 on the season and 4-1 in conference.
Douglass dropped 31 points on 50% field goal shooting to go along with 10 assists and eight rebounds. Molly Fisher scored 11 points and 3 three-pointers, and Finola Summerville and Lilly Trkla dropped nine and eight points respectively.
"[The play of Finola, Molly, and Lilly] of late has been huge for us," said head coach Kyle Wilhelm, "Having multiple scorers like them makes our team dangerous."
The Scouts will have another week off before their next games which will be at Montini Catholic High School for the team's Christmas tournament. The first game will be the day after Christmas when they take on Nazareth Academy. The team's next game back in Lake Forest will be on January 7th against Buffalo Grove, a team the Scouts beat in the Regional Finals last season. Stay tuned to The Forest Scout for recaps on the Scouts girls basketball team following every game from myself or Connor Clark.
In Other News: Delaney Williams (Class of 2017) tied the single-game record for steals for Wittenberg University last Monday in their victory over Muskingum University. Williams had nine steals in total. Congratulations to Delaney on tying the record!
QUICK FACTS:
Scouts Record: 10-2, 4-1
Next Game: Thursday, December 26th vs. Nazareth Academy @ Montini Catholic HS
Follow the game on the NFHS Network if you cannot make it!