2019 Fashion: A Year of Trends in Pictures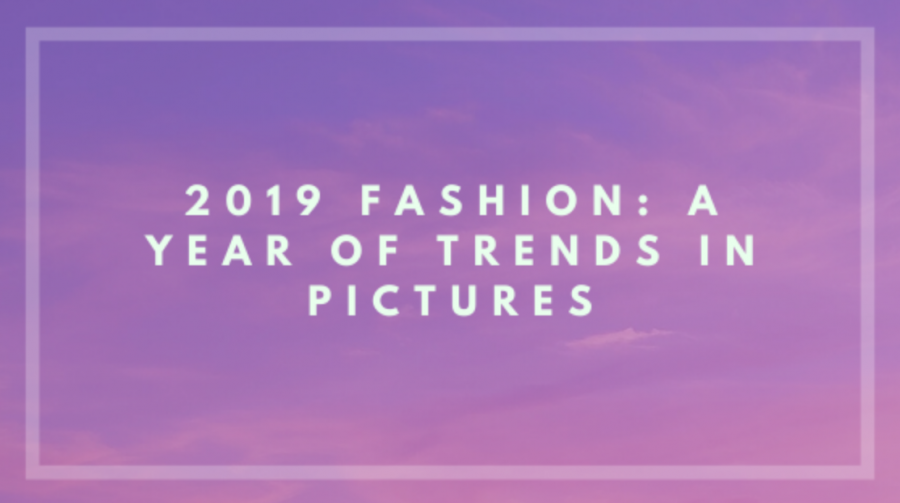 This year held both new and old fashion trends, each of which our generation took their own unique and stylish approach to. Below are some of the most popular trends from the year 2019!
♡
Hydroflasks – Hydroflasks gained popularity amongst all age groups this year. Although they are pretty expensive for a water bottle, they are high quality and keep your water cold all day.
♡
Hair Ribbons – Hair ribbons are a simple and effortless look that date back all the back to the mid 1800s. However, they have made a comeback appearance this year. 

♡
Athleisure – This year's athleisure was known to be a "global fashion revolution". Wearing workout clothes outside the gym? Something we've never heard of. 

♡
One Shoulder Tops – One-shoulder tops made a subtle appearance this year, especially in the fall and towards the end of the year. This simple top can be styled with any bottoms, anywhere from skirts to jeans.

♡
Camo (all colors) – Camouflage was originally used to disguise people and their bodies, but now is styled to stand out. Camo styles come in a variety of different colors and styles. Everything from shoes, pants, jackets, shirts, and even phone cases were definitely a hit in 2019. 

♡
Air Force 1s – Air Force 1s have made a major appearance this year. They first became extremely popular in mid-2018 and carried over to remain a hit trend throughout the entire year of 2019. These kicks can be worn with almost any outfit. Be comfortable and stylish with this trend!

♡
Neon – Neon was another subtly popular trend that was apparent this year. The vibrant colors have been seen to draw attention year after year. This style is mostly rocked in tops and maybe a few bottoms, yet, no neon style is alike.

♡
Animal Print – Animal print is yet another trend that has been popular year after year. Styled in almost any form, we have no excuses to not keep this trend alive. This year, however, faux animal print made a bigger appearance than ever. Styles like dresses, pants, skirts, shoes, tops, shorts, and headbands galore topped the list of top trends this year, more than we've ever seen in the past.

♡
Statement Shoulders –  Poofy shoulders? Did someone say medieval times? Well, this trend is back and better than ever. Rocked on dresses and tops, just as it used to be, this trend was extremely popular this year. We can only hope to see it stick around for next year.

♡
Tie Dye – Bringing us all the way back to the 1960s, we're traveling back to the tie dye era! Again, tie dye is seen in all aspects of an outfit, just as it was back in the '60s. Anything from tie dye sweatpants to tie dye dresses was a hit this year.

♡
Doc Martens – Taking us all the way back to the 1960s, we have Dr. Martens! Known for being cute in almost any color, they are a versatile shoe that can be worn with a variety of outfits and styles. This trend was a hit year-around! It was seen being worn with anything from shorts or leggings in the summer and winter, to a homecoming dress in the fall!

♡
Floral Dresses – Floral dresses are a cute and simple trend that was very popular this year. Buttons down the center of the dress were a common sight with the floral dress style. Styled with any pair of shoes, this dress can be cute and casual or a little more sophisticated.

♡
Joggers – Another aspect of athleisure that was popular this year was joggers! Similar to sweatpants, they are are little more fashionable, pair of loose pants that can be styled with any pair of shoes and any top.

♡
Stars – The trend of stars on clothing items is something totally new we saw this year. Plenty of distressed sweaters covered in stars topped the list of 2019 trends! As the phenomenon grew more popular, stars were put on more and more articles of clothing. Anything from shoes to pants to jackets came into the spotlight.
♡
Scrunchies – Another trend that made a comeback appearance this year was scrunchies! In fact, scrunchies were more likely to be on a wrist, rather than actually used in a pony.

♡
Loose Ripped Jeans – After years and years of skinny jeans of all types, we've moved on from that trend. This year, we were able to see a variety of different loose ripped jeans. Anything from "mom jeans" to "boyfriend jeans" were seen across all age groups.

♡
Stay stylish, LFHS!
About the Writer
CC Carter, Staff Writer
CC Carter is a junior at Lake Forest High School who is an enthusiastic member of the tennis and soccer teams. Outside of school, she enjoys fashion, listening...