Detective Grum Returns to School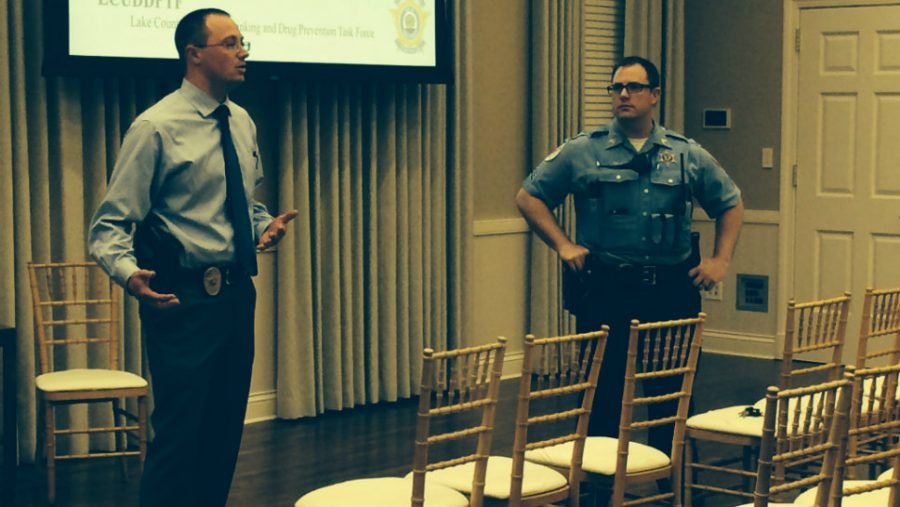 Coming out of high school, Detective Ben Grum never imagined himself one day being responsible for the safety of more than 1,500 teenagers.
However, after years of training and working up in the police force that's exactly Grum's role at LFHS, the high school he once graduated from.
"I was not a great student I'll be the first to admit, and I got into my fair share of trouble and poor decision making, but I think that is what helps me do my job and guide my decisions now," said Grum, who works at the school resource officer for the Lake Forest Police Department. "I can identify and relate to a lot of the people and students I run into in my job here."
Many students only get the chance to see Grum wandering the lunch room or maybe at a football or hockey game, yet Grum does a lot more behind the scenes. He and his colleagues plan out and schedule all necessary drills and protocols, and along with developing new policies to help solve some issues at the school. Plus, if the deans ever need help with student discipline, they could always just give Officer Grum a call.
"As an alumnus, he brings a unique personal perspective to this position. He routinely goes above and beyond the call of duty to ensure the safety and security of our students and staff," Director of Security Lane Linder said. "It is a pleasure to work with him on a daily basis and see, firsthand, the positive impact he has on this school."
In his free time Grum loves to spend time teaching and playing with his children, ages 2 and 7. He also enjoys the realty business and managing different properties in his free time as well.
Grum has been working in the school for about five years now, and it is easy to tell he really loves and has a passion for what he does at the high school.
"I enjoy being here because high school is a really unique age where you are making a lot of life decisions, and it's kind of the beginning stage of really guiding your life and what your going to be and what your going to do," he said. "I feel that high school is a time period where people are optimistic about the future, and it is a very positive area."
About the Writer
Calvin McCarthy, Staff Writer
Calvin McCarthy is a senior at Lake Forest High School. He spends his time playing for the varsity volleyball  team and hanging out with friends and family....