Baseball Team Releases 2020 Schedule
The Reigning Regional Champions Schedule Is Out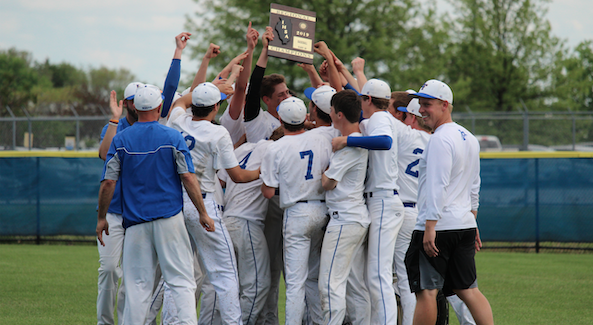 AJ Shaw, Sports Editor
December 10, 2019
Head varsity baseball coach Ray Del Fava has released the 2020 baseball schedule.
The schedule will consist of 35 games, 21 non-conference matchups and 14 in-conference matchups against Stevenson, Warren Township, Mundelein, Libertyville, Lake Zurich, Zion-Benton, and Waukegan.
The Scouts will begin the regular season on March 20 against Lane Tech at beautiful Kerry Wood Cubs Field, which is just 2 miles from historic Wrigley Field, home of the Chicago Cubs.
Following their battle with the Indians, the Scouts will travel down to Murfreesboro, Tennessee for the second straight year for the annual Spring Break trip.
The Scouts will play five games in Tennessee which includes back-to-back doubleheaders on March 26 and March 27.
The Scouts' first game back in Illinois will be on April 1 at Hersey. The team's first home game at West Campus will be on April 3 against Niles West.
Other notable matchups this season will be against playoff opponents from a season ago in Highland Park and Prospect. The team will also battle Vernon Hills, Evanston, Niles Notre Dame, GBN, GBS, Deerfield, and Clemente. The team will also play Maine South and Rockford Christian for the first time.
The season is still far away from beginning, but the excitement for the new baseball season is high amongst the players, coaches, and fans. Once the regular season begins, stay tuned to The Forest Scout for in-depth recaps from me following every Scouts game.
FOR THE ENTIRE SCOUTS SCHEDULE click here