Outfit of The Week featuring Caroline Lewis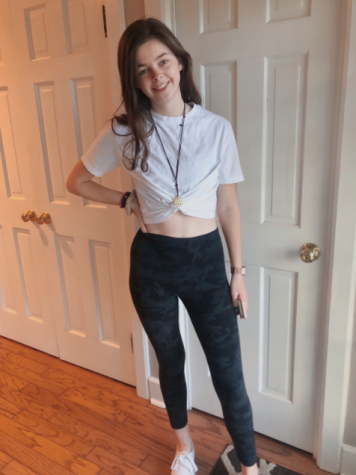 For this week's outfit of the week, we have senior Caroline Lewis.
Caroline is wearing camo leggings from Lululemon, which is perfect for this cold weather. She paired them with a white crop top from Topshop, which has a knot in the front to add a simple detail that completes the look.
This outfit is perfect for this weather because she is able to throw on a jacket and go anywhere while maintaining an effortless style. The additional contrast in tones adds a another layer to her look.
Where do you get your style inspiration?
"I really like Jen Muchelas, Maria Valdés, and Margot Lee because of their really relaxed styles while keeping their styles personal. But when it comes down to it I just go with whatever I'm feeling whether it's cool jeans and a fun top or sweatpants and a sweatshirt, really just whatever my vibe is," Lewis said.
What are your top 3 stores to shop at?
"Nordstrom's, Aritzia, and other small boutiques I find," she said.
What's your favorite piece, and why?
"My favorite shirt is probably my ivory silk cropped tank top from a boutique in Oxford, MS because it's easy to pair with literally anything to match any style and adds a flair of personality," Lewis said.
Stay Stylish LFHS!